LaShawn Jimenez: Forging new paths in the Futuristic Banking Industry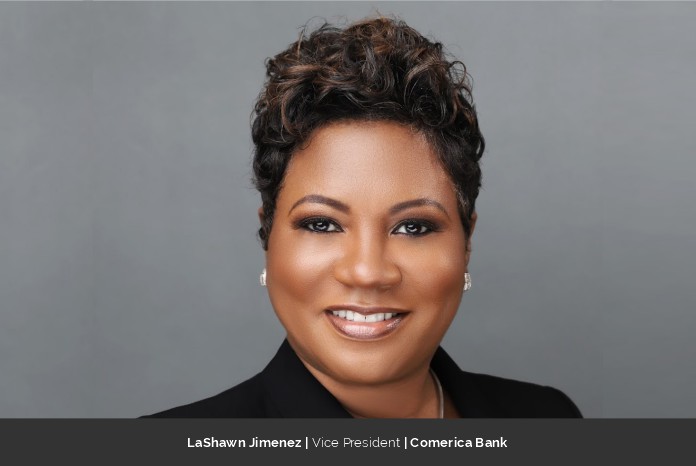 LaShawn Jimenez, a visionary leader at Comerica Bank, embodies the essence of determination, confidence, and grace. As a Vice President and Trust Advisor and co-chair of Comerica's African American Business Resource Group, she is dedicated to providing her clients with the highest level of service. She incessantly strives to make a positive impact on those around her. With an unwavering spirit and contagious positive energy, LaShawn serves as a source of inspiration to many, and it's no wonder she has been named among the Top 10 Charismatic Black Leaders to Watch in 2023. With a mantra to live daily to make a difference, LaShawn believes in embracing one's uniqueness and never shying away from their true self, as she sets her sights on elevating her own success while leaving a lasting impact on the world.
She quotes, "live each day, knowing that God created one Me to make a difference and be fabulous! Don't forget where I came from, nor be ashamed of what I look like or who I am, and NEVER be apologetic for my footsteps to elevation while making a difference headed toward my success!"
LaShawn is an integral member of the Comerica Bank team due to her extensive background in wealth management banking. She oversees clients with a net worth of $1 million or more and gives them the best service possible from a trusted company. She is also quite proud of her volunteer work with groups like Tutor-Mate and My Brother's Keeper and The Tarence Wheeler Foundation, whose motto is "alleviate all non-academic barriers because powerless kids need powerful friends." Jimenez also provides mentorship to young children in the metropolitan Detroit area through the school system and the Triumph Church Community Foundation. In addition to her work as a VP at Comerica Bank, she also serves as chair of Michigan African American business resource group, which focuses on business development by attracting and strengthening customer relations in the African American community and supporting activities and programs impacting the community. Additionally, she is also a leader within the bank's women's business resource group.
In this spotlight feature, Jimenez delves into the key elements that have fuelled her ascent to the top. From the significance of collaboration to the unwavering might of professional connections, Jimenez imparts valuable insights into what sets her apart. Get inspired today!
Success is a mirage that dances on the horizon of each individual's aspirations, and every leader has a unique way of pursuing it. LaShawn Jimenez, with her astute vision and unwavering determination, is no exception. She has her interpretation of what success entails, and she is on a relentless quest to make it a reality. With her innovative ideas and unrelenting spirit, she wants to leave a lasting impact and inspire countless others. Jimenez says, "stay God fearing and living in my purpose to inspire others while making a difference through building relationships, bridging gaps, education, elevation and staying committed to one goal in being the change."
Comerica Bank: Where Dreams Deposit & Inspiration Multiplies
LaShawn Jimenez states she had a compelling and self-explanatory motivation for joining Comerica Bank. It's a bank with over a century of history and a relationship-based philosophy driven by excellent employees with a common purpose.
Challenges: The Gift of Growth Wrapped in Difficulty
Great leaders are forged through their challenges, and how they handle these obstacles defines their success. As a Vice President for Comerica Bank, she knows this all too well. She has navigated her own rocky road and emerged stronger, more resilient, and more confident in her abilities. She believes that challenges are a learning experience and an opportunity to reveal one's strengths and inner fortitude. LaShawn is a testament to the transformative power of facing challenges head-on.
Comerica Bank and its services
In LaShawn Jimenez's words, Comerica Banks is a "relationship bank." They have a dedicated team of professionals to ensure their clients' and customers' success. They are committed to providing exceptional customer service and delivering financial solutions that meet each individual and business's unique needs. By working closely with their clients, the Comerica Bank team strives to empower them to achieve their financial goals and reach their full potential.
Comerica Bank is a financial services company that provides banking, mortgage, investment, and insurance products and services to individuals and businesses. It is headquartered in Dallas, Texas, and operates in several states in the United States. The bank is dedicated to serving its customers and communities by providing personalized and innovative financial solutions to meet their unique needs. Comerica Bank is committed to operating with integrity and responsibility, guided by its core values.
Comerica core values
Comerica Bank is founded on a sturdy set of principles, including "One Comerica," where the customer always takes precedence, "The bigger possible," which embodies a growth mindset, "A Force for Good," as they strive to make a positive impact, "Trust" in their dealings with clients and colleagues, "Act" with integrity, and "Own" their responsibilities. These values form the cornerstone of Comerica Bank's culture and guide its actions.
Comerica Best Recognition
Comerica Bank received prestigious recognition from Newsweek publication in 2023, being named to the list of "America's Most Responsible Companies" and "America's Greatest Workplaces for Diversity." This recognition is a testament to the bank's commitment to responsibility and diversity, setting it apart among its peers as a leader in these areas.
Jimenez's Strategy for Ethical Excellence at Comerica Bank
Jimenez's days are far from monotonous, as she encounters a rich tapestry of individuals from many diverse backgrounds. Her response to these experiences is unparalleled – she approaches each interaction with a reverence for the inherent worth of all people and an interest in learning from their perspectives. Her steadfast commitment to ethics, both in her personal and professional life, sets LaShawn apart as a person of character.
She says, "I stay honest and truthful, remember I am human, and if I make a mistake, own it, most of all, never do anything through arrogance for personal gain."
LaShawn holds fast to the belief in mutual respect and encourages others to practice the golden rule, "treat others as you wish to be treated." She recognizes that kindness comes at no cost, whereas incivility and unkindness have the potential to cost you everything. LaShawn is a firm believer in the beneficial effects that an optimistic outlook can have on one's life and the lives of those around them.
A Leader with a Legacy of Satisfied Clients and Proud Feedback
As a proud leader, LaShawn takes great pride in the positive feedback she has received from her clients. They praise her selflessness, upbeat attitude, and authenticity as their trusted advisor, always available to them. LaShawn views her clients as more than just business contacts but individuals with whom she has established real relationships. These testimonials are a testament to her commitment to excellence and her impact on the lives of those she serves.
Influence on Molding the Next Generation of Innovative Leaders
Serving as vice president and trust advisor, LaShawn is passionate about shaping the future of leadership. She strives to be a shining example of positive change and encourages the next generation of leaders to follow in her footsteps. LaShawn Jimenez is a firm believer in Steve Jobs' golden words that read: "your time is limited, so don't waste it living someone else's life." She advises these aspiring leaders to stay true to their beliefs and maintain their authenticity, genuine nature, and compassion. She encourages them to demonstrate empathy and to seek new learning opportunities constantly. Rather than being self-focused, LaShawn stresses the importance of selflessness and the power of being a cheerleader for others. By embodying these traits, the next generation of leaders can positively impact and inspire change.
She says, "stay true to who you are in your beliefs, remain authentic, genuine, compassionate, always remember to show empathy and learn something new every day, know it is okay to be a cheerleader for someone else. Don't be selfish but selfless."
Responsibilities at Comerica Bank
As Vice President and Trust Advisor at Comerica Bank, LaShawn Jimenez plays a vital role in providing top-notch trust services and growing the Wealth Management and Trust division. She manages clients with a minimum net worth of $1 million and focuses on their financial and asset management goals during interactions. Working closely with specialists, LaShawn delivers the key components for a successful Wealth Management experience and prioritizes positive customer relationships to meet the needs of her clients.
Additionally, LaShawn serves as the Chair of the African American Business Resource Group, where she works to increase Comerica's visibility in the African American community by fostering relationships. This role also provides members of the African American BRG with opportunities for leadership development and career advancement.
LaShawn Jimenez's Motivational Magic for Employees
As a leader, one of the most crucial tasks is to imbue a sense of purpose in your team by fostering a shared vision and inspiring them to work towards common goals. However, this can often prove challenging, especially when faced with setbacks or uncertain circumstances. The experience can prove valuable in these moments, and LaShawn Jimenez has it in abundance. To keep her team motivated, she emphasizes the importance of teamwork, encourages a positive outlook, and sets an example by being willing to do what she asks of others. Jimenez also demonstrates that the VP values her team members as individuals by actively listening to them and showing empathy. By doing so, she keeps her team focused, engaged, and inspired to achieve their objectives.
She conveys, "by showing them that we are a team, remain positive and work together, doesn't ask anything of them that I am not willing to do myself, let me know that I hear them and see them as a person, not just an employee or a member of my team."
LaShawn Jimenez's foresight for the growth of Comerica Bank
LaShawn Jimenez is proud of the success that Comerica Bank achieved and looks forward to what lies ahead. She recognizes the strong foundation that has already been established and believes that the CEO's efforts toward promoting diversity, equity, and inclusion will play a vital role in the bank continuing to positively impact its customers, colleagues and communities. In line with Comerica Bank's identity as a relationship-focused institution, Jimenez stresses the importance of staying true to their roots and keeping the customer at the forefront of all decision-making processes. With these principles guiding the bank's future, Jimenez is confident that Comerica Bank will continue helping people thrive.
Perfecting the Work-Life Balance
A clear and peaceful state of mind is crucial to achieving a healthy balance between work and life. LaShawn Jimenez, Vice President/Trust Advisor at Comerica Bank, navigates a fast-paced world filled with essential duties and numerous people to interact with daily. Finding that delicate balance requires deliberate choices and deliberate effort. To help her achieve this, LaShawn has harnessed the power of daily rituals to unwind and embrace a state of relaxation. Beyond her work, she makes time for pursuits that bring her happiness and fulfilment. However, her unwavering faith in God lies at the core of her resilience and success. LaShawn lives by the wisdom of Proverbs 3:6, which states, "Trust in the LORD with all your heart and lean not on your understanding in all your ways. Acknowledge him, and he will make your paths straight." By following this principle, she keeps God at the forefront of all she does. It helps her to stay focused on what is truly important and takes everyday moments for self-care to refuel and recharge.
Signing off advice
LaShawn Jimenez is inspired by the words of Harriett Tubman, who reminds us that "every great dream begins with a dreamer. Always remember, you have within you the strength, the patience, and the passion for reaching for the stars to change the world." She advises aspiring business leaders to 'stay true, committed, and prepared'! The visionary lady shares her wisdom with future business leaders, encouraging them to stay true to themselves and their purpose. LaShawn stresses the importance of commitment and being present with an open mind as an active listener. Setting goals and being prepared is key, and she reminds aspiring leaders always to seek out teachable moments and continue learning just as they did when they first started.