Derrius Quarles: Living the Dream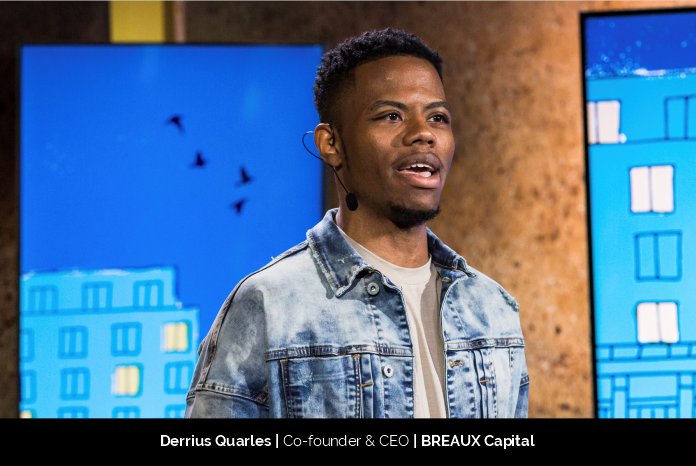 Born and bred on the South Side of Chicago, Derrius Quarles marched through 13 years of foster care after losing his father to violence and being separated from his mother to become a first-generation college and Ivy League graduate. Growing up, Derrius realized that there was a life beyond poverty. After he won a million dollars in scholarships, Derrius was granted access to a bevy of successful networks. He wanted to create platforms that gave marginalized people tools to better their worlds and his journey had begun.
The rise of visionary
Derrius started his first business at the age of 15 and since then he has leveraged technology to build multiple companies that improve Black Lives. His first book, Million Dollar Scholar: Winning the Scholarship Race has assisted thousands of students across the globe increase their knowledge of how to make higher education more affordable through scholarships and grants. The reception to his first book pushed him to develop his first company by the same name. Derrius wanted to create a company that cemented the coaching tips that he gave in his book, on preparing oneself to be in the best position to successfully navigate the scholarship acquisition process. Since then, Derrius has had the pleasure of being the part of success stories of students who've utilized MDS as a resource, along with the brotherhood that he has developed while creating these companies and the worldwide connection. Derrius's business ventures and the book have collectively impacted the lives of over 15,000 marginalized youth in America.
The foundation of platform that focuses on doing good for society.
Frustration with the entrepreneurial fundraising status quo inspired the founding of BREAUX Capital. During his time building Million Dollar Scholar, Derrius and his co-founder experienced a heavy degree of bias and racism as they began to fundraise. They won a bevy of major pitch competitions yet somehow; they were continually passed over for series funding for Million Dollar Scholar. "We concluded that we were passed up because we were two proud black men unwilling to change our image to become more "palatable" to white bro culture that we know is the hallmark for "traditional" startup culture. We wanted to create a company that empowered black marginalized millennials by giving them access to resources that they would otherwise have to search outside of themselves for," Derrius remembers.
Through BREAUX Capital, Derrius assists the 70% of Black millennials who would not be able to afford a $1,000 financial emergency enhance their financial health through a powerful combination of software that automates savings behavior and education through a peer community. Moreover, as the founder and CEO of Million Dollar Scholar, an education technology social enterprise, Derrius helps low-income high school students acquire scholarships to pursue higher education. Also, as the founder and Brand Architect at DQ and Partners, a web design agency, Derrius partners with emerging business and influencer brands that are improving communities in the fields of education, technology, health, art, and equity.
The achievements make the journey fruitful.
When asked to talk about the driving force behind its inspiration, Derrius said, "It's a humbling honor I received from Harry Belafonte at the 2012 Common Ground Gala hosted by musician and actor, Common. Mr. Belafonte said to the audience that "Derrius is the dream Dr. King and I, as well as so many others, fought for…". Since that evening, I have decided to carry the metaphoric torch that he handed to me." Three year later, Derrius was honored by Barack Obama at the White House for his activism in expanding educational access and named to Black Enterprise's 100 Modern Men in 2017. Beyond these awards, Derrius's work has been highlighted by more than dozens of major publications. Most recently, Derrius was an Entrepreneur in Residence at TED where he delivered a dope TED Talk discussing the role large banks have played in economically marginalizing Black Americans and the innovation BREAUX Capital represents in the marketplace for Black millennials.
Creating a life for yourself
"I have a deep bucket-list so as I grow my desires grow, so I can't say I achieved ALL that I had desired, however I can say I achieved many of my desires. While completing my creative residency in Malaysia this past summer, I realized my hard work finally paid-off when I realized I created a life for myself, where professionally I have autonomy over how my life is governed. I can humbly say, I've created a life where I don't have to necessarily answer anyone except the people I've been called to serve in my capacity," answered Derrius when asked whether he has achieved all that he desired.
The future vision
Moving forward, Derrius's plan is to focus on growing BREAUX & Company. Its additional portfolio companies include, Techgroove – an innovation and technology festival built to connect underrepresented students and urban professionals to career opportunities and DQ and Partners – a boutique website design and brand strategy consultant that collaborates with early and mid-stage companies to develop their brand identities, websites, business models and customer acquisition channels. In the next couple of years BREAUX Capital will be the premier financial technology and services engine for Black Millennials.
Derrius's note for you.
You have the complete license to be your best unapologetic self while you strive for success. You do not have to shrink yourself and make yourself more palatable to society to become successful. What keeps me going is the possibility of creating a world where kids like myself, know undoubtedly they have access to options for a better life.