Kirsten Sireci Renner: An Award-Winning Leader in Infosec Recruitment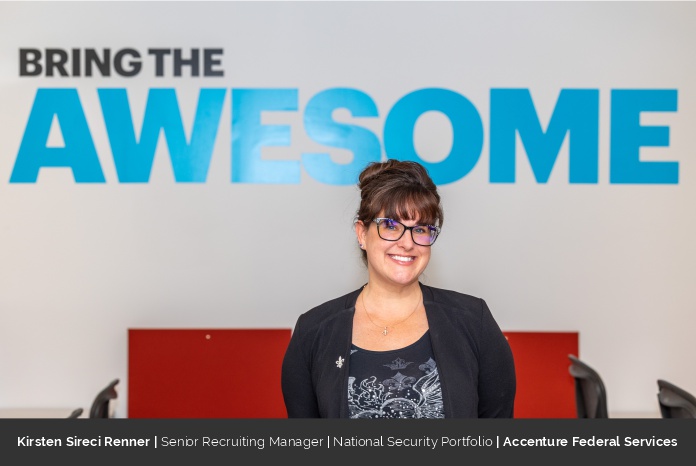 Kirsten Sireci Renner is a Senior Recruiting Manager in the National Security Portfolio at Accenture Federal Services. She is a thought leader who has received multiple recent awards, including in Top50 TalentPro and Top Recruiter USA in 2021, and 10 Most Influential Talent Leaders and Top100 TalentPro in 2022.
Kirsten started her career as an application developer turned helpdesk manager. She has spent over the last decade doing recruiting exclusively for the infosec and govsec spaces.
She is well-known in the community for her volunteer efforts at industry conferences and in villages, providing interview coaching and resume critiquing. She is also recognized for her role as a co-founder in the Car Hacking Village, helping expand its reach globally, one badge-line at a time.
Kirsten is also passionate about supporting volunteer activities to train, mentor, and assist veterans and under-represented groups in career advancement through her non-profit organization, Dynamic Talent Solutions, LLC.
Falling in love with tech and coding
Kirsten's first government contracting job was at the age of 18, supporting the GSA. It was supposed to be a temporary role sitting at the front desk while she put herself through community college.
"It was a contract providing software support to various agencies and I was immediately infatuated with learning about the technology being developed, how it worked and how I could help," says Kirsten.
Kirsten worked her way from front desk greeter to taking care of everyone's timecards and open enrollment, then started posting jobs for openings.
"Next thing you know, I'm in HR, but I still want to do the tech," she says. "They made me an apprentice, I wrote my first line of code, and I was in love. My work wound up being one working component of a remote profile maintenance tool in Visual Basic, but I wanted more."
Kirsten then saw an opening in her hometown working for the local municipality (back to HR) and after four years of commuting 75 miles one way, she parted ways with the federal contractor role, and became a government employee for five years.
"First in HR as a generalist and worker comp admin, then I did what I'd previously done and helped build a helpdesk and replace their old AS400 mainframe system with PCs," she recalls. "I recruited the staff, managed the team, and even answered the calls and did training for users, deploying a thousand workstations."
After five years, Kirsten ended up leaving Southern Maryland and moving to Northern Virginia, taking on a role again as helpdesk manager, this time at a startup, where there was still a lot of recruiting to do.
She naturally fell into picking up the recruiting work, until moving into a role as a contractor that was primarily tech recruiting. From there, the rest of her journey was all recruiting, and all technical.
"I often say I am not sure anyone sets out to be a recruiter. We all happen to arrive here, from various places – in my case IT – but I have a team now made up from backgrounds that include a bartender, financial planner, linguist, fast-food-restaurant manager, and an intelligence analyst and more," Kirsten notes. "I personally noticed when building and running a helpdesk that the team-building was my favorite part, but I always wanted to stay close to technology. And let's face it – the best of us have a competitive spirit. So here I am."
The journey from tech to recruiting
As a contractor, Kirsten went from role to role, completing assignments, naturally thriving best where she could make improvements and take on responsibilities. As a director at an SDVOSB (that didn't really have a recruiting process at all beyond posting jobs), she bridged the gap between the requirements and delivery by going on site and engaging with the end customer.
"Things like that, which seemed like a natural path to resolution to me, were seen as innovative to executive leadership," she points out.
Next, at Crucial Security, she was the recruiter primarily responsible for the Security Research focused recruiting, and introduced the importance of connecting to the specialized target group of [mostly passive] candidates through community engagement at conferences.
When recruiting seemed to be stuck and not delivering on its specialized requirements, she showed up at the customer site to find out face-to-face why recruiting wasn't delivering.
This small gesture built a strong relationship with the customer, and an understanding of requirements that served to be fruitful and drove productivity.
Soon Crucial Security became part of Harris.
"It is at this time that through my conference attendance, and the relationship I built with Kathleen Smith at Clearedjobs, I started taking on volunteer activities instead of just attending," she recalls. "She later asked me to participate on a panel at a conference, and although it seemed terrifying at that time, she told me to just sit down and have a conversation with her, and not pay attention to all the people and cameras watching. And the rest is history."
Since then, circa 2009, Kirsten can be seen nearly every month of every year, not just volunteering, but speaking and doing podcasts and webcasts, and contributing to useful insight across the globe.
"I've been a speaker dozens of times and have many more upcoming speaking engagements," she says. "This is my way of reaching organizations and candidates in my mission to help bridge gaps in recruiting. Connecting many who may otherwise never have connected outside of the conferences, villages and talks. I listen to what people say they need or feel is broken, and help design solutions that satisfy all the stakeholders. Driving positive change that impacts lives fulfills me like nothing else."
A rewarding and satisfying journey to leadership
Kirsten was later recruited to Sparta to support the same type of work, and lead the specialized component of delivery. Sparta, which focused on Offensive Cyber to protect the nation's most sensitive information and critical infrastructure, was then acquired by Parsons.
"This was an incredible part of my career path, as I was trusted and relied on to lead the area of recruiting I am so passionate about, and was able to expand my conference attendance, influence a whole social media model, and be a critical catalyst for process innovation," she says.
Kirsten appreciates the fact that Parsons let her explain what worked and why, then gave her the chance to prove it. It was here that she led a small group of recruiting, sourcing, and administrative professionals, to deliver critical staff in the areas of Collections, Communications, and Operations, for the Cyber Intelligence Division of Parsons Government Services.
As the Cyber Recruiting Team Lead at Parsons, Kirsten worked closely with the engineering teams, from line-managers to executives, as well as engaged with end-customers to ensure the most intimate understanding of technical needs, and design the best custom plan and solution for each challenge, whether it was a surge calling for a large team of engineers, or one uniquely exclusive sparkly unicorn.
"This was the time when, through the relationships I established and cultivated inside the hacking community, through attendance and volunteering, I co-founded the Car Hacking Village, which gave me my place in the space," she explains.
The primary goal of the Car Hacking Village is to build a community around discovering weaknesses and exposing vulnerabilities that could significantly impact the safety and security of all drivers and passengers, with the aim of increasing the safety and security of vehicles on the road today, and for generations to come. This, like all villages and similar initiatives, opens new doors and opportunities that reach and connect folks with common interests, that may have otherwise never met – building bridges and opening doors for diversity and inclusiveness.
Disrupting the norms at Novetta
Kirsten was then recruited to Novetta as Senior Director of Recruiting, where not only was she able to get the support she needed for the Car Hacking Village, but given every resource she required to fully design every step of the process.
"The process they let me design focused on the experience of the candidate. In my director role there, I was directly connected to operations, delivery, executive leadership, and marketing, to ensure that, at every step of the way, the recruiting machine was fulfilling all its requirements at optimal level," she says.
Novetta was a leading provider of advanced analytics solutions that helped clients find clarity from complexity in dealing with massive disparate data sets that were never intended to be analyzed together. Grounded in its work for national security clients, it pioneered disruptive technologies in four key areas of advanced analytics: data, cyber, open source/media and multi-int fusion.
Novetta applied insights and disruptive technologies including artificial intelligence, machine learning, cyber, cloud, and information exploitation, to deliver mission-focused solutions to federal, defense, and intelligence customers through scalable advanced analytics and disruptive technologies, and transform how defense, intelligence, and law enforcement organizations use data to better meet their missions and empower their workforces.
"There was a pivotal moment in my career journey while at Novetta, when my supervisor and mentor told me to 'stop trying to be the best', [and start noticing what each of my direct reports was great at, and help them be greater]," Kirsten recollects. "That was the day I became a leader, and it has been so rewarding and satisfying. To me, that is success."
At Novetta, Kirsten developed a candidate focused process, tracked and analyzed data for process improvement and challenge resolution, established and developed strategic partnerships in Operations, Marketing, Business Development, and across all business portfolios, designed and continually reviewed and improved strategies, and helped to deliver cleared technical talent to teams providing exclusive state of the art services and products to secure the nation.
"I built, cultivated, and managed a team of recruiting professionals like no other," she states. "We helped Novetta grow and stay miles ahead at bleeding edge technology and complex solutions; and more than double in size in less than five years!"
Expanding the recruiting process at AFS
The acquisition of Novetta by Accenture Federal Services (AFS) was the third time that Kirsten had been at a company that was acquired by a larger organization, and her role there is, in part, to build on the recruiting machine she built at Novetta and help define the next generation of innovation across the AFS recruiting program.
By acquiring Novetta, AFS added a new National Security portfolio to provide the highly specialized, mission solutions that clients turn to for expertise in the converging domains of analytics, intelligence expertise, cloud engineering, and cyber. Together, AFS and Novetta plan to deliver the next generation of programs to help the federal government be more innovative, agile, and secure.
"It's the most challenging and exciting thing I've done so far in my career. In just six months, with the support of stakeholders and colleagues, we've driven great change that has made significant impact already," says Kirsten.
Kirsten was delighted when she first got to AFS and saw a research piece by Accenture and Harvard Business School called Hidden Workers that identified over 20 million workers in the U.S. who were impacted by diverse factors that lead to their underemployment. The piece calls for employers to reform assessment and recruitment practices to expand opportunities for willing and eager workers, which falls squarely in-line with Kirsten's well-known "You're qualified" personal brand. Nothing drives her more than to make a connection between someone who wants to do the work, and the path to get them there!
Kirsten points out that AFS has recognized and appreciated the expertise and viewpoints she and her team brought to the table. For her, partnering with the existing recruiting leadership, sharing perspectives and thoughtful collaboration has proven that even the slightest adjustments, when carefully analyzed and cooperated on, can set that big aircraft carrier on a straighter path – with the agility to deploy lifeboats, or other mechanisms, when necessary.
As a talent acquisition leader, Kirsten believes that it's important to set your goals in segments, in order of difficulty, but never lose sight of the most challenging ultimate endeavors. Describing herself as a solutionist, she is committed to watch what she built at Novetta survive, thrive and expand across the portfolio she is leading and beyond.
"The challenge is exciting and my loyalty to the mission (and Tiffanny Gates, who leads the National Security Portfolio at AFS) is strong" she says. "When I'm ready for something different, my post-AFS plan is to serve in an advisory capacity, likely do a ton of speaking and volunteering. Maybe get myself a ranch with goats and puppies!"
Careers are a lot like ultra-marathons
As an ultrarunner, Kirsten knows that overcoming challenges is the most fulfilling feeling. "I believe this with every fiber of my being. Careers are a lot like ultra-marathons. You take it one mile, one turn, and one stumble at a time, competing against yourself really. What is my best today and how can I be better tomorrow," she reflects.
She describes each of her days as a requirements-gathering exercise, via emails and meetings that she analyzes and collaborates on with her team and stake-holders, to drive change and offer solutions. Noting that some days are better than others from a balance perspective, she points out that she took her work stuff of her personal phone years ago, and that is the line for her.
"I try to get my team to do this as well. We all spend enough time on our computers that we don't need to carry it in the car or to personal things with us," she observes. "I try to stay connected to my team, always be available to them (I could do better) – and support them and recognize them in all that they do. Rewarding and achievable incentives help too!"
Kirsten points out that while she was once in a series of recruiting assignments across integrators and startups, and before that, was building helpdesks and dabbling in software engineering, she was never far from tech, no matter what role she was in.
"Looking back over every chapter in this nearly three-decades-long evolution of a front desk clerk, to programmer, to lead of recruiting organization at a large integrator, it was an insistence to not just observe things that didn't make sense (or could be done better, smarter, faster) – but to offer solutions and help drive the path to execution," she says. "When ideas manifest to fruition and it works, everyone wins."
Doing the right things is the formula for success
Kirsten takes her journey as a leader one step at a time, delivering talks at industry conferences, participating in panel discussions and volunteering and coaching, as her way of introducing different approaches and perspectives.
"I stepped into the leadership part of recruiting by just taking ownership and making change. Noticing wrong, outdated or broken things and fixing them," she reflects. "The notes I get from my team and from candidates will always mean more to me than any awards or accolades, but no lie, this top 10 influencer recognition is a great honor that I am proud of."
Kirsten reminds her team, currently six months into a post-acquisition integration, that each new challenge they overcome is a learning opportunity, that they'll be better for it when they look back, and that when they're looking at the challenges before them, they must not forget to reflect on the accomplishments behind them, and let that propel them forward.
"When you're noticing the challenges before you, don't forget to take note of all the accomplishments behind you to drive you forward."
"I first started trying to turn things on their head a few jobs back, being insistent that different areas required different approaches," she recalls. "I can be a little persistent at times (or so I've heard), in a good way, it's the fighter in me, and I care so much about helping the candidates find their way, which ultimately leads to missions being staffed and accomplished."
She admits that she cares about the boots on the ground more than profit and that, ironically, taking care of the right things ends up being profitable. "The best leaders I've admired over time are the same way. Doing the right things for the right reason, is the formula for success," she observes.
Reflecting on the changing landscape of the industry with the advancement of technology, Kirsten believes that it's important not to lose the human touch.
"That is the old school part of me. Relationships and process are more important than tools. I don't want things to be so automated that we lose sight of people and connections," she says. "Don't get me wrong, there are great tools that make the day-to-day of tracking, reporting and nurturing easier. That's huge. The best recruiters, with the right process, can make it work with trash tech. Then, if you give them the tools they deserve, that's just gravy."
Kirsten's advice to aspiring leaders is: Shoot high in your endeavors, take it one chapter at a time and never lose sight of your end goal. If you remember the greatest things you overcame, and how you felt when it seemed impossible, that is a mark of how much stronger you are now than you were, and how much stronger you'll be after your current challenges are but a memory behind you.