The 10 Most Influential Leaders in Talent Acquisition Industry 2022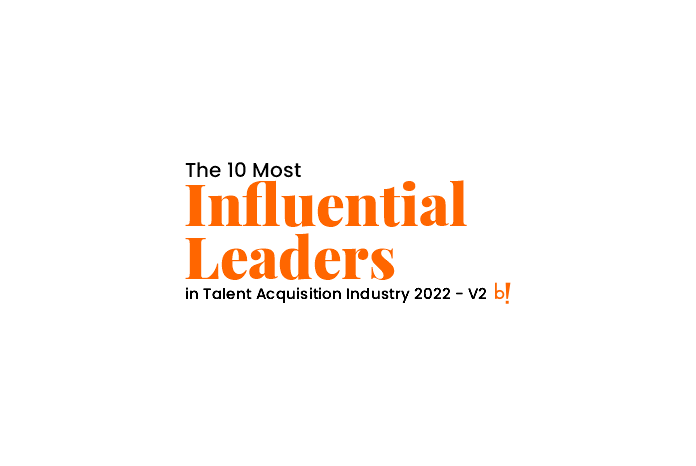 A Great Marketing Strategy That Runs A Successful Business Is The Right Recruitment

Dynamic and expansive changes have been noticed in the recruitment industry in the past few decades. There is no shortage of learning when you are a part of this industry no matter how long you have been in it. A good talent acquisition leader tends to understand the way their audiences' expectations and needs shift along with the changes in the job industry and they undoubtedly continue to meet these expectations. Top human resource and recruitment leadership are constantly looking for new input in technology and trend to make the process smoother maintaining the right balance.
The best talent acquisition minds strive hard to maintain a balance and keep the flow going as the world of hiring and recruitment undergoes phenomenal changes with each passing year. Honoring the growth and success of these leaders, we at Beyond Exclamation dedicate this issue titled "The 10 Most Influential Leaders in Talent Acquisition Industry 2022" to them. Featuring on the cover of this magazine we have covered the successful journey of Kirsten Sireci Renner, Senior Recruiting Manager | National Security Portfolio at Accenture Federal Services. Kirsten is a thought leader who has received multiple recent awards, including in Top50 TalentPro and Top Recruiter USA in 2021, and 10 Most Influential Talent Leaders and Top100 TalentPro in 2022. She is well-known in her community for her volunteer efforts at industry conferences and in villages, providing interview coaching and resume critiquing. Kirsten takes her journey as a leader one step at a time, delivering talks at industry conferences, participating in panel discussions, and volunteering and coaching, as her way of introducing different approaches and perspectives. She is also recognized for her role as a Co-founder in the Car Hacking Village, helping expand its reach globally, one badge line at a time. Learn more about her journey in this exclusive article.

Inclusive are also the journeys of a few more influential leaders like Simon Oldham, CEO and Co-founder of QJumpers; Bruce Decaster, President and CEO of Crescentia Global Talent Solutions; Stephanie LaTorre, Founder and CEO of EGM; Sandra Dillon, VP, Talent Development of Kemira Oyj; Susan Poser, Vice President, Customer & Employee Experience at Oracle; Richard Harter, VP of Client Strategy at Datrose; Dawnita Wilson, Vice President – Diversity & Inclusion at JBG SMITH and; Jay Fulcher, Chairman and CEO of Zenefits.

Happy Reading!
Follow us on social media.