Kevin Carpenter: An Empathetic Leader Driven to Guide Others as a Beacon of Light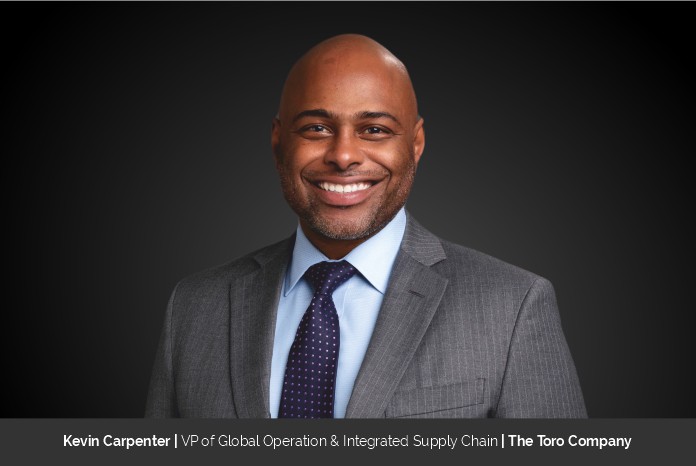 Kevin Carpenter, the VP of Global Operations and Integrated Supply Chain for The Toro Company, dreams of leaving a big impact on this world. He heads Toro's supply chain, overseeing procurement, manufacturing, order services, transportation, safety, quality, aftermarket service parts, advanced manufacturing engineering, and enterprise productivity for the nearly $5 billion company.
As a proven leader, design engineer, and operator, Kevin has helped organizations grow revenue and earnings by driving the integrated supply chain. He is a board member of the Dual Degree Engineering Program at the Atlanta University Center Consortium (AUCC) and the former Urban League Cleveland board (2016- 2019).
Kevin was named a 2022 Savoy Magazine Most Influential Black Executive and Toro was named by Supply Chain Insights as a 2022 Supply Chains to Admire. He has mentored and interned with AUCC, National Society of Black Engineers, and National Black MBA Association students for over 20 years. Since joining Toro, he has helped lead several corporate diversity, equity and inclusion efforts to support student scholarships, conferences, job fairs, and professional development.
Kevin has an impressive educational pedigree, armed with a Master of Arts in Biblical Studies from Ashland University, Master of Business Administration from the Weatherhead School of Management at Case Western Reserve, Master of Science in Industrial Engineering and Engineering Management from Youngstown State University, Bachelor of Science in Electrical Engineering from Georgia Institute of Technology, and Bachelor of Science in General Engineering, with a Minor in Mathematics from Morehouse College. He holds two electrical design patents and studied Finance for Senior Executives at Harvard Business School in 2021.
"Life has a way to gear you toward your vision even before you are fully aware of it. Planning, setting goals, establishing tactics, and keeping score of your progress are crucial for success."
The Dream of Leaving a Big Impact on the World
Since he was little, Kevin had had big dreams. Raised in a loving household full of educated women, with his grandmother, mother, grandfather, and aunts, he was told that he could be anything. He credits his family as being very instrumental in his development and helping to shape him into who he is today.
"They never told me what I could not do. They told me that the sky was the limit. So, I was never limited in thought, regardless of what we didn't have during my childhood in Tuscaloosa, Alabama. I always dreamt big, and I wanted to be a C-level leader. I aspired to be an accomplished writer. I also had big dreams of becoming a basketball player, but I was limited in height, so that dream came to an end quickly. I dreamt of being an engineer. These big dreams have come true in part," he reflects.
Each of these aspirations has enabled him to leave this world a little better than he found it, including his desire to push diversity, equity, inclusion, and belonging for everyone to succeed.
"In order to succeed in the world, wake up in the morning ready to work. Wake up in the morning ready to make impact!"
A Career Journey That Reinforced the Superpower of Empathy
Kevin started at General Motors as a controls engineer and was heavily into technology. He worked in program management at General Electric and led engineering and operations at Nexxus Lighting, where he managed product, program, design, and operations. He also worked at Magna International.
Kevin pivoted to manufacturing engineering, applications engineering, and design release engineering and worked in operations leadership on the plant floor. He led manufacturing engineering as Rockwell Automation's Manufacturing Engineering Vice President, where he improved efficiencies on the plant floor, and drove productivity and on-time delivery.
He served as Vice President of Operations for Residential and Light Commercial Systems, Quality and Continuous Improvement, and Advanced Manufacturing at Carrier, where he had the opportunity to become well-rounded in the quality space. He strengthened his leadership skills by running several plants in the Residential and Light Commercial Systems (RLCS) division, and the commercial division. After Carrier, Kevin landed at Toro.
"As I look at all the different levers I must pull, my experience has helped me understand all the different company functions, and it gives me a broader scope of how to engage with employees, peers, and teammates across the company. It has reinforced what I call the leader's superpower, which is empathy," Kevin observes.
Designing Technology for the Supply Chain
As a technologist, Kevin doesn't believe in technology for its own sake, but as a tool to optimize a good, solid, standard, manual business process to get the efficiencies you want.
"If you look at design, manufacturing, and distribution, that entire end-to-end is how we must think about the totality of the supply chain. We must design for the supply chain and factor in the nuances that are present in certain components. This involves a keen understanding of whether certain components may fit and determining whether they have manufacturability," he explains.
"My definition of optimization is acting on what you see (visibility). We gain that visibility through the technology, and then we can optimize by acting upon it, which drives the performance of the manufacturing and distribution arms. This gives the awareness of what's happening as we work to get the product to the customer," he clarifies.
All these customer-centric processes allow businesses to offer value to their customers by manufacturing, delivering, and supplying the optimized product to them on time.
Kevin insists that everything around the technology should be based on the customer, and as you serve them over that continuum, the aim should be to do so in increasingly better ways. As people see and adopt technology to serve the customer, technology adoption tends to grow exponentially.
"Life is hard. It will eat you up and spit you out. But strong leaders are built to take on life's challenges and not give up."
Learning Skills That Pay Dividends to The Bottom Line
Kevin's career journey started in 1998 in Warren, Ohio, at General Motors' Packard Electric Division, where he worked as a controls engineer on the plant floor for the wire harness make area. Soon after he started, the Division spun into a separate entity, called Delphi.
"I gained technical expertise as an engineer during the day and learned how to engage and lead people as a line supervisor at night. This rounded out my skillset early on, and this was the start of my journey," he recalls. "As I look back, I recognize the importance of both of those roles. As an engineer, I was able to solve the issues, but that true engagement on the floor drove the performance. Those two skills coupled together can pay dividends to the bottom line of the company because there's no revenue until employees add value to the materials and get the product to a customer."
As an engineer who started on the floor and went into the space of operations, design, applications engineering, and deep into plant operations, Kevin gained a very detailed view of how the company makes money in manufacturing. Even today at The Toro Company, he uses the lessons that he learned on the plant floor back in 1998 in Warren, Ohio.
Kevin points out that The Toro Company is a great organization with a rich history, and in operations, he's had the opportunity to build on that history. "We're strong believers in the Say/Do ratio, which rates our accountability. The company depends on our integrated supply chain team for that measure to ensure we can enable revenue and earnings growth," he says.
"I am a lead-by-example type of person and a true believer that, for me to lead, I must first serve. Driven by my service-based mentality, the Say/Do ratio and leading by example, our teams remain focused on continuing to improve our supply chain and disciplined operational execution," he shares.
Leveraging a Broad Knowledge Base with Deep Expertise
As an engineer, Kevin has been fortunate enough to have worked various jobs in the operations, engineering, and business spaces, having been in manufacturing, controls, applications, and design release, as an engineering manager, program manager, product manager, quality, and on the plant floor. His expertise in all thing's operations, design engineering, and manufacturing engineering has facilitated this growth.
Program management helped him understand product development. Product management helped him learn marketing and the markets they serve. Controls engineering taught him how to be technical in designing complex machines. Manufacturing engineering leadership taught him how to understand efficiencies. Quality showed him how important this sector is to their customer base.
Not only did these experiences allow Kevin to go deep as an expert, but they also allowed him to gain a broad knowledge base that allows him to understand the continuum, have empathy for his team members, and give him the awareness of all the levers they need to pull to service customers.
He oversees Manufacturing Operations and all Supply Chain activities at The Toro Company and views his responsibilities over the continuum of 'plan, source, make, and deliver' – the end-to-end view of how they supply customers, which is all customer- focused. He oversees how the company plans for the supply chain, sources components from its supply base, manufactures within its manufacturing facilities, and then delivers them through its logistics networks.
Kevin notes that this is not a traditional operations field because it puts manufacturing at the center of the supply chain.
"We look at all the handshakes across the continuum of plan, source, make, and deliver to ensure we serve our customers in a better way. We focus on the priorities of safety, throughput, and the 'We Are One' culture," he remarks.
"In your journey, the goal is not just to get to the mountaintop. The goal is also to bring folks there with you and to help folks get there before you."
Creating a Winning Culture That Succeeds and Engages People
Kevin defines the term 'culture' as a set of habits, and notes that as we get into the habit of doing things, it becomes our norm and the way we act daily. He ensures a culture of integrity and innovation at The Toro Company by fostering accountability and following through on commitments. "To have integrity means to be honest, and that goes back to the Say/Do ratio. So, I encourage accountability. I foster an environment where people look each other in the eye and keep their word," he states.
Kevin notes that innovation is change and growth, which can be hard. A great company cannot improve if they don't lean into innovation, ask questions, and pivot into what's next.
Noting that he could not be prouder of Toro's history and market leadership, Kevin's plans for the future of Toro are to keep transforming and performing. He sees the company's foundational strength, commitment to innovation and serving customers as important for a company to sustain, grow, and continually improve, and that will enable the company to win and meet its performance goals.
"The company depends on the integrated supply chain organization and my approach to leadership to continue meeting our stated goals. They depend on us to continue to push product and to make sure that our customers are served well," he states.
An Empathetic Leader Building an Engaged Workforce
Kevin doesn't believe that success can be defined in mere words because it is made up of some pretty robust ingredients. "One could say that success is winning, but how do you define that without detailing the ingredients or criteria? I'm operational by nature, so I look at numbers and the people that enable the numbers. So, if I have an engaged workforce made up of people who truly love what they do, that's success to me. That's an ingredient of it, and if you have that type of workforce, the numbers will bear out," he says.
Other key ingredients that define success in the workplace are respect, empathy, belonging, and equity. If you have people who feel respected, who believe that they have an empathetic leader, who know they belong, and that the company is equitable, you'll get the numbers.
"I'm a very empathetic man, and a lot of that comes from my background and from what I've endured in corporate America. I'm always mindful of people and how I serve. A successful leader is one who is empathetic and engaging, which will lead to performance," says Kevin. "We want everyone to feel like they belong and are focused on creating inclusive environments across the company."
As a highly engaged person, Kevin finds it critical to develop effective communication with his team. He keeps his employees motivated by always being available to listen, by showing his appreciation, and by putting himself in their shoes. He also believes that empathy and communication are necessary for leaders to maintain motivated and well-connected teams.
"Empathetic leaders use the superpower of empathy to understand their employees, not just professionally, but also personally. It's important to strike that balance so that you know where they're walking to and from," he observes. "You want them to know that you're not only there to support them, but also to help carry them during challenges, if needed. When they feel you have that connection with them, it motivates them to help carry out the vision."
The Tax of Having to Prove Yourself
Having worked in so many different roles over the years, Kevin was often challenged with functioning within a team while simultaneously looking ahead to his next opportunity. "As you advance in your career, you may encounter people who feel that you haven't done enough in a previous role. I call this the tax of having to prove yourself, which often comes with being an African American," he elaborates.
Kevin notes that those roadblocks often look like someone saying "Yeah, you're not ready yet, just do one more thing." That was tough for him because, at times, it seemed as though his efforts were never enough. It was also tough when he would see his counterparts progress in their careers without facing similar roadblocks.
"However, I realize these roadblocks have made me a credible and well-rounded leader, familiar with multiple facets of an organization. Most importantly, they've taught me empathy for my peers, my counterparts, and my employees," he maintains.
"Often times people get stuck on the idea and forget about execution. Or stuck on the lesson and forget how to apply it!"
Your Drive Is the Action Component of Hope
Other than the achievement of being a father, Kevin reveals that his best recognition was being acknowledged by Savoy Magazine as one of the Power 300 Top Black Executives in 2022.
"That was truly humbling, and it made me feel that the good work that I'm doing is being recognized in the industry. I'm not done yet, and that recognition just fuels me to keep striving. We still have work to do in the areas of manufacturing and industry. We also have work to do in diversity, equity, and inclusion. I believe that if I'm very proficient at the job and drive performance, people will listen when I talk about making things equitable in corporate America," he declares.
As a leader who's driven, Kevin notes that his drive is the basis of everything he does and is what keeps him committed and engaged. "As a leader, you must continue to drive forward, even if you can't see the end. Hope can be defined as the corresponding action to what you believe. You must have hope in yourself, your team, and the vision you've cast forward. Your drive makes that vision happen. Your drive is the action component of hope," he reflects.
Kevin admits that he's not yet found the healthy balance between his personal and professional life that he constantly yearns to find. "We make sacrifices when we become leaders, and I don't want that to be missed.
You're going to sacrifice something, and life will not always be in balance. However, if your goal is to be a trailblazer and make an impact in your company, you must continually move forward and understand that you may not find that balance until later in your career. I'm on a journey and my career is my passion. It's something I'm called to do, and I take that very seriously. Until I find that balance, I'll keep driving forward to get to that place called there," he insists.
Becoming a Beacon of Light to Guide Others
Since he was young, Kevin has always dreamt of leading teams and impacting the world in significant ways. Even though he's not yet achieved all his dreams, he's grateful for having achieved a lot.
"I won't stop until I achieve my ultimate dream of leaving this world better than I found it. I have children and other people who depend on me, and who'll come after me, and I aim to ensure that we leave this world a better place for them. My achievements thus far enable me to accomplish that ultimate dream," he declares.
One of Kevin's personal goals is to continue outreach to ensure a diverse workforce, as diversity, equity, inclusion and belonging are all critical to his success. His passion is to represent people who look like him to hear his voice and be inspired to strive and thrive in corporate America.
"Another important personal goal is to grow as a C-suite leader, help advance The Toro Company, and expand my knowledge of self. I will continue to help others because I'm called to be the voice of those who don't have a voice in certain spaces. So, I'll strive to be that beacon of light to guide others to get to where they want to be," he vows.
Kevin shares his four-point strategy, outlined in his book, Destiny, A Guide to Realizing Your Purpose, that details some steps to help aspiring leaders build a strong foundation of leadership skills that will serve them well as they progress in their career.
·  Have a vision of where you want to go. As leaders, we're called to paint the picture of a place called 'there'. People depend upon leaders to get our companies there.
·  Lean into the hard work and take those somewhat difficult opportunities that will make you a stronger leader on the other side.
·   Expect the mental challenges that will come along with the hard work. That's the trade-off.
·  Be patiently impatient. Learn everything you can where you are, but never lose sight of your ultimate destination.
"These four points are very instrumental in guiding you toward successful leadership," he concludes.