Kenneth Cochran: Leading Opelousas in Delivering the Highest-Quality Healthcare with a Personal Touch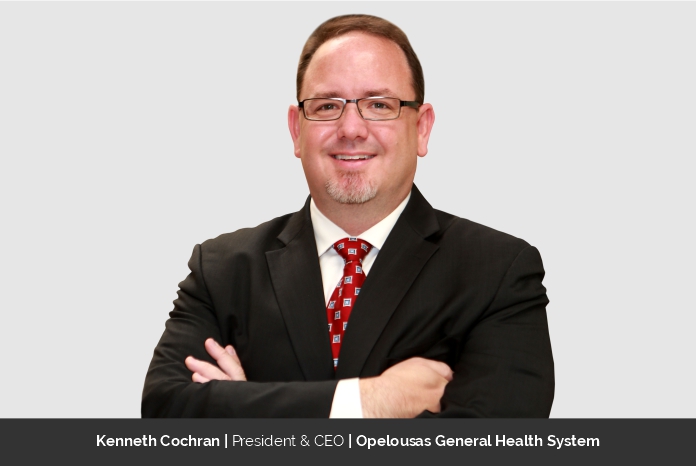 Great healthcare leadership is about creating a legacy of continual improvement to deliver the highest-quality healthcare with a personal touch.
As President and CEO of Opelousas General Health System, Kenneth Cochran has always been driven to design a better healthcare delivery system. He has been recognized twice in the Top 50 Rural Health Leaders to Know and was recently named locally as an Acadiana Kingfish, which recognizes accomplished businessmen in the area who give more to others than themselves.
He is an advocate for community health improvement with a focus on education, equity, access, and poverty abatement. As the Health System CEO, he manages the resources of a full-service, 2-campus, 197-bed health system that include a 40+ provider multispecialty Medical Group, Foundation, Imaging Center, Comprehensive Cancer Center, Home Care, Hospice and Palliative Care, Robotic Surgery Center, Mental Health Services, Inpatient Rehab, and Physical Medicine.
Igniting a passion for healthcare leadership
Cochran has devoted his professional life to providing excellent care to patients, learning and growing within the healthcare industry, starting at age 16 as a Nurse Assistant.
"I started off in health care as a nursing assistant. I spent a summer working in an emergency room to make money to pay for my car, insurance, and other hobbies. I fell in love and have been in healthcare since," he recalls.
By the end of that summer, Cochran decided he wanted to be a nurse and pursued nursing school, following high school graduation. He debated leaving healthcare when he was getting his MBA. However, it reignited his passion and confirmed he was in the right place, and that he really wanted to be a healthcare leader.
The challenges of going from nursing to Hospital CEO
The hardest part about Cochran's leadership journey was convincing companies that hiring a CEO with nursing experience was a benefit. Although he was promoted within the leadership structure, he faced many barriers when deciding to be a CEO.
"It was tough to get interviews," he recalls. "I was told to work in other operations-type departments or take an administrative fellowship somewhere to get operational experience in order to get out of the nursing division of healthcare leadership." But as the chief nursing officer at a 50-bed hospital, Cochran ran about 80% of the hospital.
"It made zero sense to me that people had so much doubt that a nurse can become a CEO. Despite their doubt, I was given a shot to run my first hospital. You do it once and you're a one-hit-wonder," he recollects. "So I had to make sure I did a good job, and then I got a promotion into a second CEO Job at a larger facility, and I'm into my third now. So I've broken the ice for myself."
Although there are still hesitancies about promoting clinicians into CEO roles, Cochran notes that it's more popular now than it used to be. "I had to network and take every opportunity I could to get feedback, and to position myself where somebody was going to give me a chance," he says.
An excellent problem-solver, able to find solutions, Cochran has mastered financial turnarounds and change management, having reversed declining financial conditions at four hospitals, ensuring that all facilities were in much better shape when he left.
Building a hometown community feel in healthcare
Cochran has been CEO of the 65-year old Opelousas General Health System for almost seven years, a very long time for a healthcare executive. "Our average tenure in my profession is about three and a half years," he observes.
Today, his role includes promoting health system services to the market, overseeing growth and profitability, and implementing strategic and operational initiatives.
Cochran notes that while healthcare was traditionally not a service-oriented profession, people are now better informed, they ask more questions, and they expect to be treated as if they're in a hotel. As a result, the healthcare industry has grown tremendously to meet customer needs, and measure that in both volume and in satisfaction.
"We've done that here in Opelousas, and we've quadrupled our patient satisfaction scores, which has improved our reputation and ability to expand our services," says Cochran.
He describes himself as people-centric, and believes that when you get the people, the service, and the quality pieces right, the financial pieces fall into place. Opelousas has grown in service lines through recruiting new physicians and providers, acquiring new property, and putting together solid programs to do that.
"One of the things that I've been successful at is recruitment of doctors. We have recruited more than 10 specialists since arriving. That has allowed us to expand services, from Critical Care, to Orthopedics, to Oncology, and General Surgery, and expand our footprint in the region," he says.
Cochran describes Opelousas's niche as hometown community feel versus corporate. Providing the highest-quality care possible, but keeping it personal, so patients know they care, not just at the hospital when they're sick, but also when they're at home.
"We have the advantage of being locally-owned, locally-controlled, and dedicated to the community. All of the dollars earned are reinvested into this organization, and ultimately the community," he says. "One of our greatest challenges is growing services and staff without losing the hometown community feel. We do that through our mission statement, which is 'Our Family Caring for Yours'."
"What I mean by this is that we want to exceed the patient's expectations the first time, and enable them to have a positive experience so they will return for additional services, and also tell all of their family and friends about that experience. We are on a continued journey to improve that patient experience through process improvement projects, goal setting, and tracking and patient satisfaction survey feedback," he says.
Bringing innovative solutions to healthcare problems
Cochran believes that innovation has different definitions and that the best vehicle is to build teams with similar devotion, and work jointly to bring innovative solutions to the problems healthcare faces. "Innovating to me is taking different best practices, and putting them together to fit your own scenario, even best practices from other industries," he says.
Cochran keeps abreast by being professionally involved at the local, regional, state and national level, an environment where he can contribute to improving things, and learn from others. "I encourage my leadership team to do the same, which keeps us all up-to-date on trends, working together as a team to come up with ideas that are good for our institution," he says.
Cochran has been involved with the American College of Healthcare Executives, American Hospital Association, Chamber of Commerce, Rotary, local colleges, the Louisiana Hospital Association, etc. to name a few.
He remarks how technology is changing how we do things, and that the biggest disruptor for healthcare is telehealth or telemedicine, where doctor or nurse practitioners provide care to somebody who's not physically at the same location.
"COVID accelerated that transition and made people try technology they were not comfortable with, and now the idea of talking to your doctor from your couch isn't so intimidating," he notes. "People that you wouldn't normally expect to like telemedicine are now demanding it, and the technology itself has dramatically changed."
Cochran observes how people now use their phones and have facial recognition, blood pressure check capabilities, and get their vital signs taken while they're at home, and presented to their provider, without any special technology or extra attachments.
He also thinks that five years from now we will see technology continue to evolve, improving work flow efficiencies by the use of artificial intelligence (AI). This could decrease labor expenses and improve the patient experience.
The pros and cons of the COVID-19 pandemic
Cochran believes that the pandemic made some improvements to healthcare delivery, but also revealed the vulnerability of the industry.
"It helped push telehealth to a whole new level of acceptability and that's a cheaper way to receive and to deliver care. Lowering your cost of care is important to all of us," he says. "It has helped remind people how important public health is, and how important health is, in general. I don't know if that's going to be a lasting effect, but I hope it is. Our country hasn't seen that kind of pandemic since 1918, and it didn't take long for people to forget those times."
Cochran believes the pandemic has also proved that the federal government can work at a quick speed to assess a situation, come up with a plan, and initiate that plan. He mentions how the money provided by the Coronavirus Aid, Relief, and Economic Security (CARES) Act helped support healthcare providers and other businesses.
"That's how I kept my doors open," he says. "In the first and second wave of the pandemic, we had to shut everything down. We had stopped doing surgery and outpatient services, which is the bulk of our gross revenue. Hospitals spend a lot of money every day in staffing alone, so you can't go long without the revenue. The CARES Act funding was important to our continued success and availability of services to the community."
Cochran believes the pandemic also helped in terms of emergency management skills, participation skills, and teamwork. "I think you can learn a lot about an organization by how they responded to the pandemic," he says. "When it comes to taking care of their staff, and whether they laid them off or not. We were one of the few employers in our region that did not layoff any staff during those initial COVID waves. I was very proud of our team and our organization because of this."
Cochran also reveals the ways in which the pandemic hurt the healthcare industry. "Financially, we were on a roll, a five-year winning streak. We were growing our services and volumes, recruiting physicians and staff, and the pandemic brought that to a halt," he says.
He also mentions that the volume of people who left the healthcare industry during the pandemic is a little scary. "We've had people that went home and never came back. They didn't go anywhere else. So it's not like you lost them to a competitor, they just left the workforce. Many were close to retirement and chose that option. Others moved into industries completely different than healthcare," he observes.
Cochran believes that the biggest current challenge is the labor war, with many clinical vacancies, nursing and respiratory therapy, and operating tech vacancies.
"Part of this challenge is caused by those leaving the workforce altogether, but also those people are now doing travel assignment jobs, and they're making a lot of money," he says. "On one hand, you can't blame them for doing it. It's their family, their bills, and an opportunity for them to get ahead financially, but they're leaving their homes in droves, causing staffing problems, which trickles down to cause financial problems due to escalating costs."
Cochran expects that this dynamic will last another year and bring a stronger focus on employee engagement. "We need to double down on employee engagement like never before in order to compete for the best talent," he says.
Cochran also credits his team for going above and beyond during the pandemic. "The part of the pandemic that was so hard was also beautiful from a teamwork perspective. What kept the team going is that we're responsible for people's lives," he says. "People stepped up and just focused on being a team player and doing whatever was necessary. I had staff, who never worked nights or weekends, take on weekend night shifts to help fill in jobs that weren't their own. That was beautiful, and that keeps me going."
The disruptive benefits of the Affordable Care Act
Cochran believes that the Affordable Care Act has disrupted the healthcare industry, educated the public on how expensive and financially consuming healthcare is, and how it is escalating at an unstable rate.
"It shook up the industry and changed the dynamics within the current system. You've seen examples with Big Pharma and the cost of the diabetic medication, where the manufacturer says its $35 when it leaves my factory, and the fact that its $300 by the time a consumer pays for it is not my fault," he states. "So people didn't know that every time that drug gets transported or sold again, it just keeps escalating that price, and by the time it makes it to the patient or the consumer, it's astronomically expensive."
Cochran believes that the Affordable Care Act has helped redesign the healthcare system. "We've progressed tremendously since the Affordable Care Act was passed, as an industry in all metrics. We've slowed down the cost curve, we've improved in quality, we've improved in our service and our patient engagement strategies," he observes. "We've definitely improved as an industry."
Cochran believes that the focus on improving quality and driving cost down is in the best interest of the public and patients. "I work in healthcare, but I'm a patient too. It becomes cheaper and better for me as well," he says. "I think that's what has been demanded of us by the public, and we're working towards that as an industry."
Success is achieving goals that benefit the majority
As a leader, Cochran strives to be thoughtful in problem-solving, listening, and in brainstorming, so that his team comes up with the best ideas.
"It may sound like a cliché, but everything you do depends on people, and you have to invest in your own people skills, and in developing yourself and your people in order to be successful," he says. "There's no computer or technology or amount of pay that will replace the ability and effectiveness of putting time and energy into your people."
A workaholic by nature, Cochran admits that he spent the majority of his career, putting work first, but nature has forced him to physically slow down as he's gotten older. He admits that finding balance is something he continues to struggle with.
Cochran has instituted policies and processes to ensure better work-life balance among his staff. He instituted an email deferral system so that his leaders could take vacation and not return to a full Inbox.
When he speaks to aspiring young leaders, he urges them not to compare themselves to others, as it takes decades of hard work, personal sacrifice, and a good portion of one's lifetime to have all of the things they picture executives to have.
"My greatest achievement is the fact that every organization I've left has continually gotten better," he says. "Every institution that I've been an executive at is doing as well or better today, and it's long enough after I left that it has nothing to do with me. And, that's the part I'm the most proud about. Because anybody can tweak some things and make a year or two look good. But true, sustainable change that drives further improvements is great leadership."