Karen Simon: An Inspirational Example for Women in Commercial Real Estate Business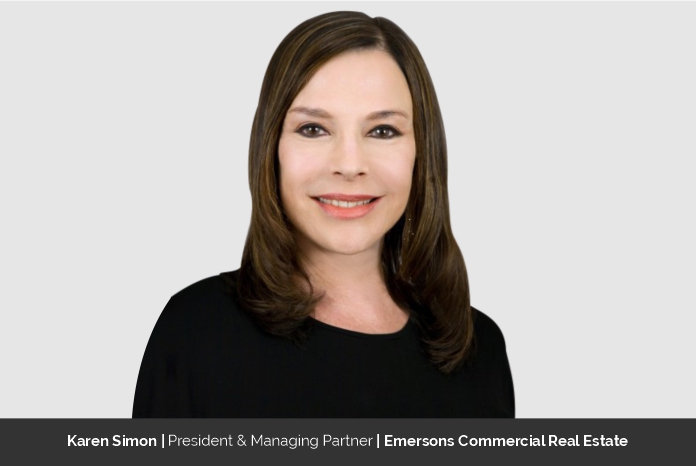 Karen Simon, President and Managing Partner of Emersons Commercial Real Estate-Tarrant County Division has been in the commercial real estate business since 1983. Throughout her professional journey, Karen has been driven by the desire for recognition that women have a place in commercial real estate and industrial real estate.
In 2007, Karen was honored by the Texas Women's Chamber of Commerce as "Business Woman of the Year." She says that this award has given her the greatest sense of satisfaction and recognition. "It is because I had felt like I had been an example for others," Karen says.
At Emersons Commercial Real Estate, Karen mentors those who work for her, most of them are her younger colleagues. Business development is also her responsibility as President and Managing Partner. Karen says that she always reminds herself that she is out there not necessarily to look after herself, but she has to look out for people who are working for her and those who will follow her.
"Yes, I have a role in managing the nuts and bolts at Emersons, but I am also here to try to make the company itself work for the people who work here," Karen says.
Switching Careers from Teaching in Community College to Selling Real Estate
Karen is a teacher turned real estate icon. After getting out of graduate school, she began teaching at Tarrant County community college. Four years later, when she was up for tenure, she realized that there were limited professorship opportunities available for her as she was limited geographically. As Karen was a young mother to two school-going children, she could not move to a different place and explore work opportunities there. "So, I decided to venture out into the world, so to speak," Karen says.
Karen's career outside academia began when she started working for the Department of Housing and Urban Development. She worked as Head of Public Relations and Inter-Government Relations for a five-state region. Karen says that she was among one of the few women in leadership roles outside Washington.
One day at the Department, she read a notice that stated that if she qualified to be a real estate broker in the state of Texas, a sales real estate license was not required. As a first step, Karen points out that she could not hold a real estate license while working at the Department as it was a conflict of interest. "But a broker could hold her own license," she adds.
The notice made her take a two-week leave of absence from work. While studying for the exam, she found that she lacked nine classroom hours, which was equivalent to three hours of real estate semester coursework. "I took it in two weeks and sat for the exam," Karen says. "And, to my amazement, I passed it. They gave me a year to pass it, but I passed it the first time."
After getting her real-estate broker license, Karen met the Head of Industrial Real Estate Department of Henry S. Miller at a Christmas function. At the time, Henry S. Miller was the largest real estate company in Texas and the fifth-largest in the U.S. Even though no women were heading its commercial departments, it made Karen a "very attractive" offer. The company offered to send her to real estate schools to prepare her for a role in industrial real estate business. She was also offered the position of Chairman of industrial real estate department. Karen says that Henry S. Miller also said to her that she could take as long as she wants before she hired other people. "That is how I ventured forth in the industrial real estate business," Karen says.
Karen was the first woman in industrial real estate in Dallas and Tarrant County. "Because of this, there was a spotlight on me," Karen recalls. Whether she passed or failed, she always got the attention. Karen says that this created in her a very strong desire to not make a fool of herself. "I also felt that I held a leadership role for other women – almost, in essence, as being a pioneer in a new area," she adds.
Real estate may not have been Karen's first career choice, but she now considers it her "best" career choice.
Being the First or the Only Woman
Karen believes that women could do just as well as men; they just need exposure. She stepped into the commercial real estate business when it was dominated by men. And, often, she found herself being the first woman in a leadership position or the only woman in a room. "First time, I went to an industrial real estate school, there were 36 men and me," Karen remembers. When she went to the school the third time, there were five women in a room of 46. "We were slowly gaining momentum, but Texas was a bit behind the curve from national recognition of women in core professions, which were mostly dominated by men," Karen says.
Exiting Henry S. Miller and Forming a Boutique Company
Karen worked at Henry S. Miller for six years. Grubb & Ellis had acquired it toward the latter part of her career at the company. Karen says that the new owner took over the company at a time when the real estate industry had taken a huge dip, and FDIC and Resolution Trust Corporation (RTC) had become the largest owners of real estate in the U.S. "So, Grubb & Ellis had to downsize from an economic perspective," Karen says. It closed Henry S. Miller's office in Fort Worth, where Karen was based.
"I found myself from being the highest industrial producer in the company, regardless of gender, to being out of the job," Karen says. She was given the offer to join the Dallas office, but she did not accept it. It is because she was not eager to commute from Fort Worth to Dallas every day.
After leaving Henry S. Miller, she partnered with other professionals, who were also affected by the upheaval in the real estate market, and formed a Real Estate Group called R.E Group Advisor Inc. As woman or minority-owned companies received substantial benefits from the Federal Government, R.E Group Advisors was primarily owned by Karen and her partners were employees with benefits from profit participation.
"It was like being in the wild, wild west in the real estate business, with so much being sold and auctioned and the rules going a bit by the wayside," Karen recalls. She left R.E Group Advisor when the real estate market began to correct itself, and it was no longer advantageous to run a boutique real estate business. In 1996, Karen joined The Woodmont Company as head of their industrial and land division where she remained for 6 years.
Joining Emersons Commercial Real Estate
For almost 12 years, Karen worked for Bradford Commercial Real Estate Services as Executive VP and Managing Partner. In 2016, Emersons Commercial Real Estate offered her the opportunity to start its Tarrant County division as an equal partner. Karen says that it was an "ideal" opportunity for her.
Richard Webb, a banker and real estate professional, and Matthew Price, a CPA and real estate professional, founded Emersons Commercial Real Estate in 2004. When Karen joined this full-service company, it was already managing around 7 million sq. ft. in the DFW metroplex. It also had a 9,000 sq. ft. office holding in Dallas. And, soon after her joining, Emersons partnered with St. Louis-based Priority Properties to form 1045, which manages Kroger's real estate nationwide. Karen says that 1045 also manages around 100 million sq. ft. across the country.
"So, there was an opportunity when I joined them [Emersons] that we would get to see a different part of the real estate business," Karen says. "That is, we would get a peek at what it is for a company to manage over 70 or 80 million sq. feet."
Emersons, according to Karen, stands out among the competition as it stresses professionalism, ethics, willingness to go the extra mile, willingness to work a little harder, and a strong sense of fairness to its employees. It also always puts the needs of its clients first.
Success Is Measured in Different Ways
Success is important for Karen, but she also points out that it can be measured in different ways. "For me, success means you can pay your bills, and enjoy your work" she says. "And it also means that you get a sense of personal satisfaction that is beyond monetary."
As Karen is a teacher at heart, she enjoys being a mentor and imparting her knowledge and experiences to others. "To me, that is part of success as well," she says, adding, with a smile, "obviously, you will have to pay your bills. That is paramount. You can't be charitable if you yourself have to have your hand out."
And Karen lives by the belief that one can achieve success without disadvantaging others. She says, "That is a strong sense of success for me to make things happen but not make people disadvantaged in the transaction."
Setbacks Harden Determination
Setbacks can be disappointing and hurtful. But they also give you a level of determination, Karen says. She gives the example of the setback she suffered while working at the Department of Housing and Urban Development. In spite of being a career employee and performing her job, she was transferred to New Orleans by her new regional administrator, who wanted to replace her with someone from his inner circle.
"Well, I just couldn't abandon and move to New Orleans so that he could put someone in my place, as I had a husband and two little children," Karen says. "So, I was forced to resign because I couldn't move."
After resigning, she accepted Henry S. Miller's offer. Karen, however, did not accept the new regional administrator's move to push her into a position where she had no other option but to resign.
"I decided it was inappropriate for me to be basically put in a position of resigning or fired," Karen says. "So, I applied through the civil service for the return of my position based on merit."
It took her a year to hear from the Federal Government that she was right. They awarded her a year's pay and return in status. Karen says that she went to talk to the new regional administrator and asked him, "If I come back, are you going to do the same thing?" He replied, "Probably."
"So, I said, Thank you very much!' I took my money and stayed in the private sector," Karen says. This incident also "put a fire in her belly" and motivated her to stand up for herself. "That is an important lesson no matter how you learn it, and that is stand up for yourself and fight back," Karen says.
She also points out that she had to stand up for herself multiple times in the real estate business. "It is because it was in some ways, and it still is, a bit of survival of the fittest," Karen says.
Moment of Triumphal Satisfaction
Even after more than 38 years of working in the real estate industry, the conclusion of a new deal continues to be the moment of triumphal satisfaction for Karen. "I may work on a deal that may last a year, two, or three years, but I have been doing this long enough that I can afford to work on deals that are complicated and may and may not happen," she says. And, if she brings it to fruition, it is not only monetarily rewarding for her, but it also gives her a tremendous amount of satisfaction.
Advice to Her Younger Self: Stand Up for Yourself
If Karen gets a chance to advise her younger self, she would like to tell her, "Stand up for yourself. Don't allow people to patronize you." She also tells her younger self not to accept the back seat because of her gender. "Be the most prepared in the room and make sure that you can hold your own," Karen adds.
Message to Aspiring Businesswomen
"Be the best-educated for yourself that you can be," Karen tells aspiring businesswomen. "Be the most knowledgeable for yourself that you can be. And never be afraid to say that I don't know but am going to find out."