June Klein: Passionately Solving Business Problems with Technology and Innovation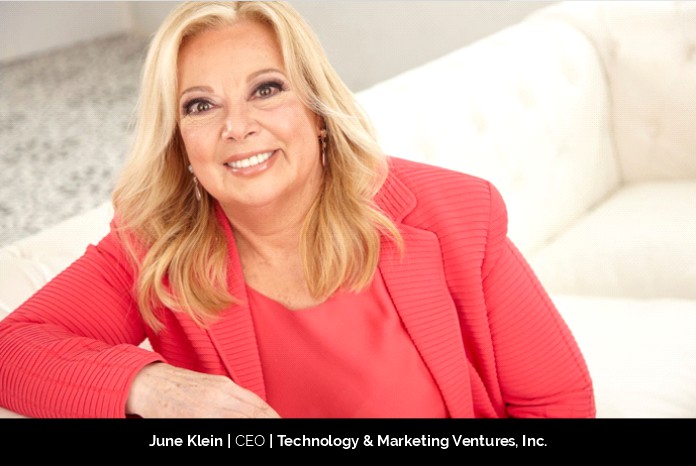 Every leader is driven by a definite skill set that is distinctive to their personality, however, problem solving is a dominant factor that substantiates the essence of leadership. While some leaders can train themselves and develop the skills to be more effective in this area, a few leaders retain a natural ability to find the right solutions, as a gratifying experience. June Klein, CEO of Technology and Marketing Ventures, Inc. (TMV) encapsulates the profound ability of problem solving that has honed her personality as an inspiring thought leader and scaled the growth of her company to new levels of success. Passion for technology and love for defining and solving problems works as a perfect combination for June to seamlessly ply in the significant role of an audacious CEO.
June has actively operated in numerous executive roles with leading companies in finance and technology, gaining extensive experience and knowledge from her global network that include the industry leaders of today. This instilled a staggering confidence in June that laid the foundation of TMV and its unique service line, "May the Tech Be With YOU!". TMV is a leading service provider that offers venture development, management consulting and advisory services for institutions, governments, and educational entities. Besides helping clients profit from changing tech landscapes, TMV formulates and executes global strategies that transform tech into wealth and empowerment.
In this exclusive article, June shares her wonderful journey of overcoming challenges, finding solutions, and redefining success in her own unique way.
Gaining the Right Perspective of Leadership
As a high school student, June was a part of the Math team that focused on understanding technical concepts of any kind. She spent her summers working with financial services and graduated Phi Beta Kappa majoring in Math and Education. As a destined career path, June started at the Federal Reserve Bank as the only woman programmer working with research analysts on monetary policy. After-hours, June worked out of her one-bedroom apartment with a dumb terminal hooked up to the forerunner of the internet. Working from home gave June early exposure to the challenges women face, channeled her problem solving skills in the right direction for today and continues to help her find solutions for corporate families who deal with pain points like work and personal life balance, work performance deliverables, home schooling, space setups and volatile tech.
Following her role at the Federal Reserve Bank, June joined Merrill Lynch where she worked on mission-critical systems like real-time quote processing, securities research analyst support and financial consultant compensation reporting. June then went on to work with IBM as a professional system engineer to support large banks, brokerage, and insurance firms. June's experience at Merrill stimulated talks of the joint venture between Merrill and IBM with Merrill's investment in Bloomberg. This collaboration helped digitize the financial service industry which greatly influenced the foundation of TMV.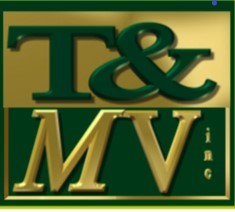 As she continued to outperform every role, June soon saw herself at the brink of taking the next leap in her scaling career which was an offer to relocate to London and become a bank's country manager. Having finished IBM's System Research Institute program, June decided to obtain her MBA in finance and marketing building the foundation for roles as
division executive at Citigroup, and Vice President – General Manager of JP Morgan. June has been in seven leadership roles with major corps before venturing out on her own entrepreneurial journey. With every successful milestone in her professional journey, June has learned lessons of paramount importance in the growth of TMV. Describing her success, June says, "The common thread in my holistic life is being the integrator, not as an endgame but as a continuum of change, complexity and risk. I have been successful, so I give back by consulting with senior executives who average 7 'careers' in their lifetime."
Challenges are a Stepping-Stone
June was recruited away from JP Morgan into Wang Labs to implement the President's vertical markets vision. During her tenure, June brought in $60million of strategic new business ventures from a major bank CEO and from a partner of a major accounting firm. When Wang's Chairman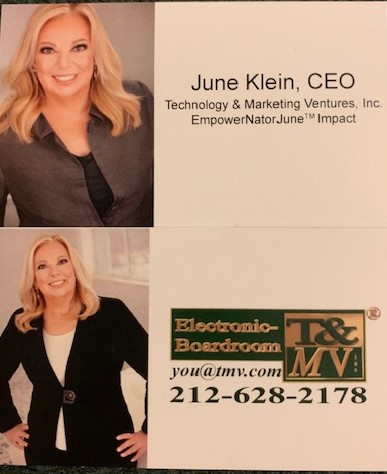 unexpectedly died, his son the President was ousted, and the public tech company went bankrupt. This unprecedented situation sourced TMV their first client who was the bank CEO to whom she had sold an innovative imaging solution. June leveraged her love of problem-solving and began finding solutions to get things back on track. The bank wanted to get into the profitable investment banking business, but the Federal Reserve Board required the bank to demonstrate its commitment to the Community Reinvestment Act. June suggested the bank donate the already proven, turnkey, integrated hardware, software, application, and training to small businesses in low-income areas. This catapulted the businesses and helped financial institutions meet the credit needs of the communities in which they operated. This solution was "within the spirit of the law."
Challenges have been at the onset of every achievement that made June stronger and more resilient. Every setback was a reason for June to push her limits and expand her horizons as a problem solver. The most recent challenge has been the ongoing pandemic that has left students disappointed having no access to physical graduation. Having faced a similar experience while being honored as Phi Beta Kappa, June sought this opportunity to democratize a game based learning platform where people who are stuck at home due to Covid-19 can use a virtual world to commemorate milestones. June is vetting strategic partners to finance and distribute this chapter in TMV's journey via Minecraft or Terraria. She is also vetting Minecraft application tech partners that will transform TMV's graduation project into a shared commemorative experience for multiple generations.
June and her team leveraged their problem-solving ability and made the best out of every stumbling block, that stemmed the growth of TMV and every associated member.
TMV Ups its Services with Integrity and Innovation
TMVi Problem-Solving Method navigates executives through unchartered waters resulting in holistic, different, and flexible decisions. Institutions, governments, and educational entities are challenged with change, complexity, risk, and infobesity as a continuum not an endgame. Most decision-makers do not have a process that enables them to be game-changers while leading scalable, sustainable, and profitable ventures. TMV shares a proven framework which integrates the 4 pillars of technology, marketing, ventures, and innovation that are analytically customized for a client's outcome. Uses of the proven method are due-diligence, info auditing, product development, change-complexity-risk management, company ratings, 5thEstate disinformation and info integration. The breadth and depth of June's continuing experiences, background and network provide a unique perspective to address the needs of large corporates for effective access and collaboration with emerging technologies and innovations within small and medium sized businesses.
Electronic-BoardroomTMV® M&A Products & Venture division has focused solutions registered for 6 fields of use (television, education, network, consulting, database, newsletter.)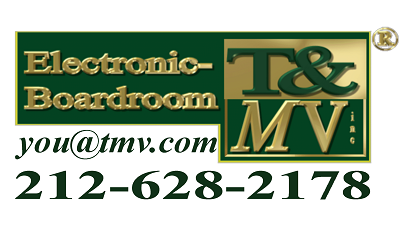 The EmpowernatorJune™ Impact Movement creates online learning experiences for the overlapped needs of business, talent, and education.
TMVi Think-DO™ Tank includes a tech concierge for moguls who have sold or
IPO-ed their firms and have needs in the financial, tax law, new venture, and work-live-travel setups.
TMV is a venture development firm that C-level decision-makers turn to for a curator, navigator, or innovator to transform tech, complexity, and uncertainty into a wealth of empowerment and opportunity.
An Achievable Vision Defined by Passion and Resilience
June's vision for TMV is for every professional in the workplace, no matter what their role is, to learn TMV's algorithmic, problem-solving way of thinking. Elaborately, TMV's decision-making game will make their learning content vital, practical, and fun by using game-based-learning which blends gamification into the design strategy and content-related gamification will create a solution that will be unpredicted, mind-blowing, and viral.
June regards her passion for technology as the gamechanger in her career and has been an admirable feature of her personality. Many clients who share business relations with June and TMV praise her indomitable energy and enthusiasm for business and innovation. During the emergence of the fintech industry, the prominence of women in this field was just a handful and their technical knowledge in each sector was limited to their domain. However, June's ability to think out of the box and unique drive, led her to become a pioneer in the business application of technologies. She has always focused on understanding the pain areas and finding the right solutions to fit the need of customers and has gone against the odds securing a remarkable position in an unconventional industry for women.
Creative, solution-focused, pragmatic, well organized and reliable are some of the dominant qualities that describe June Klein, a role model for every woman.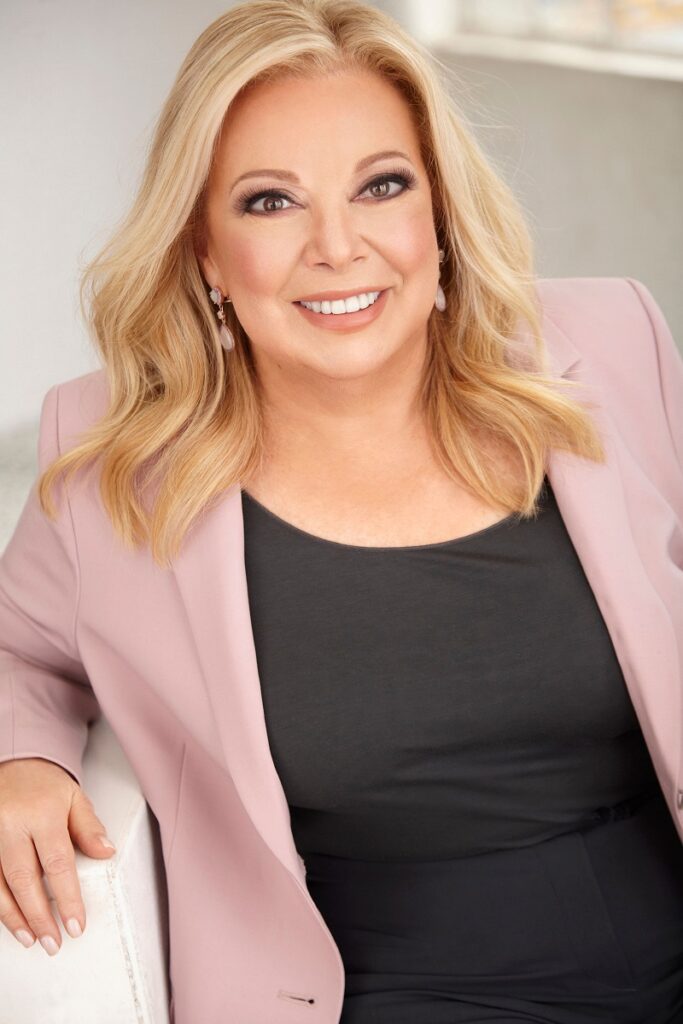 Achievements should be Professional Plus Personal for Motivation to Perform Better
From the very instance June began her professional journey, she has achieved a myriad of milestones that has resolved the enigma of women in power. From being voted onto the IBM Credit Union Board, chosen to be the Treasurer of the National Association of Corporate Directors – New York City Chapter to sitting on the Boards of a public global retail ecommerce firm, a UK mobile marketing and payments firm, California Higher Education Loan Authority and Volunteers of America or even speaking at Oxford university symposiums, June's list of achievements, awards and recognition, is endless. But there are a few accomplishments that June regards as her best. Parallel to being a successful businesswoman, June considers her husband, two sons, and her dearly departed parents, aunts, and loving Shih Tzu, as her greatest successes. Her husband is a former Wall Street Tax Attorney and is currently the General Tax Counsel of TMV. One of June's sons is a leader at Google while the other is a filmmaker that has been a documentary co-writer on June's tech journey.
The second important achievement has been the filming of her strategic decision-making approach by Oxford TV Studios and published in their book: Social Values in Business and Education. Thirdly, June got an enthralling opportunity of presenting her Global Systems Assurance review and results for a Fortune 50 financial corporation to the IBM Headquarters. Chairman and CEO of the Board of IBM World Trade said, "In my 30 years, I've never seen anyone so insightful and well-prepared to answer every single question.", a statement that still defines June and now TMV.
Every achievement was a mark of excellence that encouraged June to look for what is there beyond and continue to be an overachiever.
Leading the Way with the Power of Innovation
As the CEO of Technology and Marketing Ventures, Inc., June's major responsibilities include, defining the problem pain point, formulating / executing strategies, ensuring the team is client-centric and the venture is scalable, sustainable, and profitable. "I do not consider anything above me nor beneath me to do. In new ventures, I will fill-in and do whatever nobody else wants to do when it is something that impedes achieving our stated outcomes.", June asserts.
A customer-centric approach surges the environment of TMV that motivates every member of the team to innovate new ideas by creative thinking. Empathy towards one another, pain point discovery, pragmatic solution suggestions are a few other elements that are at the core of TMV's work ethics. Inspired by their leader, June Klein, the focused teams at TMV love what they do and continue to diligently work to the best of their ability.
The teams of TMV are a perfect amalgamation of excellence, ownership, and humor that have been honed under June's guidance. She ensures that everyone at TMV receives an equitable compensation for their performance. This is the prime factor that makes TMV different. TMV has a well-defined vision and June is extremely specific when it comes to the skillsets required to achieve their goals. The right candidates can be from a high level or a lower level but if they have the skills and are flexible to share the team goals, June is assured that they can hit the road running. "Instead of making a person fit the job description, I orchestrate the job around their skills and growth opportunities.", June shares.
From the services of the company to the inspiring work environment, every aspect adds meaning to the team song of TMV titled, "We Are the Champions".
Defining the Future by Reinventing It
TMV will continue to migrate its strategic decision-making tool into a holistic software-as-a-service (SaaS) platform including change, complexity, risk, infobesity, fintech for the next few years. Their roadmap will continue to use constant learning and the TMVi change management framework to enhance their grounding from the past and improve themselves while adding client value in the present. That involves Realign, Repurpose and Reboot for Relevancy, Reach and Reciprocity. In short, TMV will PREDICT the future by reinventing it themselves. As a thought leader, June has a list of goals for the growth and widespread of TMV. To name a few, June plans to create an online membership paid community which may include UN Sustainability Goal corporation members, create a paid, problem-based, pilot business game, incorporating game-based learning to the product, so adoption is accelerated and is appropriately addictive like any good game.
June is evolving TMV's 4 pillar framework to migrate from a single-tenancy SaaS approach to a multi-tenancy SaaS enterprise product that will cut across and solve one major financial industry situation for multiple clients like global asset managers with sustainability portfolios and the audit committee or special risk committee of corporate boards. The expansion of TMV's risk management product will identify and mitigate environmental, social and governance (ESG) company-specific risks.
Currently, TMV is the go-to firm for US independent directors and US operations of UK firms. Combining traditional investing with environmental, social and governance related (ESG) insights has improved long-term outcome for clients. Climate change is the top issue that clients around the world raise when wondering how to make their investments more sustainable. As a solution to this June's innovative holistic financial technology integrated experiences on the edge of a fundamental reshaping of finance morphs into a unique skillset that thrives on the resilience of sustainable investing during uncertain times, is a way of helping more people attain financial well-being. Sustainable industries have been tested during the Covid-19 crisis and will continue to thrive going forward.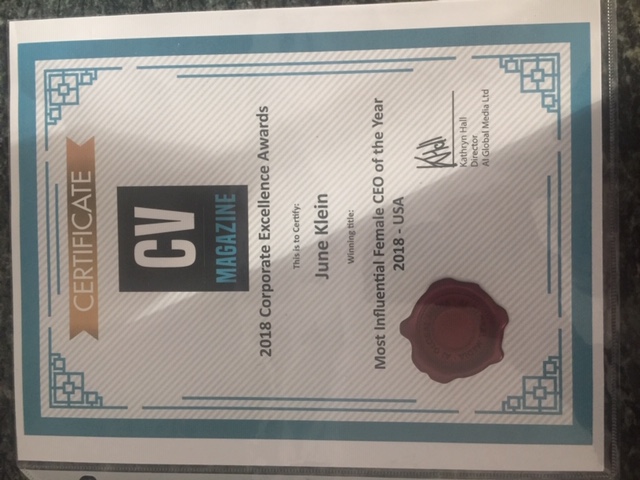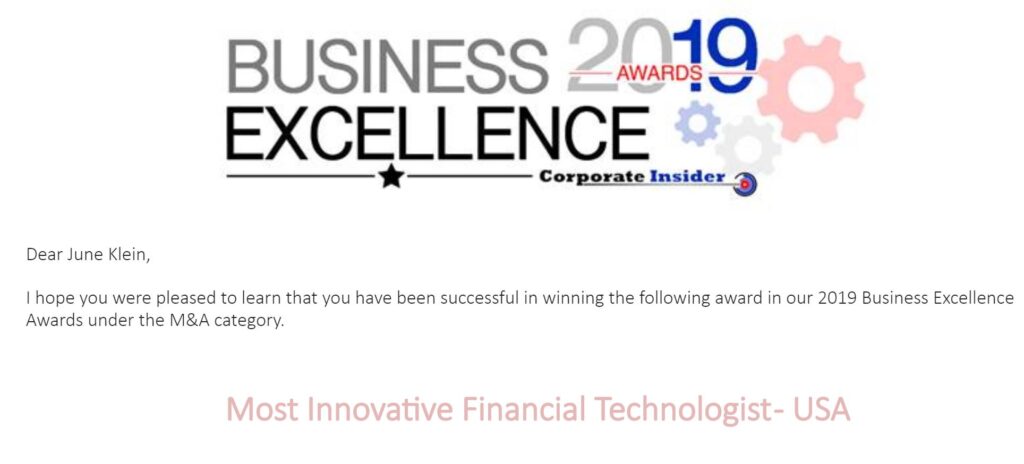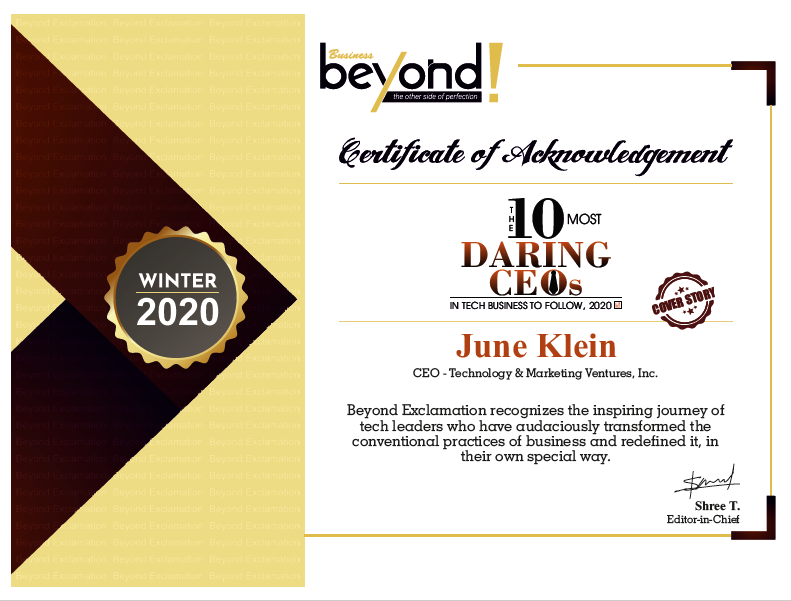 June Klein defines leadership as translating a vision into execution into empowerment. Throughout her professional career, June has lived by redefinition. She has redefined women empowerment by envisioning it as a definite goal. She has redefined the integration of technology into industries that did not know how best to use it. Her journey has been a derivative of hard work, an exemplar of passion and a spring of inspiration that continues to grow with every new chapter of TMV's focus on technology, marketing, ventures, and innovation. Pretty soon June may run out of letters to add to the TMV name once the future has been fully defined.