Jude Gomes: Simplifying Insurance Through Digitization and Innovation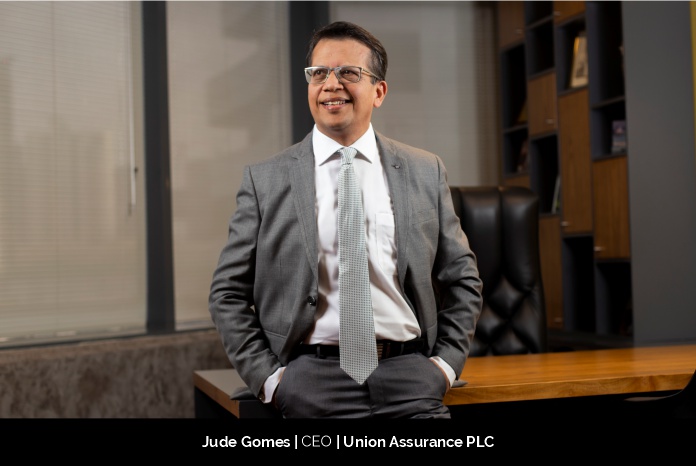 Empowering People, Driving Change
According to Jude Gomes, success is more than just achieving objectives. To him success is about building teams, taking them on a journey, and overcoming obstacles in pursuit of a vision. With this attitude and mindset, Jude has been able to make a positive difference in the companies he has led by empowering people, and driving change through digitization.
"It all starts with the WHY, being passionate about the vision of making a difference, and about the HOW you are doing it together with the TEAM."
Fascinated by Finance, Invigorated by Insurance
Jude's entry into the Finance world began after stints in Consumer Electronics and FMCG with humble beginnings as a clerical staff in HSBC. He was part of Bank of America to set up Retail Banking in East India and was identified as the core team member to launch HDFC Bank in Kolkata, as their first Unit Head. Thereafter, he joined Standard Chartered Bank as Branch Manager and later led the second largest Cluster in Calcutta, India. Jude forayed in the insurance industry as core team member, setting up India's first privatized Life Insurance Company, HDFC Standard Life. Climbing up the ladder of success, today, Jude has a highly accomplished career in Financial services spread over three decades with experience accrued across prime Asian markets and key global financial institutions, including pioneering Canara HSBC OBC Life Insurance in India as the founding member. Prior to heading Union Assurance PLC in Sri Lanka, he was President and CEO of Manulife China Bank Life Insurance, the only Joint Venture of Manulife outside China.
"Insurance has a lot of potential in a low adoption market like Sri Lanka, and I was drawn to the challenge of transforming an organization, to demystify insurance and make it simple for the customers."
Tough Challenges, Formidable Opportunities
According to Jude, insurance has trailed other industries and in particular financial services when it comes to transformation – digital or otherwise. In an increasingly data-driven society, poor public perception of insurers came down to a combination of factors. The lack of transparency augmented by archaic processes; low understanding and misinformation of investment vs. protection, lack of confidence in insurance agents who were perceived more as salesmen rather than financial consultants, inadequate focus on training and skill development, restricted channels and limited product suites skewed towards investment rather than protection, are some of the industry challenges.
"A defining feature of an exceptional life insurance provider is the depth of customer-centricity and in simplifying the entire customer experience."
By rolling out a simplified customer-focused digital agenda in 2019, Union Assurance mapped out a comprehensive customer journey, addressing pain points, eliminating complexities, and customizing solutions through the application of technology. The newest initiative by Union Assurance provides customers a 100% end-to-end digital platform to obtain protection for their loved ones with straight-through-processing – offering protection from the comfort of their homes in a matter of minutes, with a few clicks, zero paperwork, and no physical interaction.
"Disruptive technologies should be embraced as catalysts necessary for change. At Union Assurance, we had the foresight to strengthen the company's digital infrastructure and IT capabilities initially to enable 100% digital submissions, and this enabled us to support our entire permanent cadre to work from home during the pandemic. We have also constantly enhancing our analytics models and framework to improve customer on-boarding, retention and operational efficiencies."
Training, up-skilling and multi-skilling of the team is also fundamental in nurturing a culture of innovation according to Jude. The organization launched the Union Assurance Virtual Academy and successfully migrated physical classroom training sessions to digital platforms during 2020.
Resulting from its digitization efforts, Union Assurance launched a web-enabled sales force management system, FAME (Financial Advisor Management Explorer) to ensure the performance management of field staff is conducted in a transparent and efficient manner. The Company also launched Clicklife, a revolutionary end-to-end digital solution – Sri Lanka's first, seamless digital experience from policy purchase to issuance, and a supporting self-service app for real-time updates on policy information including dues, balances, and claims status, along with other supportive servicing tech tools.
Vision for the Future
Jude's vision focuses on three areas: simplifying insurance, product innovation, enabling customer access across ubiquitous platforms and leveraging off the advances already made in digital adaptation. "We must continue to disrupt the industry through digitization and the simplification of protection to future-proof insurance."
Omni-channels is the future of insurance. There is no industry that has not been affected by digitization, and insurance is no exception. To this end, Jude commented that omni-channel distribution models are gaining momentum in the insurance industry and adding value to customers as it allows for reaching a multiplicity of customer segments through a framework of numerous channels such as website, mobile and web applications, over the phone, through social media etc.
Advice to Emerging Leaders
"Leadership is not a rank or a position, it is a conscious choice we make, a choice to look after our people. We need to inculcate a culture where employees love the company so that customers will love it too. Endeavour to build a team and organization where people speak about the strength of the values, with the goal of becoming better today, than being perfect. Be the leader you wish you had."
"As leaders, have the courage to go first and strive to open up path for others to follow. The art of leadership is about inspiring people, to help others to figure out how to do the work themselves and make them successful beyond what they could possibly think. Build a team of great people, give trust and genuinely care most about your people and you will build more leaders. Innovation distinguishes between a leader and a follower. Sometimes when you innovate, you will make mistakes. It is best to admit them quickly and get on with improving your other innovations. Do the right thing, always, upholding your values. Believe in yourself. If you want it, you can fly, you just have to trust yourself a lot."
Refresh and Restart
Maintaining a balance always becomes extremely challenging at the top. For Jude, in between his demanding work schedule, and engaging with his family spread across three continents, he finds time to invest in gardening, and attempt healthy culinary experiments. He never misses his intense daily cardio routine, which keeps him energised.
While leading an empowered team is one of the most rewarding aspects of being a leader, Jude admits that it can be challenging at times to find his own motivation especially during the pandemic. However, he claims that rewarding one's self by occasionally hitting the refresh button is essential to getting back on track.
Sharpening the Saw
Jude quotes Stephen Covey, author of 'The 7 Habits of Highly Effective People,' who referred to 'Sharpening the Saw,' as a means of preserving and enhancing our greatest asset – ourselves, and balancing it across the physical, emotional, mental, and spiritual aspects of our lives.
This approach to constant improvement has allowed Jude to become an effective leader, which helps him realize his own personal goal of developing more effective future leaders. He lays a solid foundation for this goal by establishing a nurturing, supportive leadership structure that encourages creativity and innovation in himself and those who follow.
Jude's motivational message to aspiring business leaders:
"2020 underscored the urgency for digitization across the insurance industry. So, when an industry is undergoing a seismic shift, the important question to ask is which side are you on; are you being disrupted, or are you leading the disruption?"