Joseph Machicote: Creating a Culture of Diversity, Equity, Inclusion & Belonging with Empathy & Intention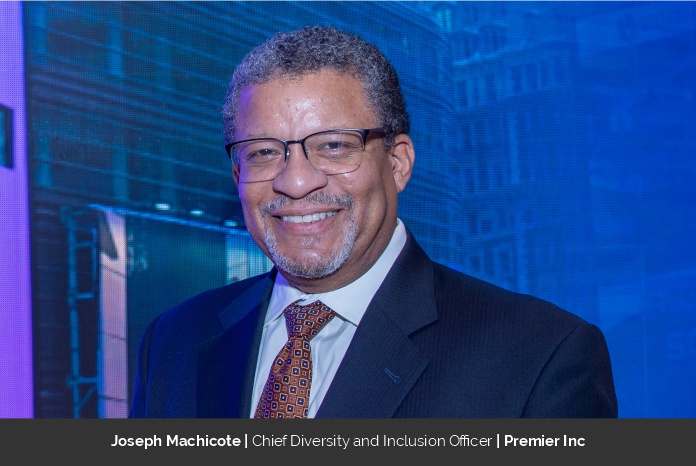 As Chief Diversity and Inclusion Officer (CDIO) of Premier, Inc., Joseph Machicote fosters and formalizes a culture of diversity, inclusion, and belonging, within the business, and represents Premier as its spokesperson on issues pertaining to diversity, equity, inclusion and belonging.
Joe serves as the organizational leader to drive the development, implementation, and integration of best practices, resources, and trends to increase diversity, equity, inclusion, and cultural proficiency.
He is also involved in developing a broad and far-reaching vision and strategic plan, in collaboration with the CEO, Executive Team, SVP of People, and other stakeholders across the company.
Along with being an outstanding professional speaker and author, Joe is also a personal leadership coach. He is passionate about community service, and has chaired several community boards, following his passion for education, nutrition, culture, mental health, diversity and inclusion, and the advancement of underprivileged and at-risk individuals.
Having earned a bachelor's degree in business marketing from Manhattanville College, Joe is pursuing a master's degree in organizational psychology and leadership.
A distinguished career in DEI&B
Prior to joining Premier, Joe served as the senior vice president, chief of human resources, and chief of diversity for Erickson Living, a sizable continuing care retirement community organization (CCRC).
He also held the positions of Chief Diversity Officer and Vice President of Human Resources and Organizational Development at Snyder's-Lance, a renowned producer of snack foods.
Before that, Joe worked for Compass Group, a large company that provides contract dining and services, where he held a variety of positions, including Chief Diversity Officer, Vice President of Relations Development, Division Director of Human Resources, Director of Human Resources and Training, and Senior Director of Foodservice and Dining Operations.
Creating a culture of diversity, equity, inclusion & belonging
Joe acted as an advisor to Premier nearly 15 years before, when they considered creating a DEI&B strategy. At the time they had created diversity training, created their first diversity council, and created 3 ERGs.
In the summer of 2020, when there was much turmoil and awakening taking place in the country, Premier launched seven additional ERGs to assist employees with having much-needed conversation and focus on what was going on around them.
Despite having many other job offers, Joe chose to join Premier, Inc. in October of 2020, due to the work they had done, and their commitment to enhancing their DEI&B culture.
Since his arrival, Premier has grown the DEI&B foundation by defining the areas of DEI&B that drive its business strategy. One key way that they achieve this is by leveraging the power of Employee Resource Groups to advise them on the business and culture.
These smaller advisory groups are known as Business Resource Groups (BRGs), and they are aligned with each of Premier's strategic pillars, and add value by ideating, observing, and creating a culture of continuous improvement.
The core pillars of Premier's mission
Premier's mission is to improve the health of communities. The foundation of their DEI&B strategy is within their mission and values. "We see DEI&B as more than a program, it is a strand within our DNA," says Joe.
Premier focuses on four pillars that connect to its Environmental, Social, and Governance strategy: Leadership & Culture, People and Workplace, Supplier Diversity and Community Development. Each of their core pillars has a unique subset of objectives and tactics to drive progress.
Each of Premier's Executive leaders co-leads their pillars' objectives, as well as represents each of their Employee Resource Groups (ERGs), making them the Leadership Council of Premier's Council on Diversity, Equity, Inclusion, and Belonging (CDEIB).
Enhancing Premier's culture one interaction at a time
Joe points out that a business has a very unique ability and opportunity to change the landscape of D&I, because business cultures and workplaces have the power to create the rules for behavior through policies, procedures, principles, and practices.
He notes that while businesses can't tell an employee what to think, they can certainly tell an employee how they will behave in the presence of others while at work.
"All we can hope is that by behaving a particular way for so many hours, it begins to encourage and change mindsets in the workplace and in the community. Now of course, a toxic environment will have the same effect, so the responsibility is on the leadership of the organization to lead with their values, starting with integrity, and creating a positive work environment," observes Joe.
As an executive leader in the organization, reporting directly to the CEO, Joe notes that his job, first and foremost, is to discover and strategize how his role in the organization lends itself to the greater good of their employees, customers, clients, and the community at large.
"That being said, all of my work is focused on communications, training, strategizing, influencing, opining, directing, and leading the day to day culture. I love that my days are variable," he states.
Joe explains that his responsibilities as the Chief Diversity and Inclusion Officer at Premier, Inc. sometimes include connecting with their customer facing employees, to join them as they speak to their clients, and offer his consult on their customer's D&I strategies.
Other days he is involved in giving inspirational presentations. "My biggest work right now is every day taking a step toward enhancing our culture, one interaction at a time," says Joe.
Living life with intentionality and balance
Describing his approach to work as intentional, Joe points out that the vision he has for the company can only be achieved by taking an intentional step toward that vision every day. That intentionality extends to his personal life as well.
"My wellness and wellbeing begins with me. I can't blame others for the things I don't do to keep myself balanced. And by balanced, I mean my own personal definition of balance, because everyone's balance is different," says Joe.
He notes that he has developed his own rule book, with the help of his personal board of directors (his wife, therapist, and executive coach).
"I inspire those that work with me, and for me to do the same, it is also important that our organizational culture understands and supports the concept of balance as an individual endeavor, and is celebrated not suppressed," he states.
My word to describe me is "intentional". The vision I see for this company, in my head, can only be achieved by taking an intentional step toward that vision every day.
The power of empathy in building bridges
Joe elaborates on his definition of success as ensuring that he leaves everything and everyone a little better than he found them. To leave a legacy where he made a difference in his surroundings and in the lives of others, is what he would consider his most significant success.
With the belief that humanity is here to enrich the lives of others, and take care of this place we call home, Joe's desire is for each individual to understand that each of us has the most powerful tool in the universe: The ability to harm or heal others with our words and behaviors.
"If we could all start with a morning mantra of, 'I'm going to leave everything and everyone a little better than I found them', it helps to adjust the mindset in which we deliver our words and actions," he reflects.
Joe notes that the ability to have empathy for others is truly powerful and builds bridges, creates high performing teams, and even has positive effects on mental health.
"We will still have difficult conversations, but a difficult conversation delivered with the mindset of being better instead of creating harm, allows one another to accept, not necessarily agree with, but accept the views of others," he points out.
Each of us has the most powerful tool in the universe: The ability to harm or heal others with their words and behaviors.
While being stronger is great, being wiser is greater
While Joe is a big believer in the fact that challenges make one stronger, he also believes that every day is the opportunity for a new lesson, and he ends every day reflecting on what he learned for the day.
"I believe that Wisdom = Knowledge + Experience. While being stronger is great, being wiser is greater. The more knowledge and experience we receive, while learning from our mistakes as well as our successes, the wiser we become. This allows us to avoid making the same mistakes twice," he notes.
Joe has received much recognition, including Top 100 DEI Leader, DEI Influencer, DEI Leader of the Year, and recognitions for the co-creation of leadership of two non-profits dedicated to DEI.
"But, by far, the best recognition I have received is when someone tells me that I made a difference for them; that they remember a quote or a story, or I gave them advice that helped them to see things a little bit differently. By far, that is the BEST recognition I have, or will ever, receive," he affirms.
Joe declares that his goal for himself and for Premier is to work himself out of a job. "Imagine that organizations don't need anyone telling them what they need to do around DEI&B. It is part of their DNA that doesn't need to be addressed. How amazing would THAT be?!? My goal is to retire knowing I left Premier, and its people, a little bit better than I found them," he affirms.
Joe's message to aspiring business leaders is to work endlessly on the ability to be self-aware, understand how they are being experienced by others, and have the ability to receive and deliver feedback without weaponizing behaviors and language. "In my career, as well as my life, this has been a very powerful tool," he states.
"My definition of success is ensuring that I leave everything and everyone a little better than we found them. I believe humanity is here to enrich the lives of others and take care of this place we call home."