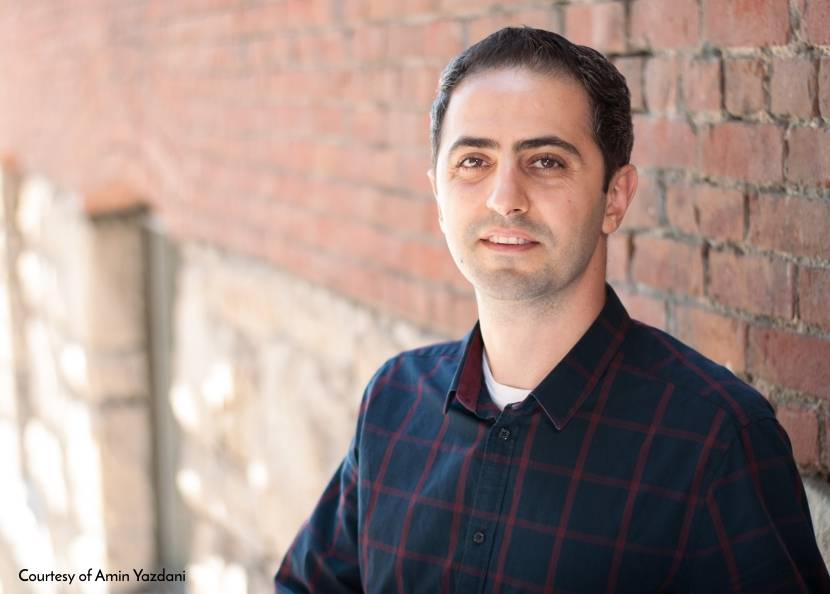 In Conversation with the Newsmaker
In Conversation with the Newsmaker: A.Y. Technologies is a shiny, mobile development and web application startup in Vancouver, B.C. Started by founder Amin Yazdani in January 2016. Small, but mighty, A.Y. Technologies prides itself on its talented and flexible team, while their strong communication and rapid iteration have contributed to their initial success. Beyond Exclamation recently had the pleasure to be "In Conversation" with Amin Yazdani, Founder and Director of Technology at A.Y. Technologies, in which, he took us on the journey of A.Y. Technologies and beyond.
What seeded the vision to ease the process and build efficient and maintainable software? Can you give us a little background on 'A.Y. Technologies' and where it stands today? 
A.Y. Technologies started 3 years ago, when I left my job as enterprise software architect to bring my knowledge and expertise to help startups and businesses. Throughout my close to 20 years of experience with software, I have seen a lot of mistakes in the way software development is approached by companies and by entrepreneurs, so I wanted to bring my experience to help entrepreneurs make fewer deadly mistakes. We started helping startups with their web and mobile app needs as well as building a secure and scalable systems and infrastructures. Inside less than 3 years we've been able to show our expertise working with many customers. Our expertise has been recognized by Clutch when we got awarded as top 10 app developers in Canada and by Agency Spotter as the top 20 mobile developers in the World.
What inspired you to take the entrepreneurial plunge? What was your journey like? Also, tell us what is the most important quality/moral that you sticks to?  
My entrepreneurial journey started when I sold my first website at 15. I was fascinated with computer since 10 and after just a few years I was able to put that in works. When I arrived in Canada, I felt I need some experience to learn the business culture in Canada, so I joined a startup in Vancouver. After 5 years, going through 2 startups, one acquisition, and one spin off, I thought that I'm ready to take the plunge and so I started A.Y. Technologies. To me the main reason to start and keep up with A.Y. Technologies was to help entrepreneurs and startups with scalable Solutions. The dread of code rewrite was one of the startup killers in my experience. The reason startups get to that point is the fact that they start on a non-scalable foundation. They will go down the route of getting to market fastest and easiest, without noticing that the route they chose is a dead-end. I wanted to change that. You can get to market just as fast if you choose the right technologies and keep the scalability in mind.
The team of software developers and architects at A.Y Tech have an extensive experience in software development. You must have witnessed a tide of unique situations which required strategy, approach and implementation. Kindly share a few experiences which might help our readers to learn to sail the disruptive tides better.  
In the world of enterprise software, there are a few keywords that any software firm should get themselves acquainted with very well: Security, Compliance and Policies. These were some of the challenges we faced delivering software that was going to be used by enterprise or government. The best tip I can give is to start early on, and expect long processes and diligent reviews. When it comes to enterprises or governments, the time has lower priority and the security and compliance will always have more weight. Make sure you understand that, build your solution based on those requirements and engage with the review teams early and often. This is the biggest difference, in my opinion, between startups and enterprises.
Tell us about the moment when you realized that your hard work has finally paid-off. 
As software architect and solution builder, there are moments when we can stop and enjoy a success. They come often when we release a project successfully. The bigger the project and the more complex the problem, the bigger the joy of success. For me personally thought, one of the moments when I truly realize that the hard work has paid-off is when I can see the systems we released in use by end-customers and when I see their good feedback. This could be a mobile app or a web application or anything else. When you can solve a problem for an end-user, that's the true joy of building software.
What business advice would you like to give to the budding entrepreneurs and keen readers? 
They say that entrepreneurship is a roller-coaster. I didn't realize that fully until we started A.Y. Technologies and now after a few years I can see the truth in that statement. Knowing that, and more so understanding that, will help entrepreneurs in their journey. When you know what to expect, you can get ready for that. Perseverance and commitment is what you need as an entrepreneur to make it through the low points of the journey. That will get you to the height that you work so hard for.
What's the current scenario, breakthroughs and disruptions, in the industry? What benefits does 'A.Y. Technologies' provide over its competitors? 
At A.Y. Technologies, our main goal is to make the software development uncomplicated for the decision makers. We understand that software development is complex by nature, but we believe that making the right decision about software should not be complicated if the projects are understood by teams working on them and by the decision makers. That's what we bring to the table that is different from our competition. We do this in an ongoing basis in each project, but we also package this as a starting service for new clients. We call this The Roadmap Workshop. The goal of the Roadmap Workshop is to clarify the goals of the project for all parties and make sure that we are all speaking the same language when it comes to each feature. We achieve that by a mixture of text, user experience flows and user interface design.
What can be expected from the company in upcoming years? 
In the first 3 years of A.Y. Technologies, we have received more recognition from the industry than our competitor with more than 10-15 years of experience. We are planning to continue that and to help entrepreneurs and startups build quality software in a way that is scalable with their business. We will expand to more markets in North America in near term and to Europe and Asia in the future.
Meet the Newsmaker
Amin Yazdani is a software architect and the director of technology of A.Y. Technologies Inc. Amin has more than 15 years of experience with software development and 5 years of experience with software architecture and design. He is an advocate of new wave of software development and operation management (devops) and has been a volunteer and organizer of DevOpsDays Vancouver for the past 3 years. He has a B.Sc. degree in Software Engineering from Sharif University of Technology and M.Sc. degree in Computer Science from Simon Fraser University.