Hal Walsh: Transforming Healthcare with Passion and Expertise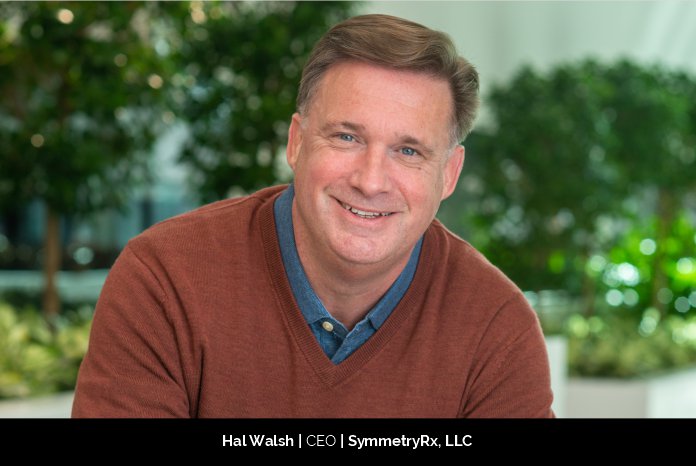 Hal Walsh, CEO of SymmetryRX, has a rich history of working in the healthcare industry. While he has worked in the healthcare industry all of his career, he has never taken the same position twice, providing him immeasurable experience and the ability to develop his skillset in many segments and functional areas. This experience, along with his background in finance, has set him up to be a top leader in the pharmaceutical industry.
The Twelve-Year Journey
Hal began his professional career after receiving a Bachelor of Science in Finance from Villanova University. Before acquiring SymmetryRX, he was a partner in the business for twelve years. Hal came across a White Paper about the company and identified some gaps in their market strategy. Hal presented his findings and insights to the CEO at the time, which resulted in the establishment of a separate business, that under Hal's leadership, would focus on US distribution. It began with a two-year exclusive agreement and turned into a twelve-year partnership. After which, Hal acquired SymmetryRX, where he currently serves as CEO. By the time Hal acquired the business, the insights he had gained over the previous twelve years helped him see that there were still opportunities to increase the value to the market. He stepped into his new role with a clear vision for how to build upon the foundation that was in place and take the business to the next level.
Creating Symmetry in the Business
Symmetry means "balanced proportions," and Hal believes they have found a way to strike a balance between the regulatory and marketing environment for manufacturers and the operational and regulatory environment for prescribers and practices that offer drug samples to their patients. Medication adherence, taking a medication as prescribed, saves countless lives and healthcare dollars. Drug sampling is a major driver of medication adherence. Datamonitor has reported that thirty percent of people only fill a prescription if they get a drug sample, regardless of age, income, or gender.
Traditionally, pharma reps have delivered drug samples to physician practices. Overtime, as health systems have acquired practices, pharma reps have found their practice access to be more limited. SymmetryRX creates an access point that supports pharma companies and reps through its online drug sampling service, available to prescribers 24/7.
SymmetryRX's SampleCenterTM is a free, online service that enables prescribers to quickly, easily and securely request patient drug samples from multiple manufacturers. SymmetryRX also creates and manages eSample® websites for individual manufacturers and brands. SymmetryRX does not promote specific drug brands; it promotes access to the service. SymmetryRX even has a dedicated remote drug sample management platform (PowerSampleTM) for use by pharma field and internal reps that has proven invaluable to pharma reps during Covid-19.
SymmetryRX's market leading technology empowers the easy linking to manufacturer fulfillment operations and extending pharma reach to virtually every prescriber in the US. Pharma manufacturers' internal and field sales teams naturally want to connect prescribers only to their brands: SymmetryRx supports this experience with its eSample® pharma enterprise and brand sample request sites. However, there are about 150 sampled brands making it nearly impossible for a practice to manage the drug sample request process by going to all of the manufacturer websites. This makes SampleCenterTM the prescriber preferred method to request drug samples.
As of October 2020, prescribers can now use electronic signatures (eSignature) on the SampleCenterTM platform. After completing an authentication process, eSignature allows a prescriber to "sign" a Sample Request Form with a "click." The electronic signature is more secure, provides faster delivery time, and eliminates common errors associated with faxed forms; making the process even more seamless. SymmetryRX is continually increasing the scope of what their systems can do to make it easier for prescribers to access their drug sample allocations for patients. Samples enable patients to start treatment sooner and ultimately improve medication adherence.
The latest feature added to SampleCenterTM is Direct Ship-to-Patient (DSTP). This HIPAA compliant feature allows a prescriber to make a sample request that will ship a sample directly to a patient. The transaction is paperless. This capability is particularly useful in the context of drug sampling for telemedicine patients.
As SymmetryRX continues to innovate, the company works closely with manufacturers to understand their needs and requirements, but they are not waiting for anyone to ask for solutions before they begin creating next generation capabilities. SymmetryRX truly understands the market so it is proactive at working on solutions to enable next generation sampling request and supply chain technologies. With Hal's 35 years of experience in the healthcare industry, he fully understands the industry and environment and believes that SymmetryRX's mission includes helping the market figure out where to go next. Hal and his team see the possibilities and play a vital role in advancing the industry. Since Hal took over the business two years ago, SymmetryRX has delivered technological innovation at lightning speed. This is at the core of the value that SymmetryRX brings to pharmaceutical manufacturers, prescribers, practices and patients.
Overcoming Challenges
Every company has challenges and obstacles it must face along the way as it continues to grow and expand. If Hal could pinpoint SymmetryRX's biggest challenge, it is that projects must be sequenced and cannot happen all at once. Despite that, Hal's skilled leadership provides clarity of vision and direction. Ultimately, SymmetryRX is building the only pharmaceutical industry drug sampling utility for a one-stop-shop prescriber experience that meets the unique supply chain, regulatory, documentation, and reporting requirements for all manufacturers, prescribers, and Health Systems.
Hal is completely reinventing a business that has a history of innovation since 1999. While there is no doubt that SymmetryRX has already achieved major accomplishments, Hal also has a clear understanding of what lies ahead. Hal admits it takes time to convey the power of its innovations to complex pharma manufacturer organizations. He sees that as the nature of leading market change. As manufacturers adopt SymmetryRX's innovations, they quickly find the prescriber community ready to embrace the new user experience for requesting and managing drug samples. SymmetryRX's eSample® technology has been used by 160,000 prescribers, served 31 pharmaceutical manufacturers, and has supported 192 brands over time.
Hal is a finance person, so he sees the economic impact SampleCenterTM makes by reducing the pharma manufacturer cost to provide samples to all prescribers in all practice settings. SampleCenterTM augments pharma manufacturer sales teams and frees pharma rep time to engage in their critical role of prescriber education on the proper use of medications and patient support services. Hal's focus for 2021 is to continue to improve manufacturer and prescriber understanding of the unique opportunity the SampleCenterTM platform presents.
Working as a Team to Stay Ahead in the Market
Hal's leadership and dedication to his team is another aspect that makes the company stand out. He recognizes the unique contribution that each person makes and the value that they bring. He respects the tremendous talent and hard work it took for the team to come together to create a truly "Next Level" experience for prescribers. Hal is grateful for the team and all they do. Hal strives to be of value to each member of the team in unique ways and is always available as a resource. When someone has a deadline, he treats the deadline as his own and strives to respond promptly. Hal acknowledges that in a small company there is always a sense of urgency as there is a limited amount of time to make an impact in the market. Hal has seen the impact of his leadership style on his team as he has witnessed the acceleration of market and technical development with ever increasing momentum. Hal's is committed to do whatever it takes to support individual success on the team.
In addition to taking care of his team, Hal and his team also take care of their customers, striving to excel in providing outstanding customer service. In the words of customers: "SymmetryRX really understands the space. They are innovative, driven, and flexible to customer needs" and "SymmetryRX is the gold standard in customer service."
Moving Forward with a Clear Vision
SymmetryRX continues to be at the forefront of the pharmaceutical drug sampling industry, helping to guide the industry through its services and innovations. Hal continues to be very clear about the company vision and continues to share that vision with his team. He believes that when people have a broader view of where they are going, they can do their job better today. The goal of the company is to create a drug sample ecosystem that meets all regulatory, accreditation, management, and ease-of-use requirements and extends the visibility of the supply chain for Health Systems all the way to the patient level.
As to the future, SymmetryRX expects to continue its focus on the US market and expand the number of manufacturers available through SampleCenterTM. New technologies and solutions are on the horizon and include the expansion of drug sample patient charting in electronic health records, as well as other exciting developments soon to be announced.
Advice for others
If Hal could offer advice to aspiring businesspeople, he would provide the following: Be prepared. Study. Get the facts. Know what you are talking about. But, at the same time be open to new information and perspectives. Recognize that you must be able to learn from others and meet the needs of people to meet the needs of organizations. Start with the assumption that your customers' leadership wants to improve their organizational effectiveness; your opportunity is to make it easy and a win for everyone. Be present and keep your word by doing what you say you are going to do. Never stop learning. It is important that the business work for you, but you can never stop working for the business.
There is no doubt that Hal works hard and truly enjoys what he does every day. When he isn't working, Hal enjoys spending time with his wife and daughter. He is close to his 92-year-old mother and his seven brothers and sisters. Hal loves to laugh and has been blessed with several lifelong friends. One of his favorite past times is sailing catamarans.