GreenLight Medical: Simplifying Hospital Procurement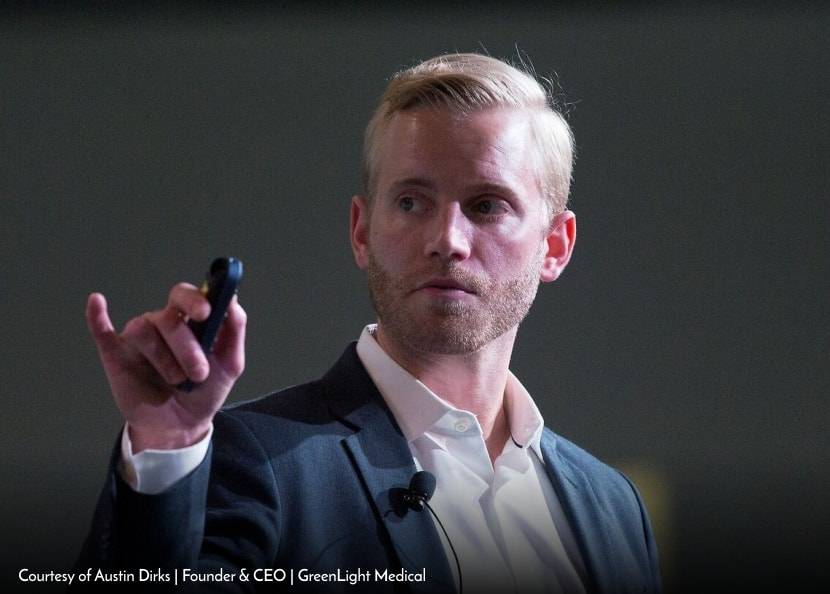 Beginning his career as a medical device sales representative, Austin Dirks observed how physicians had the power to choose their preferred products.
"It would only take a few weeks from introducing the product to the physician before it was used in surgical cases. Consequently, inventory surplus and cost containment became issues, and from those issues arose a new model of controlled purchasing known as Hospital Value Analysis Committees. Hospital VACs are used to analyze new product introduction within hospitals to ensure proper cost-benefit of the technology. Inadvertently, VAC evaluation could add 6-12 months to an already long process," recalls Austin.
The Value Analysis Committees were becoming the decision makers, and Austin noticed the financial impact of this change. For every nine-months, there was an average $8.6 million cost to medical device manufacturers due to the time delay, raising the cost of medical technology for all parties involved. To align all key stakeholders, such as clinicians, purchasers, physicians, and medical representatives, in an effort to streamline the new product evaluation process, Austin created GreenLight Medical.
Faster decisions, effective results
GreenLight Medical is a hospital supply chain optimization software used for the procurement of new medical technology. The cloud software connects hospital facilities with medical suppliers to help standardize the introduction, evaluation, decision-support, and comprehensive product knowledge of new medical technology to ensure hospitals are making responsible purchasing decisions that are aligned with the physicians' needs.
With GreenLight's cloud-based SaaS platform, data collection is more standardized and centralized in one dashboard, and proper people are more connected than ever before. GreenLight's hospital customers are seeing a massive reduction in their procurement cycles; with decisions being made in less than 30 days and hospitals avoiding costs of greater than $1.5M per facility through the use of GreenLight.
Moving past the challenges
Initially, gaining a first adopter in the hospital market was an uphill battle for the company. At its onset, GreenLight faced challenges of operating as a small company in a highly regulated market with traditionally long sales cycles. GreenLight was eventually able to land a hospital customer a few months after its product release which provided enough traction to continue its footing in the market.
Today, challenges continue to evolve as the industry shifts to Hospital Integrated Delivery Networks (IDNs) for purchasing. The combination of different large players including medical device manufacturers, Group Purchasing Organizations, alongside large Hospital IDNs represent a unique challenge to make a name for yourself in an enterprise led landscape. However, GreenLight continues to evolve by solving customer requirements in a nimble manner, optimizing hospital supply chain process and data aggregation needs for new medical product introduction.
Most comprehensive new product evaluation software
There are software products for hospitals that do a little bit of everything and as a result become scattered in their offering. GreenLight has maintained an intense focus on its core offering, introducing and evaluating new medical technology for hospitals.  As a result of that focus, GreenLight has become the most comprehensive new product evaluation software that there is, helping hospitals evaluate the product's regulatory, reimbursement, clinical, financial, and contracting details. Now that the company has established a strong market presence, it is continuing to expand its software footprint, introducing safety and utilization of medical products as standard for customers.
As a company, GreenLight works with both hospitals and medical device suppliers. Speaking about this unique factor, Austin asserts "We maintain a win-win offering that is unmatched in the industry. We help hospitals evaluate medical products, while we help suppliers coordinate the introduction of that technology. The portal becomes beneficial for both the buy and supply sides of medical technology as a result."
Dedicated towards success
It was the combination of an engineering background and innate leadership qualities that allowed Austin to effectively build a business that strives to make hospital procurement more efficient. Austin was a former cardiac medical device sales rep, selling pacemakers, and implantable defibrillators within hospitals. It was during this career path that Austin was able to witness first-hand the inner workings of the hospital procurement process.
After completing an MBA at Harvard Business School, Austin started GreenLight Medical in an effort to redefine the way that new medical technology entered a hospital facility. Four years later, GreenLight has made its mark in the industry as a leader in the hospital supply chain procurement of medical technology.
Austin's perseverance shines as he works tirelessly toward his goals. He is able to focus on achieving successful changes in the healthcare industry, while fostering an engaged and fulfilled workforce. When changes arise, he approaches them head on, with an analytical mindset, and moves forward toward a solution, no matter what.
Standing out as a pioneer in the industry
Austin mentions "The future of healthcare supply chain will involve more consolidation and more centralized efforts. The continued rise of large Hospital IDNs strengthens the need for GreenLight even further given a need to effectively manage new product introduction within these massive and geographically disperse networks. Medical products will continue to become more sophisticated with evaluation tools like GreenLight needed to quickly understand technology evolution as virtual reality, AI, and blockchain technologies are introduced into hospitals. In the future, GreenLight may even be looked at to integrate into current ERP and EHR systems. As a hospital system's single point of entry, the future opportunity is bright for GreenLight."
A look into the future
"We aim to be the industry standard for hospital procurement. Our continued perspective is to sit as a direct information and communication conduit between hospital systems, manufacturers, and GPOs to get new technology into the physicians' hands faster. Our digital interface will power the hospital procurement world. Medical manufacturers will be able to talk directly to physicians for their clinical feedback on products. Hospital IDNs will be able to talk directly to manufacturers about their product pipeline, breaking down barriers with digital connectivity. And ultimately, physicians will be able to provide better outcomes for patients while improving the hospitals' financial health," Austin exclaims passionately.
He continues saying, "As we grow in our footprint, we will be able to manage all types of technology introduction from capital equipment to high tech medical devices, solving a great collaboration need, using GreenLight to advance new technology through hospital procurement."