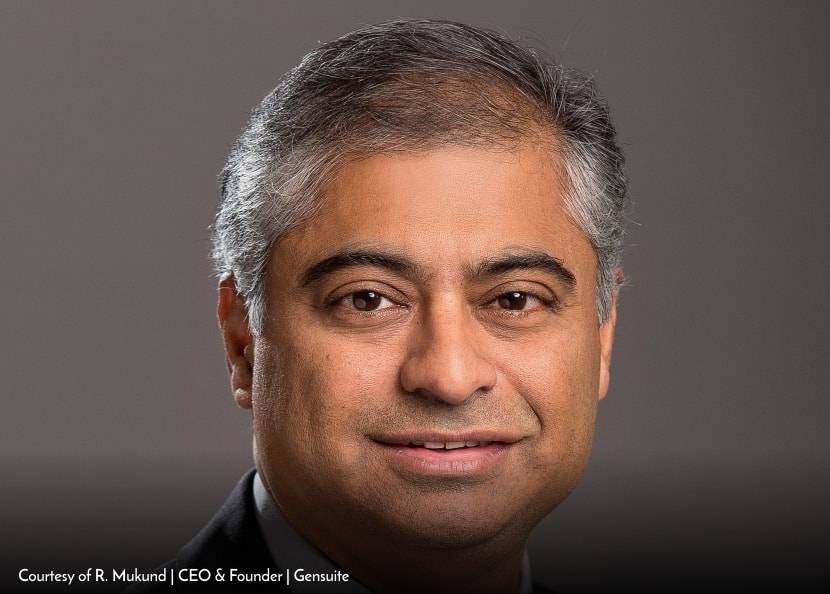 Gensuite: Collaborating Towards Success
It was back in the late 90s, when the Gensuite nucleus had originated by R Mukund, the CEO and Founder of the company. Mukund initiated the development of the web applications that are the core of Gensuite alongside EVP & Customer Development Officer, Natasha Porter.
Being a Software as a Service (SaaS) provider of cloud-based compliance and management systems, Gensuite helps global organizations, across a diverse array of industry segments, realize continuous improvement and excellence in their risk and compliance management programs. The company is designed by and for Environmental, Health & Safety (EHS) and Sustainability risk management professionals to help companies achieve business compliance and management systems excellence across all levels of their organizations. The integrated suite of web-based application modules enables cross-functional support for EHS & Sustainability, Security/Crisis Management, Quality, Responsible Sourcing, Product Stewardship and Equipment Asset Management programs.
Over the years, the additions of software development and IT professionals in 2001 (Jason Krueger, Vijay Alluru, Donavan Hornsby, Matt Bayuk, Andy Cox, Doug Martin, Mark Boehner, and Miki Yucel) have created a solid foundation for the company.
Innovation Through Collaboration
The energized and motivated foundational team of EHS and IT professionals at Gensuite were responsible for the systematic development, field testing and deployment of over 60 applications between 2000-2010. They supported EHS, Security, Supplier Risk, Quality and Product Compliance leaders across all businesses of General Electric, as well as former businesses of GE, but stayed loyal to Gensuite applications. At first this app suite was called GE PowerSuite but then rebranded to Gensuite in 2008.
Back in 2010, Gensuite began developing teams across the world to support a global subscriber base. Naveen GV, former EH&S Manager at GE's Technology Center in Bangalore, India joined the management team to initiate operations in India.
The company has grown 20x since 2011 and continues to expand every single year. In 2018 alone, Gensuite welcomed 75 new companies to its diverse subscriber community. Gensuite is passionate about backing the idea of innovation through collaboration. And the biggest achievements for the company have come from projects that it has collaborated with its subscribers to bring to life. One of the biggest achievements so far this year for Gensuite was the launch of Genny™, the industry's first EHS virtual assistant powered by AI and the winner of the 2018 Cincinnati Business Courier Innovation & Technology Awards.
"We work with leading, global organizations to deliver extraordinary value. Our diverse spectrum of partners work with us to build integrated, turnkey products and services for our customers, and theirs," Mukund exclaims.
Today, the Gensuite team consists of 350+ global team members all united by a common purpose – to enable subscribers to accomplish their business process objectives more efficiently, effectively, and collaboratively, while delivering value and performance excellence to their enterprise.
Since 1997, Gensuite has earned the trust of compliance leaders across diverse industries across the world. According to the company "We are most proud of our absolute commitment to customer service excellence, our 100% on-time launch record, 92% subscriber retention rate and our global Gensuite community!"
Standing Apart from the Crowd
Gensuite includes its subscribers in all research and development, inviting them to pilot new projects, welcoming product feedback and sharing subscriber participation on product development. "What sets Gensuite apart from other companies is that we are constantly evolving our suite of tools to give our subscribers the best in the industry. From the latest in cutting-edge mobile technology to powerful and insightful business analytics and Frontier Technologies such as Artificial Intelligence and wearables, Gensuite offers some of the most technologically advanced capabilities in the industry," mentions Mukund.
Gensuite has team members across locations in the U.S., India, China, Mexico, Canada, Australia, France, and the U.K. Together, Gensuite team members tackle challenges head-on and bring the best to the table. The Gensuite team offers services in hosting, maintenance, customization, implementation, training and strategy consulting to support their subscriber community—all backed by 20 years of domain experience and expertise in the industry.
Delivering Quality at Every Step
For Gensuite, enabling companies to manufacture high-quality products means offering Quality Management Software (QMS) that streamlines and improves policies, processes, and procedures to help companies produce superior products and achieve regulatory requirements associated with production.
QMS goes right to an organization's core business. These policies, processes, and procedures don't appear out of thin air. Each organization establishes them as a way to ensure the effective delivery of high-quality products, services, or both to their customers — whoever they may be. A QMS also helps organizations meet regulatory requirements, depending on the industry. In addition, quality management systems help organizations measure compliance with industry standards such as ISO 9001, AS9100, GMP, and TS that are known to evolve overtime.
The way organizations actually design and implement their quality management systems may differ dramatically. Some rely on physical paperwork filed to cabinets. Others use spreadsheets and emails for documentation. In recent years, however, businesses large and small have turned to quality management software, such as Gensuite, to digitize and streamline the process.
Spearheading From the Front
Much of the success behind the company can be owed to the Founder and CEO, R Mukund, who is proven as an organizational leader with over 25 years of experience in progressive roles such as a technical professional, team leader, Six Sigma Master Black Belt, executive program manager, and most recently, as the Chief Executive Officer since 2008. He has a track record of distinction in diverse organizations from research & technology, consulting, corporate diversified & global, and cloud-based, tech-enabled services. His experience coupled with his grit and determination has proliferated the company towards success and he has shouldered each of the responsibilities with absolute precision. His innovative bend of mind and technical knowhow has further helped ameliorate Gensuite as a leading solution provider in the Quality Management space.
Speaking about the company, Mukund mentions "At Gensuite, we are driven by a singular mission – to partner with thought-leading champions to develop & deploy software solutions built on best practice business processes, offer our platform with flexible intelligent options and continuously evolve."
A Continuous Path Towards Evolution
Mukund exclaims "Our best ideas have always come from our subscriber community thinking collaboratively. We've worked diligently with our customers to develop the first Frontier Technologies for EHS & Sustainability, and we are pleased to watch our shared ideas come to life!"
In the coming years, its customers can expect bigger and better solutions for their QMS and beyond, including its recent application interface re-design known as the App Recharge, enhanced functionality, and the introduction of new Frontier Technologies that can transform the way the community works.
"Gensuite is inspired by our users, created for leaders like you, and our mission is to continuously evolve our software suite to make our users jobs easier," Mukund concludes.