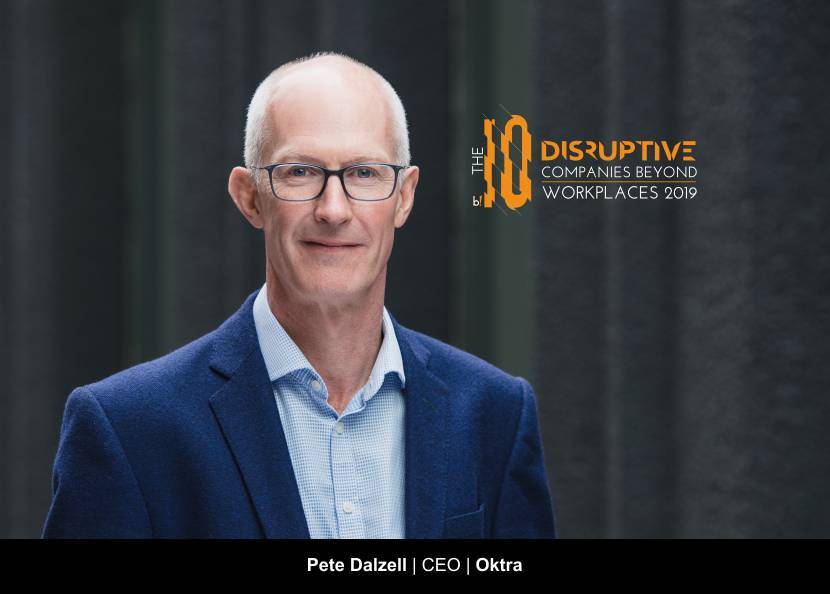 Designing & Building Exceptional Workplaces
In the past few years, the use of design and build has grown remarkably across various market sectors and geographies. A method of project delivery whereby the design and construction phases are combined into a single contract and the designer and contractor work together from the beginning; helping streamline projects by eradicating the need for multiple contracting efforts and promoting a culture of collaboration from the start. Oktra is one of the UK's leading companies in the design and build industry and has navigated its way to the top over the past 11 years.
Emphatic about detail, precision & personable delivery
Oktra has always had one, unwavering vision – to create outstanding workplaces. The Oktra team is dedicated to bringing its clients ground-breaking designs that will not only support their business, but make them prosper. Ultimately, Oktra provides end-to-end support through a client's journey to their new office – whether it's helping them find the right building, discovering design solutions through a workplace consultancy or refreshing the space after they've moved in. Moreover, the award-winning company is emphatic about detail, precision and fundamentally, a personable approach to delivery. One of Oktra's greatest strengths is its team of diverse and extraordinarily talented individuals. The clients often comment on how great their experience has been with Oktra, which is just as important as delivering a high-quality product. At the heart of it all, the design firm provides a unique service: driving the same excellence into its client relationships as they do into their designs. Oktra's prestigious clients include WeWork, M&C Saatchi, Moonpig, Lonely Planet, OpenTable, TripAdvisor, and many more.
From the very beginning, Oktra has had ambitious goals. Geoff Andrew founded the company in 2008 with a team of just 15 people and a bold vision: to become London's leading design and build company. Pete Dalzell joined Oktra as CEO in June 2018 and he has been embedded within the company culture ever since. "Now in just 10 years, Oktra has expanded more than ten times and we are taking on larger and more challenging projects than ever before. Geoff gathered the best people in the industry to achieve his goal. It's fantastic to be a part of the journey Oktra is on; I truly believe we have established ourselves as London's leading office design and build company – and we intend to keep it that way," shares Pete.
An industry leader paving the way
Pete likes to lead by example: setting the tone with energy, enthusiasm and confidence. Currently, Pete's focus is on optimizing Oktra's performance and driving sustained growth. As a former FTSE 250 managing director, Pete has a wealth of experience managing market leading organizations. On a typical week, he catches up with all the senior teams to ensure focus is aligned with the company's three guiding goals: a happy team, delighting clients and meeting financial objectives.
The ability to understand and guide the business at every point – from an initial idea to project completion is the greatest reward for Pete. Furthermore, he finds it inspiring to work with such talented people at Oktra. For him, Oktra is a great place to be. As CEO, it is important to have authenticity to create a good sense of integrity and culture within your business. "I have a meticulous career plan and I am definitely where I want to be. Joining Oktra was an important milestone for me and I am very excited about the future," Pete adds.
Awards & Recognitions are the by-products of success
For the last 7 years, Oktra has been recognized by Planet First in association with The Eden Project for continually reducing their carbon footprint. Over the years, Oktra has won many design and sustainability awards. The long list of awards include LUX Life Magazine's 2019 Leading Designers Award, Sunday Times 100 Best Small Companies to Work for in the UK, winners of both the 'Best London Office Interior' and 'Best West Midlands Office Interior' in the UK Property Awards, finalists in the Office Design category of the SBID International Design Awards 2018, and a CCS award for demonstrating the highest levels of environmental consideration during the build of its new headquarters.
Continuing to improve and streamline the business
Talking about the market, Pete says, "The design and build industry has come a long way in the past five years. We've seen a transformation in all areas of the business, with the industry becoming more advanced and sophisticated. The demand for different spaces has definitely shifted with the rise of the coworking sector and flexible workspace, so this has had a real impact on our design portfolio in recent years. We're now working with structural engineers and architects to produce more large-scale projects, where we are also developing the building structure as well as the interior office space. In this way, I'd say we are ahead of our competitors, as our robust team has the experience behind them to meet these challenges head on whilst still evolving their skillset."
Currently, Pete and the senior team are working on an exciting 5-year growth plan. Oktra now has four offices across the United Kingdom, designing and building outstanding workspaces across the country.