Derek Collison: A Technology Entrepreneur Challenging the Way Our Digital World Connects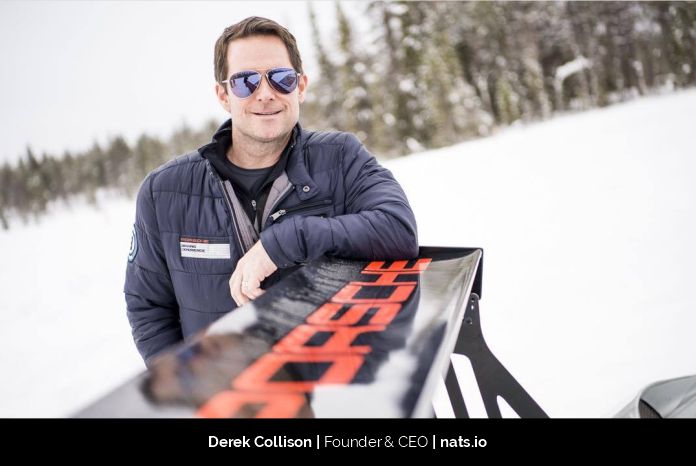 The world's digital systems need a new way to connect and communicate. We are no longer in a data economy but in a connective economy, where the real value and innovation will be in enabling the secure and hyperconnected world. We need a technology that connects multiple cloud providers with on-premises, edge, web and mobile, and IoT. And modern information systems require them all.
A strong advocate of decentralized utility to connect all digital systems, Derek Collison is a man on a mission. Creator of NATS.io, Derek believes there is an opportunity to create the first decentralized, secure global utility, powered by NATS.io, to connect all digital systems, services, and devices. Led by Derek, Synadia Communications is a company, behind the production-proven open source NATS.io project, which provides a highly scalable, secure communications technology for digital systems, services, and devices.
Creating highly scalable, secure communications technology for digital systems
A pioneer in modern distributed systems and adaptive edge architectures, Synadia utilizes the NATS.io technology challenging the fundamental way our digital world connects. Synadia maintains and leads the development of NATS.io, and NGS, a secure and globally available communications platform built on NATS.io. Along with the NGS offering, Synadia also provides Commercial Support, Consulting, NRE, and Training.
Synadia has led the NATS.io project to become a modern, reliable, and secure distributed communications technology allowing applications to securely and efficiently communicate from cloud to edge to device.
Synadia utilizes NATS.io allowing applications to send and receive messages. These form the basis for services and streams, the building blocks of modern distributed systems. With over a century of combined experience in distributed systems and messaging technologies, the team at Synadia provides a wealth of knowledge aimed at challenging how the world connects.
An entrepreneur and industry veteran, Derek is a pioneer in large-scale distributed systems. He has held executive positions at Google, VMware, and TIBCO Software. With a goal to provide a secure global utility to connect all the world's digital systems, services and devices, Derek along with his team delivers solutions required to help accelerate business value and growth.
A destined beginning that brought technology in life
Derek wanted to be a surgeon growing up. However, due to lack of funds to support the medical school fees, it remained a distant dream. Luckily as destiny would have it, Derek's grandmother gifted him his first computer, a commodore 64, for Christmas when he was 13. And his journey with technology began. Little did he know, the passion that started with a Christmas gift would lead him to redefine the way our digital world connects.
"Later in life when I moved to California, I got a chance to lead the data collection for a federal trial for a medical device. I got to sit in on quite a few surgeries. Although I was impressed with the doctors and surgeons, I made the right choice with technology," shares Derek.
'The box was the key to the computer'
Derek's first job out of university was at the Applied Physics Laboratory of Johns Hopkins University. He was selected to be paired with a team of physicists who were not the top physicists at the lab. What that meant was he did not get as much access to the supercomputers and was asked to make about a dozen common place workstations perform like a supercomputer.
"In the late 80s and early 90s we were still in a mode of vertical scaling, meaning if you wanted to go faster you got a fast supercomputer. Distributed systems and horizontal scaling, which we take for granted now in the cloud and edge computing era, was not a popular choice.
"I also recall my first time working at Google where I got access to a Google datacenter. I had spent quite a bit of time on Wall Street in server rooms and always knew where our software was running. 'It's on that box right there, in that second rack'. The box was the key to the computer," he adds.
When Derek walked into the Google datacenter, his eyes were drawn to all the network cabling. That was the most important part, that is why you will hear him say that we are now in the Connective Economy, where the most amount of value from technology will be in how systems are connected, secured and collaborated.
A central nervous system for building distributed applications
During his time at VMWare in 2010, NATS was created as a solution, specifically for his use, to a problem Derek faced. NATS has always been Open Source and has had much success in its 10 years since being first developed in Ruby. Ported to Go in 2012, NATS as a fire and forget messaging technology, spoke to those wanting simplicity and speed when building distributed systems.
NATS is being deployed globally by thousands of companies, spanning innovative use-cases including: Mobile apps, Microservices and Cloud Native, and IoT. The core NATS Server acts as a central nervous system for building distributed applications. There are dozens of clients ranging from Java, .NET, to Go. NATS Streaming and JetStream extend the platform to provide for real-time streaming & big data use-cases as well.
Currently, NATS has over 40 supported clients and frameworks with community involvement and contributions including connectors and utilities enabling NATS to be easily implemented with other technologies. NATS is deployed in some of the largest cloud platforms, including: VMware, CloudFoundry, Baidu, Siemens, and GE.
Today, NATS is known for its simplicity, security, flexibility, and performance in Enterprise, Edge, mobile, and IoT use cases. As a project in the Cloud Native Computing Foundation, NATS is the leading streaming project among a vast array of other Cloud Native technologies moving the industry forward providing the best in class OSS.
Derek tells NATS itself is quite easy to use and operate. "Our biggest challenges have become making a viable business out of the technology. Many folks still see support similar to a western medicine insurance plan; you pay when you get sick. But if you never get sick, or in this case the software does what it says it does and just works, you could start to question what am I paying for? We hope folks can see the value and align more with eastern medicine philosophy where you pay the Doctor when you are healthy, not when you are sick," Derek points out.
Another challenge for Derek was shifting the perceptions around technologies only being silos. "We want to build a technology ecosystem that can be seen as a federated utility, like electricity or cellular service," he adds.
Synadia's Adaptive Edge Architectures provides a unique solution:
· Global networks supporting on-premise, cloud, edge, mobile, and IoT
· Apps that are decoupled from the NATS network
· Advanced Security and true Multi-Tenancy
· Federated Utility Model
· Scalability and Disaster Recovery
· Location and Deployment Independence
· Dramatically lower operating costs
· Faster time to value, higher ROI, lower TCO
Solving hard problems and delivering technology that works well
When asked whether he has achieved all that he desired, Derek replies, "I hope I never achieve all that I desire, that keeps us engaged. I really enjoy solving hard problems and delivering technology that just works and works really well. I want to be able to have as large a positive impact as I can in this short amount of time we have here."
How does Derek maintain balance between personal and professional life? It is a question that Derek struggles with for sure. "I try to make sure there is time and events setup in my personal life, otherwise I may simply just keep working! I do enjoy traveling and eating out at nice restaurants with loved ones and enjoy a nice boat ride from time to time," Derek says.
Derek's advice for young entrepreneurs is to "Be passionate about your vision, without passion you will give up. Also realize that everyone has ideas, and it's execution that matters. And finally, be very honest with yourself about what you are good at and what you can improve upon."
For the first time in Derek's career, he believes he may have gotten the timing right. "What I mean is, as I have gotten older, and hopefully a bit wiser, I feel I know what technology trends are coming and why, but my timing has gotten worse. Meaning I know X will happen, but not sure when, could be 6 months, could be a year, could be 10." But with NATS, Derek believes his timing his right and there's no turning back now.
Going ahead, Derek's plan with Synadia and NATS.io, is to connect the world's digital systems by unifying Cloud, Edge, Mobile and IoT. Further expansion and growth of Synadia Communications cannot be discussed in the open at the time. However, to conclude, Derek also says, "Be that as it may, keep an eye open for NATS.io. You will soon be reading about it for sure."