Denise Sangster: Creating Game-Changer Opportunities for Big Tech Players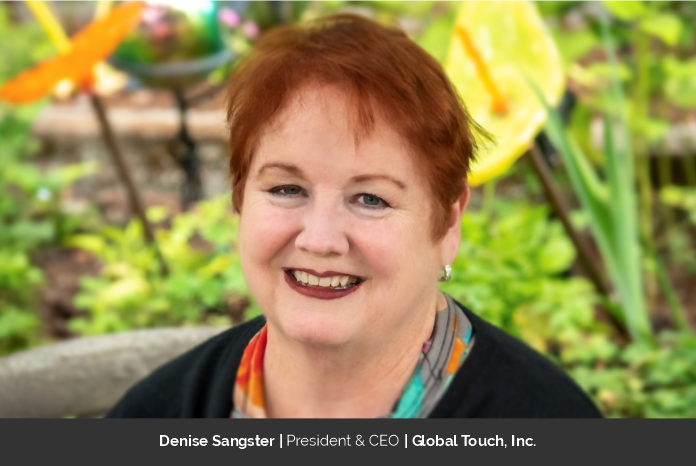 Denise Sangster, President and CEO at Global Touch, has established herself as an influential force in the global IT industry. In a career spanning 30 years, she has created – and continues to create – game-changer opportunities for her clients, which include some of the world's innovative technology companies. And her insightful suggestions, analysis, predictions, and actionable stories have helped and inspired some of the big players in the tech industry to build cutting-edge disruption through next-generation partner ecosystems.
Global Touch, founded in 1990 by Denise, is a partner-focused strategy and go-to-market transformation consulting firm for the hybrid and consumption era. It helps clients to rethink the possible options and build next-generation capabilities and innovation, and then transform small ideas into big market opportunities. "Our job," Denise says, "is to find unique ways to deliver intelligence to our clients that is actionable and monetizable."
Before founding Global Touch, Denise worked at a database software company in Silicon Valley. And when Microsoft acquired the company, she had two lucrative offers – either join Apple or take up new responsibilities in Microsoft. Denise decided not to accept either of them. Instead, she chose to carve a different path by launching her own consultancy firm Global Touch. And it has turned out to be a great decision, as Denise has become the go-to consultant for major tech companies.
Furthermore Denise may not have joined Microsoft, but the technology it acquired is still a core part of its SQL Server business unit. She continues to be proud of that.
The Start in the IT Industry
Now considered a trailblazer in the tech industry, Denise was once least interested in the IT field. Her dream was to become a lawyer. "I got into the IT industry after realizing I preferred the business side of the law firm I was working for," she says. One of the law firm's partners introduced her to her husband, who had started a database company. That marked the beginning of her journey in the IT field. "I took on the role of Head of International Sales, Marketing, and Products, which included sales, marketing, and product localization." Denise says.
It was a completely new area of work, where the law had no central role to play, so Denise had no idea what she was doing. However, she was diligent and had an insatiable appetite for learning new things, which helped her overcome the initial challenges. "I worked tirelessly to build relationships with partners and customers in the field and learn the technology I was selling. And I took education classes to create a knowledge base that would help me succeed," she says. "It was quite the ride!"
Over the years, several people have mentored Denise. And she has also learned different things from different people. "I am extremely grateful that these experienced people took the time to guide me through stormy seas," she says.
Aligning the Market into a Perfect Triangle
Global Touch's management consulting services enable technology companies to create partner success. And Denise takes immense pride in the consulting work she does to establish the credibility of how partners, customers, and IT companies work, align, and synchronize success in the global IT world.
She is also proud of their consulting approach. "We capture the current and emerging economic models of partners and create a story around it for their IT companies' partners to leverage in order to build predictable and sustainable growth and revenue pipeline," Denise says.
Denise also likes to keep her approach fresh and not repeat strategies. "Every few years, I see people in technology companies change jobs for many reasons," she says. "We continually reinvent what we are doing to keep our approach fresh, interesting, and challenging, and next generation focused."
"In the end, everything we have done since I started Global Touch has been aligning the market into a perfect triangle between the IT companies, their partners, and customers," Denise says, which has included creating communities around the world through events she created, produced, and hosted for a number of years.
Personal Vision for Technology Future
Denise is bullish about the technology market's future. "It is very strong," she says. And she believes that the success of many companies will depend on choosing the right technology company. "The future is all about thriving in an ever-changing consumption world," Denise says. "And the new future on the horizon is different from what the world expected."
Technology innovation is reshaping the world. And, Denise says, "as the new normal takes shape, what got us here today is not what is going to get us there in the future." She also points out that clinging to the past is not the right thing to do. Denise predicts that some will continue to watch the world change around them, while others will step up, adopt new strategies, think creatively, and lead the new world. "This adds up to a lot of 'noise' that will feel disruptive, but in the end, it will create more opportunities than not,"
Women in Technology Industry
The technology industry continues to be a man's world, Denise says. Women in the United States, however, have benefited from laws passed in the 1970s about women's access to sports or Title IX – the federal civil rights law that prohibits sex-based discrimination in any school or other education program that receives federal money and the State of California's requirement for women Board of Directors' members.
"As higher education in America was originally designed for men, the enactment of the United States' federal law, "Title IX", brought a new era of equity in education," Denise says. "Women now have access to all areas of higher education, which has allowed them to shape their own futures and the world around them."
As more women are now gaining access to the C-Suite, Denise says the number of females may not be on par with their male counterparts, but "they are inspiring those who will stand on our shoulders. I see growth in female leaders in the U.S., Canada, the Nordics, Australia, New Zealand and Singapore. Every small step leads to more opportunities for women."
Global Touch is also doing its bit to promote women in leadership positions. IT Wondrous Women™, a blog series launched by the firm in October of 2020, showcases top women, today's leaders, in the technology industry around the world. "The women we have covered over the last year are inspiring and we need to sing their praises and showcase their prowess, intelligence, and impact. We need to let those who follow us learn from us! They can't be us if they can't see us…"
Gender and Diversification Initiatives
Denise feels that some companies in the IT industry are still paying lip service with gender and diversification initiatives, while others are not. She gives the example of Cisco, where many women are working in leadership positions. "It was an early adopter of growing its female talent, and in a way, I credit Cisco to building a generation of female leaders around the world. Other technology companies have followed, but Cisco has absolutely been a leader thanks to its former CEO, John Chambers, and its current CEO Chuck Robbins."
Best Recognition Received as a Businesswoman
Denise leverages many first-hand global field experiences during each engagement. And, she uses experience to analyze market intelligence captured for their clients and then creates an actionable story. "It's hard work," Denise says.
And, for her, the best recognition is when a client says "Global Touch's work will allow (them) to make better multi-million-dollar program investments, as well as make their program more agile, adaptable, and impactful to changing market requirements and partner profitability."
Use Videos if I Could Start All Over Again
When Denise started 30 years ago, there was limited video conferencing platforms. "I wish I could have used video 30 years ago in order to supplement, not replace, in-person meetings," Denise says. "I have flown more than 200,000 miles a year, and I would have been happy to give up some of these miles to spend more time on the ground and in one place."
Developing Skills for Digital Economy
Today, Denise is intensively working on two skills: internal skills to productize its content; external skills tied to the emerging consumption era. "What is occurring today is the biggest land shift in the global business economy. The one constant today is everything in business is in constant change. The pace of change is continuing to accelerate. If you don't like change, this is not the era for you."