Daniel Kiss: A Role Model & Leader in the Business of Chemical-Free Anti-Parasitic Solutions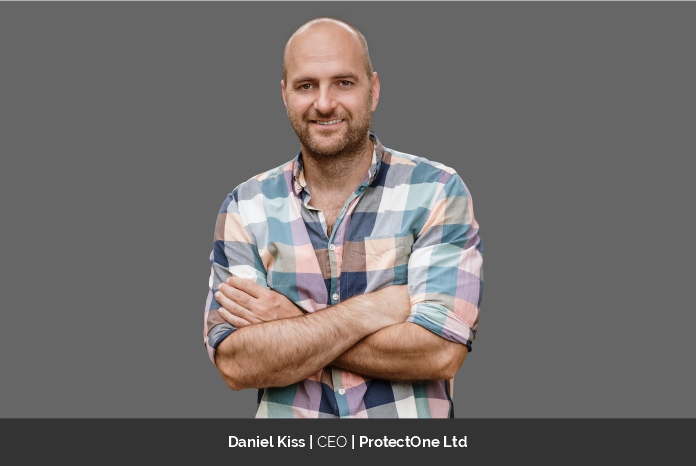 Daniel Kiss, CEO and Founder, ProtectOne Ltd., started his company in 2009, after a meeting with a "crazy" professor, where he discovered a great new possibility and opportunity to keep ticks and fleas away from humans and pets without chemicals.
Since 2010, ProtectOne has been looking for breakthrough solutions to open a new chapter in the fight against parasites, with a growing product portfolio as proof of their innovative edge under TICKLESS trademark.
TICKLESS® products they manufacture and market are Europe's number one chemical-free anti-parasitic solution, and are present in the networks of renowned dealers in 50+ countries on five continents.
Finding entrepreneurship in the search for new challenges
As a young man, Daniel moved to Germany with his mum and older sister after his parents got divorced.
"When I was 18, I quit school to work on a cruise ship that did whole world cruises," he recalls. "After 3 ½ years of cruising the globe – where I climbed the ladder and ended up as a restaurant manager – I decided to go back to school and get a degree in economics."
Besides school, Daniel started to work as a sales rep for a very successful Hungarian company, where he got to meet Mr Hajas, the founder of the company, who started from scratch to become a well-known and well-respected millionaire. "He is definitely my early role model," says Daniel.
Later, he went on to work for a German company as a country manager. By the age of 30, he had put together a fantastic team of distributors and colleagues, so the business went very well without him having to put a lot of work into it.
"But when you are that age, you want to achieve big things, not only just running and maintaining the business," he says. "That was the time when my wife suggested I should move on and look for new challenges. All these things together made me open up my own company."
Keeping the faith on the road to success
Daniel's journey started simply with him wanting to be a part of something big, and channel the endless energy within him.
"When I was a little child, I saw all the successful businessmen and thought to myself, since everybody is a human – including them and me as well – I was sure that I could achieve anything they did," he says.
Before starting his company, Daniel was a sales rep who always felt like he had more and better ideas than his bosses would ever understand. One day when Daniel was complaining to his uncle, who was a successful entrepreneur, his uncle simply replied, "If you believe in your ideas, sooner or later you should prove they work."
Daniel knew immediately that it was time to open up his own company, so he did. His considers his first success as actually having courage to start his own company, a decision that would change his entire life.
"Success is going to come in many different ways while doing something with true faith," he says. "In the beginning, I was driven by my faith and previous experiences that taught me I could achieve anything I ever wanted."
The foundation for ProtectOne was based in Daniel's previous experiences as a successful employee, and the faith he had in himself. However, the serendipitous final step to entrepreneurship happened as a result of a huge disappointment.
 "I was about to fulfill another dream. My parents had their own little restaurant back in Germany, and when I put enough money aside, I decided to open up my own restaurant," Daniel recalls.
The day he was about to sign the contract for the restaurant, the property owner decided to rent it for other purposes. The same day, he met an old friend to tell him about his sad story and how disappointed he was, but his friend was feeling really good and couldn't stop smiling, so they ended up talking about his friend's good mood, instead of Daniels's bad one.
His friend happened to work in the pet industry, and told Daniel about the ever-growing opportunities, market growth, and the huge boom, despite the worldwide real estate and financial crisis of 2009.
"That's how I got into the pet industry and established my distribution company in 2010," says Daniel. "I will never forget the day when we signed the biggest deal of our life, which included the supply of Europe's biggest retail chain with our TICKLESS® ultrasonic tick and flea repellent products."
Taking a chance on the business
Daniel remembers when they had invested all the money they had into a huge stock of TICKLESS® tick and flea repellents to fulfill their growth needs.
"The products got into the stores on the first of April, the same day that a massive cold front came and put 80% of Europe under snow for two weeks," he says. "We could hardly sell 1/10 of our stock, and were left with no cash-flow money."
At that time, Daniel only had four employees, and only enough money for two month's salaries. They were nearly broke, when a US exhibition caught his attention.
"So there we were. We had only enough money for either the salaries or the US exhibition," he says. "When I confronted my colleagues, they surprisingly said we should go and make the best out of the situation. If we're going to be broke, at least do it in style."
So they took what was left of the money and paid for the exhibition, which resulted in great success, as they signed a big deal with their first US distributor who paid upfront for their products.
"Life is like a muscle. If you live at the fullest way you can, and are ready to face the obvious challenges, you're going to be more resilient for whatever life confronts you with. You are going to get stronger," says Daniel.
Building a business of chemical-free tick & flea repellent products
When it comes to protecting our loved ones from tick-borne diseases, the old way was to put as many chemicals on the pet as possible, to avoid tick bites.
Daniel understood that by learning more about the parasites themselves, they could come up with a technological product that would affect the ability of parasites to detect their prey.
"We now have chemical-free technologies against tick and flea bites, and we figured out a way to keep dust mites at bay, and therefore to reduce the symptoms of dust allergy," he says. "In this very moment, we're working on three new non-chemical ideas to protect people and their loved ones from more diseases."  
ProtectOne is continuously working on making their products better, providing better and better solutions for their customers, as well as for their distributor partners.
"Our business has been profitable since day one, and the success of our products is easy to measure, if we look at the past two COVID years, where we could grow more than 35% each year," says Daniel. "Today, we are able to hire experts for each and every job, which is a huge difference compared to the beginning, therefore my role as a CEO changed as well."
Learning the lessons of leadership
Daniel believes that when you decide to open up your own company, you're probably your only employee, so there's not much to lead, as it's only a one-man show. However, if you succeed, the job is going to exceed your skills, and you're going to need to recruit people, and that's the first stage of your journey as a leader.
"Thank God, I've had always huge patience towards other people, so I decided to hire young colleagues just fresh out of school," he says. "For example, our global sales director – who started as a sales rep – is only 30 years old and has already worked for seven years in our company. The first 3 to 5 colleagues were all very young, but very enthusiastic, and I taught them everything I knew about the business. All of them are still working within the company today, and most of them are leaders themselves, by now."
In the beginning, Daniel just wanted to prove to himself that he could make it really happen and build his own successful company. But as the team grew around him, he started to feel responsible towards them.
As the company kept on growing, he started to feel responsible for the environment too, and now with a group of young enthusiastic people around him, he tries to make the best possible products that are protecting the environment, while at the same time ensuring stable growth for his organisation.
Becoming a coach and a role model
As a little kid, Daniel played basketball and idolized Michael Jordan. "I guess he was never really satisfied even when he delivered the most unbelievable performance, and so am I," he says.
Describing himself as a coach, Daniel says, "I never forget to praise my colleagues and to applaud them whenever they achieve something, but I also ask them, if they would have the chance to achieve it again, is there anything they could do better."
Daniel believes that, as long as he is looking for ways to improve himself and the company, his colleagues feel motivated too, to be part of it and to contribute to something new that's bigger than anyone could ever imagine.
"Every day I am inspired and excited about everyone who works in my organisation, and I do everything to make them better than they were the day before. Probably that's also the reason why I'm every day running a bigger company than I did the day before," he says. 
Daniel feels that the best recognition you can receive as a leader is when your colleagues are just as happy as you are, and the fact that many people are approaching them to work together with them in the company.
"Nowadays I am more of a role model to my colleagues, to whom they can turn to with any kind of questions. Not necessarily work-related, but sometimes also private ones," he says. "I have a fantastic wife and three amazing kids, and have built a very successful company, so my colleagues sometimes ask me for advice about their private lives."
Daniel admits that his wife helps him in maintaining a balance. At the very beginning, he was not allowed to work on the weekends, which turned out to be a great idea, when she told him, "Daniel, if you want to be really successful, you better hurry up, because you have only Monday to Friday to achieve it!"
"I have gone a long way to be where I am right now and I couldn't be happier, but still there is so much to achieve out there, that the whole magazine wouldn't be enough to write down every single one," he states.
Moving to the online universe and the USA
Daniel observes how, not so long ago, there were two totally different universes – one was "brick and mortar" and the other "online". Companies were often successful in one universe, but not the other one.
"Our company is only 12 years old, but still we were focusing on brick and mortar at the beginning," he says. "By 2020, everything became one universe, and every successful company had to be present online, brick and mortar shops as well."
As an example, Daniel notes that when he started the company, positions such as "Amazon Online Sales Manager" did not even exist. But today, if a company has no online (Amazon) strategy, it will struggle.
"We started our US branch office in Tampa three years ago, where I believe my help is needed now, so I am planning to move with the family to the US to make big things happen over here as well," he says.
Daniel's message to aspiring business leaders is: Treat your colleagues the best way you can, as they are your biggest asset, and never stop sharing the wealth and knowledge you gained previously.
For more information please contact: info@protectone.com