Building Bridges: Allen Riddick's Journey of Inclusivity and Impact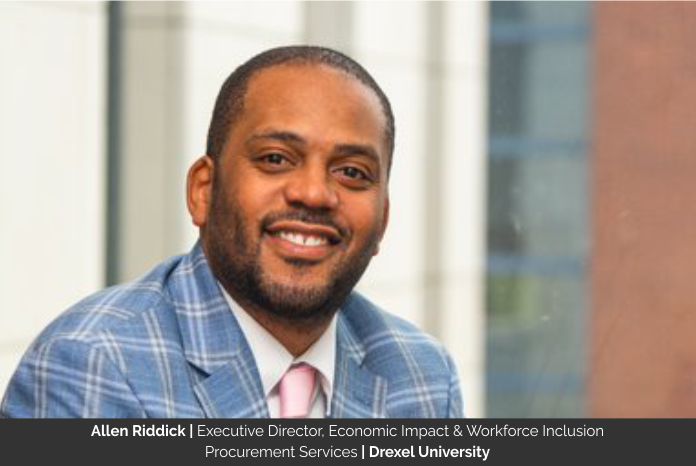 Meet Allen Riddick, the Executive Director of Economic Impact and Workforce Inclusion at Drexel University. His innovative leadership and concrete efforts to advance economic inclusivity and diversity have earned him a place on the "Top 10 Influential Figures in Diversity and Inclusion for 2023" list, acknowledging his significant role in driving meaningful shifts in these critical areas.
Within his position at Drexel, Allen supervises initiatives to promote diversity and inclusion in Accounts Payable & Procurement Services. He is responsible for ensuring that small, minority, women, veteran, service-disabled, and LGBTQ+-owned businesses have equal and accessible opportunities in both hiring and procurement.
However, Allen's impact extends beyond his formal responsibilities. He actively engages with various organizations focused on supplier inclusion, procurement, and civic participation. He is a Board member and formerly the Council Chair for the Women's Business Enterprise Council East (WBEC East). Current Board member for HopePHL, as well as current and former Board member of The Institute of Supply Chain Management (ISM-Philadelphia). Additionally, Allen holds the position of Board Secretary for The Philadelphia Frontiers International.
For high achievers like Allen, there are no limits to what can be accomplished. When asked about his perspective on success, he draws from his spiritual beliefs. He feels "it's important to never complicate or confuse your personal ambitions with what God has in store for you." This experienced executive believes that God desires success aligned with His purpose rather than our individual goals. He also emphasizes that people often become so focused on pursuing their goals that "they forget to enjoy the most precious gift: life."
Allen characterizes himself with the term 'RESILIENCY,' a descriptor that aptly captures his ability to navigate both professional and personal challenges. His capacity to reinvent himself with each challenge he faces reaffirms the accuracy of this self-definition.
Highest Accolade as a Leader
"Being awarded a citation from the office of the Mayor for Philadelphia's 2022 Minority Enterprise Development Week was one of the greatest recognitions I have received," Allen conveys. His father had earned the same prize five years before, which held special significance for him.
Inspiration for D&I Leadership
Reflecting on his formative years Allen says: "During my childhood, I was blessed to have a father who served as President and CEO for at one time two of the largest African-American-owned businesses in the country, PRWT and Alpha Enterprise Group. His father's current company Alpha Enterprise Group established a groundbreaking tier-one partnership with Staples, supplying office products to Fortune 500 companies. Here, he first gained insights into Diversity and Inclusion (D&I) and its profound significance.
Alpha Enterprise Group's ability to recruit, train, employ, and provide competitive salaries and benefits to North and West Philadelphia residents, including those without college degrees and returning citizens, was a testament to the power of corporate spending goals and supplier diversity requirements. Witnessing his father's unwavering commitment to the community, the young Allen aspired to follow in his footsteps but also believed that he could make a more significant impact as a leader who shared the values and lessons he had learned alongside his father.
Learning from the Initial Challenges
According to Drexel's Executive Director of Economic Impact and Workforce Inclusion, for professionals like him to succeed, they need genuine backing from the top. The executive suite is the first place to implement diversity and inclusion policies. Allen has experience with companies where D&I was treated more as a side project rather than a core value. It instantly put a cap on how large a program might get.
Drexel University- in Brief
Allen asserts that Drexel University is a world-class urban research institution that combines teaching and research with a wide range of community partners and students worldwide to tackle some of society's most intractable problems.
Also, Drexel is dedicated to strengthening its engagement with the people of West Philadelphia to become the country's most civically engaged university. It has implemented plans to hire residents of nearby communities and make necessary purchases from stores in West Philadelphia.
Innovative Contributions to Industry Redefinition: D&I's Impact on Drexel University's Growth and Vision
This experienced professional believes his contribution to reshaping the industry begins with a concept he coined years ago: the Quarterly Friend Review, or QFR. This phrase, which he often shares, serves as a personal and professional challenge to himself and others to stay in touch at least once every ninety days. This commitment to maintaining connections inadvertently enhances the likelihood of success and positive relationship outcomes. After every supplier meeting, Allen recommends a QFR, providing a formal opportunity for parties to reconnect and deepen their understanding of one another. He emphasizes, "By staying engaged and learning more about each other over time, progress is made, whether directly or indirectly, as it relates to business."
Within Drexel University's Supplier Inclusion Program, this approach is pivotal in charting their path to success with their suppliers. While not every relationship may lead to procurement opportunities for a supplier, it encourages the university to engage with local and diverse businesses actively. Simultaneously, it challenges them to gain a comprehensive understanding of Drexel University's operations.
Fostering a Culture of Integrity
The integrity culture within Allen's team is closely linked to Drexel's AP & Procurement Services leadership. He operates under the guidance of Julie Jones, Vice President and Chief Procurement Officer, who prioritizes integrity within their department. While procurement can often be transactional, he emphasizes the constant activity within a university environment. Ongoing requisitions, policy updates, system changes, data requirements, payment requests, and challenges exist. In such a context, the integrity of each team member becomes vital in ensuring a secure purchasing process for Drexel University.
The Transition: Music Industry to Diversity & Inclusion Career
Young Allen worked in the music industry after finishing college, gaining two important life lessons in addition to some modest success. One of them is the impact of being rejected. He realized never give up on yourself because of the fear of being rejected. Second, adaptability is crucial for those who want to make it in competitive fields such as the music industry. When he met Jacqui Benard, Staples's former Supplier Diversity Manager, in 2010, he was inspired to pursue a career in D&I. As a Supplier Diversity Manager, Jacqui made time for frequent conversations with him. Allen's enthusiasm blossomed once he began immersing himself in the procurement world by attending events, joining groups focused on the Supply Chain, and even taking on mentorship roles with some of the country's earliest Supplier Diversity practitioners.
Navigating the Industry and Influencing the Next Generation
This adept pro shares his insights on thriving in the industry and his approach to mentoring the next generation. "While a lot of work, I would say overall, it hasn't been too hard to navigate through the industry," Allen articulates. He believes authenticity plays a crucial role in this field, attracting people willing to support and open doors for those genuine in their efforts. Sometimes, the most effective way to empower others is by connecting them with like-minded individuals, often rooted in their shared quality of being outstanding individuals. He actively facilitates such connections to make a positive impact, trusting that the rest will fall into place with divine guidance.
A Day in the Life of Allen Riddick: Fostering Economic Inclusion at Drexel University
As the Executive Director at Drexel University, Allen's typical day involves diverse activities. As and when required, he has to introduce Drexel and community stakeholders to new businesses, collaborating with various diversity advocacy organizations to stimulate economic growth. This role also entails coordinating with the Strategic Sourcing Team to understand upcoming needs and working with his team on Supplier Inclusion projects. Similarly, Allen needs to collaborate with the Sustainability team on initiatives where Diversity & Inclusion intersects with sustainability. His responsibilities also include assisting the Vice President and Chief Procurement Officer in communicating Drexel's progress and future plans regarding Economic Impact and Workforce Inclusion. Last but not the least, he serves as the voice of Drexel as an anchor institution in the local economy, particularly for small and diverse firms.
Work-life Balance and Team Motivation
This seasoned expert agrees that balancing work and personal life successfully in this industry is challenging. In many cases, the two go hand in hand. Allen has found that having a strong spiritual connection is the most effective approach to keeping one's magic safe. He says he and his wife uphold their faith alive through weekly Bible study and active involvement in their church and several ministries.
In his opinion, the greatest approach to keep his team inspired is to show them how their effort improves the community as a whole. He enjoys arranging gatherings with local businesses and his teammates. It allows people to see how their efforts directly benefit others.
What's in Store for Drexel?
At Drexel, Allen is focused on collaborating with his team to establish Supplier Inclusion as an integral and enduring aspect of the University's operations, going beyond being a mere program and becoming an inseparable part of its culture.
Guidance for Aspiring D&I Leaders
Allen Riddick offers advice to ambitious D&I leaders, emphasizing the need to enter this field with the understanding that the results of their work may take months or even years to become visible. He notes: "The true purpose of our job is to help others navigate through their challenges, fear, lack of knowledge, understanding, and social anxiety, which we all suffer from at times."
He stresses that this career does not adhere to the typical 9-5 schedule, as his days can start at 6:00 a.m. and end at 9:30 p.m. Finding ways to make an impact when unable to be physically present is another important challenge in this role. Moreover, this astute leader highlights that success in this profession requires time, patience, dedication, and the support of loved ones at home, as it often entails juggling multiple responsibilities simultaneously.