An Entrepreneur Empowering Entrepreneurs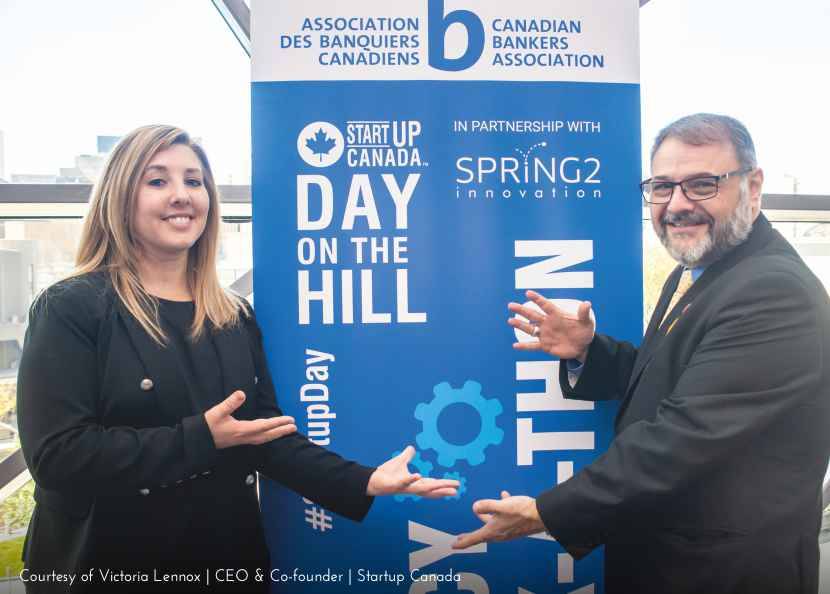 She has always believed in the Rotary Club slogan service before self, and has always known that she wants to be of service. As a social entrepreneur and leader committed to inclusivity and empowering others, she believes the roles she has assumed and the ventures she has created to this day have held to that core value. One of her ventures, Startup Canada is the national rallying community and voice for Canada's 2.3 million entrepreneurs. Since launching in 2012, Startup Canada has grown to represent more than 200,000 entrepreneurs and 50 grassroots communities from coast to coast to coast. Through digital programs and flagship events, Startup Canada is the network promoting, inspiring, educating, connecting and giving a voice to Canada's entrepreneurs; supporting them to start, operate and scale businesses that build a better Canada for the world today and for future generations. She is Victoria Lennox and this is her journey!
Building an innovation nation
As an entrepreneur with a track record of architecting and mobilizing networks, organizations, policy environments and programming, Victoria has propelled Canada onto the global stage as an 'Innovation Nation.' She is one of Canada's leading proponents of entrepreneurship and innovation with deep relationships and ties across academia, industry, government, media and the grassroots startup community reaching every industry vertical from Ai and Machine Learning to CleanTech and FinTech across Canada and the World. Passionate about education and entrepreneurship to foster peace, hope and prosperity, Victoria possesses principal diplomacy and political acuity, creates and communicates a compelling vision, and inspires higher levels of achievement and impact of individuals and organizations alike.
Victoria developed Startup Canada in response to the need to build a culture, community and to connect Canada's entrepreneurship sector. Through digital programs, flagship events, national programs, advocacy efforts, awards and recognition, grants and mentorship, and a network of vibrant startup communities, Startup Canada is Canada's entrepreneurship organization. The platform celebrates and shares the stories of entrepreneurs through the Startup Canada Awards, and gives them a voice in the Capital through Startup Canada Day on the Hill as well as through policy and advocacy efforts. Moreover, Startup Canada is engaging industry to elevate their investment in the entrepreneurship community.
Achievements are the by-product of hard-work and passion
Victoria, in her career, has founded and made an enduring impact through the creation of National Association of College and University Entrepreneurs (UK), Startup Canada (Canada), Women Entrepreneurs Canada (Canada), THRIVE Media (Canada), the Hope Fund (Global) and the Startup Nations (Global). She is also the first Canadian to receive the Queen's Award for Enterprise Promotion at Buckingham Palace on recommendation of the British Prime Minister. Moreover, she has represented Canada on two Governor General State Visits to South America (Colombia and Chile) and the Middle East (Jordan, Israel and the West Bank), at two APEC Summits (in the Philippines and Vietnam), the G8 Summit in the UK, the UNDP Innovation Meeting in Geneva, and the Innovation Tour across India speaking affront more than 100,000 change-makers. She has been recognized and awarded by CATA Next Generation Executive Leadership Award (2017), Canada Volunteer Award (2016), Canada Business Canadian Change Agent (2016), APEC Women Icon Award (2015), Canada's Top 30 Entrepreneurs by Profit Magazine (2012), Spectator Business Top 30 Under 30 (2010).
Overcoming challenges is in nature of an entrepreneur
As with every entrepreneur, Victoria has also faced general obstacles of balancing the hustle of starting up with health and wellbeing requires discipline and focus. Moreover, moving from startup to scale up and succession are some of the biggest challenges an entrepreneur face. Victoria accepts that there is no way around it, and strength is built by going through it. Having achieved most of her goals, Victoria says there is always more to do and more impact to make. However, she is very proud of having worked alongside such exceptional teams and leaders to create organizations with lasting impact beyond her leadership. "The first time I realized my hard work paid off was when I retired as CEO of NACUE in the UK, and the organization continued without me. Something I started ten years ago persists today to support and empower an entrepreneurial generation. With Startup Canada, the hard work has certainly paid off in that we are now the leading brand, community, and voice for Canadian entrepreneurs. The sky's the limit. I am driven by the impact of this work on the lives of Canadians and the macro impact for Canada," Victoria asserts.
Future outlook
Amidst all her responsibilities and roles at Startup Canada and other ventures, Victoria enjoys yoga, jogging, and mediation for regular balancing of the demands of starting and scaling organizations. She also finds it useful to block off a week every quarter to fully unwind, and participate in Vipassana meditation retreats. Time away, in new places, in nature, and in silence provides essential perspective and helps her scale vision and sharpen strategic decisions.
Going further, Startup Canada will soon be appointing a new Chief Executive Director, and Victoria has moved onto the role of President responsible for growth. The organization has now scaled to the point where specialization is the way forward to scaling our impact. In addition to supporting Startup Canada's growth as its President, she will also be pursuing a doctorate at the University of Oxford in the governance and ethics of AI, to ensure she has the knowledge, skills, and network to be a global leader for the future committed to innovation, equality, and sustainability.