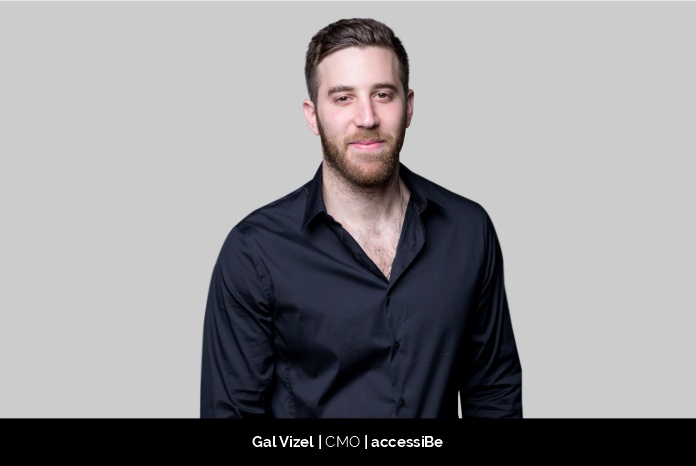 accessiBe: Leveraging the Power of AI to Advance Web Accessibility
Innovation and technology are two powerful facets that have reshaped every dimension of businesses. However, technology is at its best when it is used for a good cause. When Israel decided to pass a law that requires businesses to make their websites accessible to people with disabilities, accessiBe made great efforts and put in their best resources to aid this cause. Gal Vizel, Shir Ekerling, and Dekel Skoop founded accessiBe to help business owners seamlessly make their websites accessible and to provide people with disabilities with an exceptional digital experience that hadn't been seen on the web before. The three friends used their knowledge and expertise from running a digital and web development agency and created what is now the fastest-growing, AI-powered machine-learning solution for web accessibility.
accessiBe was developed stealthily over the course of two years side-by-side with people with disabilities, including leading experts in web accessibility and assistive technologies with the understanding that web accessibility needs a solution that is simple, immediate, affordable, and of course, fully compliant with the WCAG 2.1, ADA, EAA, and other legislations. This inspiring journey was not an easy one. The founders of accessiBe faced many challenges since the inception, that only made their vision stronger. Today, accessiBe is one of the leading solutions that has seen exponential growth in the technological space. Beyond Exclamation is honored to share the success journey of accessiBe in an exclusive issue featuring the most promising companies to watch out for in 2020.
The Uphill Climb of a Successful Company
Before accessiBe, Gal and his partners owned a marketing, design, and web development agency. When the mandatory accessibility law was passed in 2016, they began searching for a web accessibility solution that would help them save time and money, and allow them to continue working on their core business. Ultimately, the trio realized that the only available solution to achieve web accessibility for their clients was to do so manually, a meticulous task that took valuable time and resources for them and their clients.
The founders realized that while the goal of mandatory web accessibility is a noble one, the current way of manual accessibility only frustrates business owners and creates resentment because it is expensive and time-consuming. By understanding that the only way to persuade business owners to make their websites accessible was to provide an effortless and automatic solution, Gal, Shir, and Dekel created accessiBe.
To better understand the task on hand, they began to delve into the regulations and the requirements. This made them realize the extent to which people with disabilities are excluded from the digital world. "We found ourselves feeling enormous empathy towards people with disabilities, and towards small businesses and web developers that needed to provide web accessibility against the toughest odds. It is like being between a rock and a hard place," Gal shares.
Finding a Solution to the Problem
The question was, what are such businesses supposed to do? Well, Gal and his team decided to find a win-win solution. One that would help small businesses and people with disabilities alike. As technology professionals, and owners of business themselves, they knew that there is no one better than them to take on this responsibility and make a positive impact.
They immediately started by visiting assisted living homes to find people with different disabilities who would be willing to help them. Gal and his team began working, shoulder to shoulder, day after day, for more than 18 months with people with disabilities. They also consulted lawyers and web accessibility experts to make sure that their product:
– provides a real and effective solution for people with disabilities
– meets international legislation and standards, like WCAG 2.1 and ADA
– is fully automated, without requiring any manual programming
– is stable enough to work on any website and any platform
It took the company 24 months of intensive work to produce the first version that met these four requirements. In February 2018, accessiBe released its first version. Owing it to the cooperation and feedback from thousands of people who use their system daily, accessiBe has become the first automated solution that can make all websites fully accessible and compliant. It does not just meet compliance standards, it goes beyond them, solving pressing issues raised by users with disabilities. It took them a little over a year (May 2020) to cross the 50,000 websites mark and are now growing exponentially towards the end-goal of making the online world accessible to all by 2025.
accessiBe has been experiencing accelerated growth since the past year, which propelled during the pandemic as people understood how important it is to have accessible websites. The company's growth proves that solutions like accessiBe are highly in demand.
The Exceptional Services of accessiBe
accessiBe offers two products: the first, and the main one, is the fully automated, AI-powered web accessibility solution. It is a quick, 5-minute installation solution that makes any website accessible to people with disabilities and compliant with the ADA and WCAG 2.1 AA, all within just 48 hours. Furthermore, accessiBe makes sure the site is continuously accessible, especially when new content is uploaded to the website, by providing round-the-clock maintenance scans of the website. The second product is aCe, an AI-powered, completely free auditing tool that provides business owners with a quick answer to whether their website is accessible and compliant with the ADA and WCAG.
accessiBe was the first to implement AI and Machine Learning into web accessibility; they pioneered the industry, which gives them a tremendous advantage in AI capabilities. In return, these capabilities allow them to not be dependent on manual labor, cut costs, and to make web accessibility something every website owner in the world can do with a click of a button. accessiBe allows and welcomes people with disabilities to guide their product development. For example, their latest major version update, accessiBe 3.0, was made due to extensive user research they did alongside people with disabilities. So, the development of accessiBe is not made only to serve businesses and make them compliant, but also, and more importantly, to give people with disabilities the experience they need and want.
In order for web accessibility to truly succeed, accessiBe has an unbeatable method. While the code of a website itself is expertly combed to flag and remediate any accessibility deficiencies, accessiBe's AI takes it even further. The technology in place is able to 'experience' a website and learn the elements of the page based on the digital experience they were intended to provide, which is not always reflected to assistive technologies in the way it was coded. By combining these two approaches, accessiBe is able to understand and deliver an experience that is effective and enjoyable for people with disabilities.
For example, a menu on a website is oftentimes coded in a different arrangement, such as a list, because visually it will look the same as a menu. Developers rely on the fact that people with visual abilities have seen how menus are assembled enough to understand that's what they're looking at. However, a screen reader will only understand that the code is presenting a list and not a menu. Without the proper accessibility attributes in the code, the blind user could skip over the menu altogether. accessiBe inserts ARIA labels and screen reader only text that 'completes' the code for screen readers. When a blind user enters the site, the screen reader will relay to a blind user that they are viewing a menu although it was initially coded otherwise.
Another way to demonstrate accessiBe's contextual understanding is through images on a site. Without inserting alternative text to provide broader context of an image, images will be presented just as 'image' to the screen reader. However, if there is something specific in the picture, such as text about a summer sale, then accessiBe will extract text using OCR, and learn the objects that comprise the image using IRIS. accessiBe will automatically provide accurate and elaborate alternative text to any of these images when a blind user with a screen-reader enters the site.
The Importance of AI-powered Web Accessibility
"The only way to make the entire Internet accessible is through AI", Gal explains this, statistically. There are over 200 million websites in the US alone, and people with disabilities count for almost 25% of the US population. A lot of websites, and more importantly, many people with disabilities waiting for an accessible online world.
Now, manually making a website accessible can take three months, sometimes even longer, and begins at around $5,000. This amount doesn't take into consideration the need to continuously monitor the website for any new content that needs to be remediated. Hence, there is an enormous requirement of time and money to make just 1%, or two million, of all websites accessible. At this rate, people with disabilities will never have equal access to the online world.
"The problem is an inaccessible Internet and the solution is accessiBe. accessiBe replaces time-consuming manual remediation with AI and makes websites accessible within 48 hours. With this kind of technology, we can make the entire Internet accessible in no time. That, ultimately, is the goal," says Gal. Their solution is designed to be affordable, effortless, and scalable, and it only depends on the number of website owners who want to make their websites accessible.
Small Beginnings are the Foundation of Great Achievements
As the CMO of accessiBe, Gal is responsible for both marketing and sales within the company. He oversees the growth of the company in the market, customers, and customers' satisfaction. Gal is a self-motivated leader who is driven by helping people with disabilities. "It's easy to stay motivated when you know that you're working on a product that literally improves the lives of others. We stay motivated by constant feedback from people with disabilities thanking us for helping them buy groceries, make appointments, shop, or simply interact with content to brighten their day," says Gal.
An Accessible Web for Everyone
We are in the middle of 2020; we have reusable rockets for space flying, electric cars, and Artificial Intelligence that can find a person within a crowd of thousands of people. Now is the time for AI to make the Internet accessible to everyone.
It's not just about the speed and precision that AI provides when it comes to web accessibility, it's about eliminating the choice of web accessibility. Allowing access to and enabling digital experiences on the web isn't a choice, it's a fundamental right. But if accessibility comes at the expense of performance, it's only natural that website owners will be reluctant to make the move. The only way to truly make the Internet accessible is to make the process of web accessibility simple, convenient, and reliable, so that website owners won't even have to think twice about making this important decision. This is why AI is the answer and how accessiBe aims to make the entire Internet accessible by 2025.
Gal and his team want to make accessiBe a household name for automated web accessibility, everywhere. They plan to accomplish this by keeping the development of their solution to fit the needs of people with disabilities and raising awareness with their incredible partners that understand and appreciate what they are trying to accomplish. accessiBe's vision is to transform the entire internet into an accessible place by 2025. "There's no end to the technological improvements that we can and do implement in our system every day, and our challenge of placing our solution on every website in the world has only just begun. It's not a dream; it's a practical vision.", Gal adds.
accessiBe puts people with disabilities at the front of everything they do. They continuously engage with people with disabilities to get their feedback and open themselves to feedback from the developers' community. "We welcome anyone to contribute to our cause and raise issues of our solution and are always willing to listen and make ourselves better.", says Gal. They are driven by a desire to succeed in their mission of making the online world accessible to people with disabilities in the next five years. They believe in honesty, transparency, and criticism that form the core business values of accessiBe.