Abhishek Agarwal: A Dynamic Leader Building Successful Delivery Centers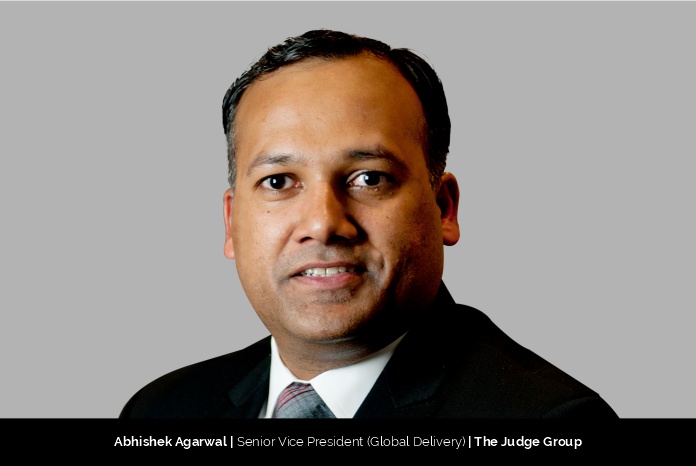 Starting a business has its own challenges, however maintaining the business to work as envisioned is far more critical and challenging. Most businesses often fail because they don't build systems and processes around their business, instead, the systems are built to be people dependent. However, it is often forgotten in the process that the focus should always be on the system-dependent and the people-operated environment. Additionally, the major factor that business leaders tend to ignore is to adapt the business to the changing market conditions. But not Abhishek Agarwal, Senior Vice President (Global Delivery), The Judge Group. He has been successful in adapting to ever-growing needs of the market and advocating to the world that "you & your team must have an innovative bent of mind, which helps in finding solutions quickly and not falling victim to the changing market conditions."
An extensive experience with the most trusted brands
Abhishek Agarwal, Senior Vice President (Global Delivery), The Judge Group, is a dynamic leader with more than 20-years of extensive cross-functional experience with some of the most trusted global brands such as The Judge Group, L&T Infotech, Capgemini Invent, Birlasoft and Genpact. Abhishek is the SVP Global Delivery for The Judge Group, and he is responsible for the launch and oversight of Judge India, a key component of Judge's global delivery strategy. He is an MBA from ENPC, Paris, France and a Bachelor of Engineering from Marathawada University, India.
During the past 20-year in the corporate world, he made splendid effort building delivery centers across the Americas, Europe, India, and APAC. With his exceptional leadership and managerial skills in Global Delivery, Strategic IT Outsourcing, Talent Acquisition, Recruitment, Sourcing, MIS/Analytics, Strategic Resource Management, Staffing, Business Analysis & Operations, Abhishek contributed massively to the growth and success of both organizations and people.
Before joining The Judge Group, Abhishek was serving L&T Infotech as Head of Global Talent Acquisition/Sourcing (IT). He also held global talent acquisition and delivery leadership roles for several other technology solutions, consulting and services companies, where he led many large teams in both physical and virtual environments.
Besides leading The Judge Group's global delivery mission in India, Abhishek is also an active member of various professional organizations in the US. He is a well-known speaker at various industry forums for global recruitment, talent acquisition, operations and workforce planning. He is a proven leader with a track record of success in setting up global delivery strategies and international offices.
Solving high level operational challenges while ensuring successful global deliveries
Abhishek says he always wanted to do what he is doing right now. "I was very sure about one thing that whatever I would do, I will do it very passionately. It is true that we should do what we love, but another truth is that you should always love what you do," he shares. Additionally, Abhishek completely agrees with Bill Gate's philosophy about life. "He believes life tends to just happen because of the choices we make. The life you create and design for yourself is going to accumulate from the choices you make over time. Unexpected things can derail the dreams but staying focused can help you put one dream ahead of another. To win big, you sometimes have to take big risks," Abhishek further adds. He has always believed that "you have to follow just one path, walk on it confidently, learn new things, fight all the challenges, enjoy the journey and finally reach your destination – we should never sail in two boats. I was very clear about where I have to reach, so I was into similar things before as well – building delivery centers, ensuring successful global deliveries, solving high level operational challenges etc."
Leading a key strategic global delivery center
When the Judge Group launched their India operations in September of 2016, it was obvious for the company to handle the responsibilities to someone like Abhishek who had an extensive experience in building successful delivery centers. The objective of establishing Judge India was to have a key strategic global delivery center for The Judge Group in addition to serving as the offshore IT services and solutions arm of the company. The ultramodern facilities positioned Judge India to deliver its services to clients around the clock and across the globe. This also allowed the company to attract the top local IT talent. Recently, Judge India completed their successful four years and has now tripled their footprint with the newly renovated state of the art office.
Led by Abhishek, Judge India has become a key strategic global delivery center for The Judge Group. The newly expanded office allows Judge India to better deliver IT solutions and IT recruiting services to its India and US based clients. The Judge Group is an industry leader in technology and talent solutions with nearly 50 years of experience. The company's services are successfully delivered through a network of more than 35 offices in the United States, Canada, and India. The Judge Group serves more than 47 Fortune 100 companies and is responsible for 9,000 professionals on assignment annually across a wide range of industries.
Creating and delivering innovative business solutions
Abhishek says that they understand that every business is unique and hence, the solution it will require should also be unique and tailored to meet the needs. "Utilizing and employing five decades of experience, we have become a comprehensive services go-to partner and help the businesses to grow no matter the scope or size of the project. We are creating and delivering innovative business solutions that are powered by an adequate blend of creative human minds and transformative technologies to successfully realize the organization's strategic goals and opportunities. This unique, professional, and innovative approach ensures the best performance in the industry," Abhishek asserts.
The leadership team at The Judge Group is highly adaptive to evolving technologies. Abhishek says that by using technological tools, the company minimizes the chances of errors, opens up new channels of communication, upgrades security services for the confidentiality of data and so on. These advancements have completely accredited Judge India like the most advanced HR practitioner. According to Abhishek, the company gains an edge over the competitors by bridging the gap caused due to varied aspirations of recruiters and candidates. Moreover, "we have mastered the art of picking the best talent from the market and have translated this art into our biggest strength. We inherit technologies to deliver innovative business solutions that are powered by top talents to match the strategic goals so that the client can realize the opportunities now and in the future. Following the right combinations of technologies and skill-sets, we offer pragmatic solutions in all aspects," he further adds.
Creating and maintaining personal relationships with the clients
Abhishek believes that in today's digital age, people seem to communicate more, but connect less. At Judge, "we aim to create personal relationships with our clients; every business opportunity and placement is a chance to grow our family. Building that lifelong connection is at the core of how the extended Judge family conducts business. Therefore, we have a long list of happy customers and we have been working with 300+ Fortune 500 Clients for a good number of years and the reason for the longevity of our relationship is our focus on Integrity, Quality & ROI."
When asked about the memorable moment in his career, Abhishek replies, "Well, the most memorable moment in my career is still in the making however, establishing the India wing of The Judge Group and watching it grow from a small baby to a full-grown adult is one of the most important milestones of my career. I started it with a small team in 2016 and recently completed successful 4 years. We have tripled our footprint with the newly renovated state of the art office. We have been one of the major contributors in growing the topline of The Judge Group for the past 4 years. The satisfaction of helping people get job and industry getting the right people is the happiest thing for me. It feels great to be able to be an important part of the change that the world is going through as the right talent is getting nurtured through us."
Treating colleagues as a family is the key!
Abhishek says he doesn't need to manage the balance between professional life & personal life due to the fact that he considers and treats his colleagues as his family. "You spend most of your time at work then why not spend it well. Manage your time wisely and you would not face any problem." Furthermore, Abhishek advises young entrepreneurs to know the market that they are delving in, to know the people they want to work with to achieve a goal set by them, and to know how to make the talented people work together for a common goal. He advises to understand the need of the industry/people, focus on your goal and set out on the journey with few like-minded people and the most important is whatever you do should create a positive impact. The Judge Group's plan going forward is to invest heavily in the India Market and deliver 100% YOY growth for the next 2-3 years. Abhishek envisions his firm to be a Thought Leader in the South East Asia Market and be the top three revenue contributor of the company.
Finally, when asked what would he advise himself if he could go back in time to meet his younger self, Abhishek answers, "To spend more time with the family as they were on the receiving end when I was busy building the successful business. Don't miss a single moment to spend time with your family."