A Thought driven by Passion directed to Success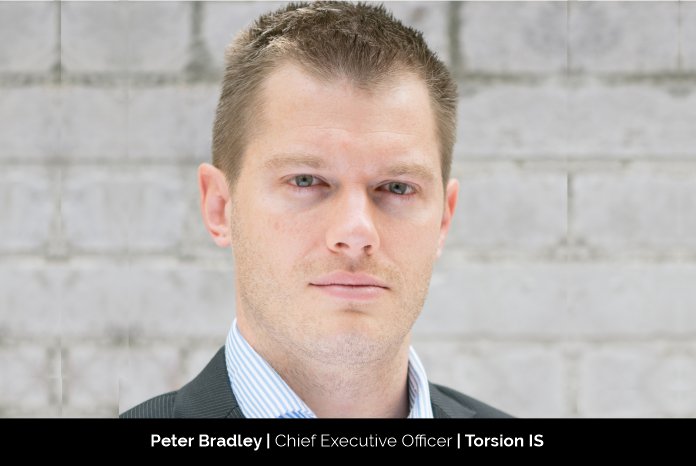 When cyber security first became a buzzword, products were being sold with scare-based tactics. But now, technologies rightly need to be proved as viable, value-based business solutions. In his 15 years as a consultant in cyber security, he witnessed numerous clients experiencing the same problem, which was how to control spiralling access to documents and information within an organization. One early morning, he had the lightbulb moment when he realised the solution to the problem – which instilled the idea behind Torsion IS. After two years of refining, Peter Bradley, CEO of Torsion IS decided to pursue the concept into full-fledged business, and Torsion IS was born. Today, Torsion IS is a leading cyber security company, with a unique, innovative solution to one of the most intractable cyber security problems in Enterprise IT.
As he shares his journey with us, he has a series of inspiring stories, struggles and success, that will instil a different outlook in every person who is dedicated to their goal.
The Tough Grind
The beginning was very exciting, however at the same time it was very tough. Like many tech startups, Torsion IS have created some complex technology, which has taken a huge amount of time and effort to build and operate. Without the resources that a larger organization might have to hand, the business needs to get the technology off the ground, tested, matured, and well operated – before customers will buy the technology. In cyber security, 99% secure is still insecure. This means building and refining a fully-featured product (not just an 'MVP'), huge amounts of testing, and a sophisticated systems operation.
All this, before any meaningful revenues become possible. As it can't be done the other way around, it inevitably means a long period of costs without revenue. However, the team of Torsion overcame these obstacles, and today have proven that the product is solving access control issues for their customers.
One of the other issues that cropped up initially, was validating the idea. They had to validate assumptions like whether they had something that would solve the problem, and could it work in a commercial context. They needed the validation in order to gain the confidence to start building. They overcame the issue by building a prototype that comprised some demonstratable technology, presentations and marketing that would allow them to have productive conversations with potential customers. They would take all feedback, refine the prototype, go back to the customer and repeat this process, until all of the feedback became consistent. It took almost a year of this, before they knew they had a product good enough to start building. Definitely, there was also the challenge of keeping the company viable in terms of resources when you don't yet have a product that is generating revenue. Peter and his team were equipped with the knowledge and determination to face the struggles that arose.
The Service Spectrum
The solution at Torsion IS gives companies confident control of data access. Among countless sensitive files and folders, 'who has access to what' often sprawls out of control. This limited control and visibility can lead to significant security and compliance challenges. Torsion integrates with existing collaboration systems such as Microsoft Teams, Office 365, SharePoint and File Shares – working with business users to automatically monitor and control access. Their unique solution is cloud-first, smooth to deploy and affordable for any size department or business.
Torsion runs continuously in the background, monitoring who has access to what. It intelligently detects anomalies and vulnerabilities, and flags any issues to the right people in the business. When the system detects access which doesn't look right, it raises a quick notification to the information owner to take a look. Vulnerabilities are shut down in real time.
As people move around and the business evolves, Torsion slashes maintenance costs by automatically keeping access up to date. For example, if somebody changes roles, their access is updated automatically.
Torsion also makes proving compliance simple. Information owners certify access themselves, and it's simple to validate who has access and why they have it.
The CEOs Thoughts
Peter's career background in consulting organically combined technical conversations with business and communication skills, and naturally led him to focus on business information security solutions. He completed a degree in Computer Science in Australia where he is originally from, and spent the first few years of his career as a software developer and engineer. Working for a management consultancy, he gravitated toward the business side of IT. This led him to undertake an MBA part time in the evenings whilst working full time, and move into business-focussed software architecture.
He then moved to the UK, and worked as an information security consultant focussing on business solutions before establishing Torsion IS. As a consultant, he witnessed the same problem again and again and he was able to apply his expertise and strengths to create a solution that solved that problem.
As the CEO of Torsion IS, his role is all-encompassing. He oversees everything from software architecture, strategic planning, board and financial responsibilities, marketing and sales. He is dedicated and passionate about his work and works hard with his team to build innovative and new technologies that have not been witnessed before. "We are using innovative techniques that focus on and give control to business users. We need to be agile, innovative, dynamic and skilful to succeed in a market that presents different challenges on a daily basis", says, Peter.
The Future Formula
The cyber security landscape has changed in terms of it now being an established and fundamental business focus as opposed to something new and disruptive. Because of this, there is also a different approach being taken. Torsion's aim is to solve a complex problem that hasn't been solved previously. The team at Torsion has a planned path ahead of them. The year ahead is all about growth. They are focused on building credibility within the cyber security and data access control market. With a view to work with new companies and new geographies, they are taking their product to the US, Europe and Asia as well as the UK. They will continuously build new features that help solve the customers problems more deeply and effectively.
Peter knew had found his passion and he was dedicated to follow it regardless of the struggles, which led him on the road to success. As Torsion IS gears up for new heights under the expert guidance of Peter Bradley, they are determined to inspire the world with their zeal to lead the industry.