That's What She Wrote: 25 Books To Read By, For and About Women in Leadership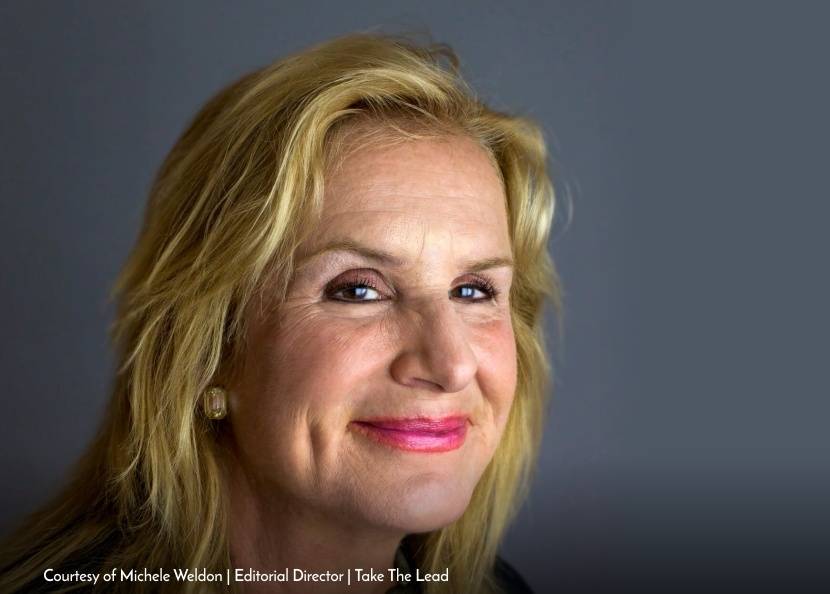 Women in Leadership: It gets tiresome every publishing cycle when lists of recommended business and leadership books feature only male authors or a very few female authors.
Because thought leadership is both male and female, it is necessary to spotlight female authors with the acknowledgment, props and book sales each author deserves.
This is a cause challenged by Gender Avenger with the mission, "A community that ensures women are represented in the public dialogue," and the motto, "Women as equals will become the norm when it is the norm. Everywhere."
What manels are to conferences (the name for mostly or all male panels), bro books are to author lists.
As a powerful antidote to the book gap, here are 23 great new books (and two classics) by, for and about women in business, leadership and life that we suggest you consider for your reading list this summer (in alphabetical order by author).
Set the World on Fire: Black Nationalist Women and the Global Struggle for Freedom by Keisha N. Blain (Univ. of Pennsylvania). "A survey of the tactics, ideologies, and alliances employed by a group of black nationalist women who fought for national and transnational black liberation from the early to mid-20th century," Publisher's Weekly writes.
The Vanity Fair Diaries: 1983–1992 by Tina Brown (Henry Holt). Fortune writes: "If you happen to be traveling for a long time this summer and only want to bring one long, but engrossing, book, make it this one. Tina Brown's memoir spans the course of the 1980s (with a dip into the 1990s), chronicling her tenure as the first female editor-in-chief of Condé Nast's then-revival of Vanity Fair. Previously at London-based Tatler and later EIC at The New Yorker, Brown is refreshingly honest about the difficulties of not only trying to balance a career with starting a family, but also handling the mercurial moods and preferences of the (mostly male) colleagues and bosses around her."
Grateful: The Transformative Power of Giving Thanks by Diana Butler Bass (HarperOne). "Bass addresses the gap 'between our desire to be grateful and our ability to behave gratefully.' By listing the ways people fall short of appreciating their spiritual and social community, Bass points out simple steps for rekindling a grateful nature in a society filled with ego-centric thinking," Publisher's Weekly writes.
Brotopia: Breaking Up the Boys' Club of Silicon Valley by Emily Chang (Portfolio Penguin). According to Financial Times, "With impeccable timing, Chang catches the wave of concern about sexual harassment and discrimination in the technology industry and beyond. She traces the roots of 'bro culture' in a book that the FT's Hannah Kuchler praised for its 'astute analysis of how discrimination against women became part of Silicon Valley's DNA.'"
Chasing Hillary: Ten Years, Two Presidential Campaigns and One Intact Glass Ceiling by Amy Chozick (Harper). "Reading Amy Chozick's account of covering Hillary Clinton is like reading about covering a campaign in a different time period, if not on a different planet. Chozick has the unique viewpoint of having covered both of Clinton's presidential campaigns but for two different newspapers: the Wall Street Journal in 2008 and the New York Times in 2016."
Political Tribes: Group Instinct and the Fate of Nations by Amy Chua (Penguin Press). "Chua, a Yale Law School professor best known for writing Battle Hymn of the Tiger Mother, examines the role of tribalism in politics and society in and outside the U.S," according to Publisher's Weekly.
Sharp: The Women Who Made an Art of Having an Opinionby Michelle Dean (Grove). "Dean, a journalist and critic, explores the lives and work of women writers of the 20th century, including Hannah Arendt, Zora Neale Hurston, and Pauline Kael, all of whom shared the quality of sharpness, or precision in thought and wit," Publisher's Weekly writes.
White Fragility: Why It's So Hard For White People To Talk About Racism by Robin DiAngelo (Beacon Press). Professor and antiracist educator DiAngelo writes deftly and thoughtfully on the urgency for white people to step up and see their bias in order to improve relationships, workplaces and society as a whole. This is a must for every manager, every employee, every leader, every workplace, everybody.
Thinking in Bets: Making Smarter Decisions When You Don't Have All the Facts by Annie Duke (Portfolio.) Bustle writes: "In her national bestseller, former World Series of Poker champion-turned-business consultant Annie Duke uses her table smarts to transform the way her readers approach risk and uncertainty. An eye-opening look at decision making in situations where not all the information is available, Thinking in Bets can help you feel confident in even the most uncertain of times."
No Excuses: Nine Ways Women Can Change How We Think About Power by Gloria Feldt (Seal Press). Take The Lead Co-founder and President Gloria Feldt's enduring bestseller touches on the essential need to see the power to change, rather than having power over something or someone. "Feminist icon Gloria Feldt pulls no punches in this new book, which argues that the most confounding problem facing women today isn't that doors of opportunity aren't open, but that not enough women are walking through them. From the boardroom to the bedroom, public office to personal relationships, she asserts that nobody is keeping women from parity-except themselves," according to Amazon.
Reinforcements: How to Get People to Help You by Heidi Grant (Harvard Business Review Press). The Financial Times writes: "Seeking help makes people nervous — for example, they fear that others will say no, or think less of them for asking. Using the latest evidence from neuroscience and psychology, Grant proves that these and other assumptions are untrue, and shows, helpfully and concisely, how to overcome some of the deterrents to our search for aid."
Girl, Wash Your Face: Stop Believing the Lies About Who You Are So You Can Become You Were Meant To Be By Rachel Hollis (Thomas Nelson). 'Rachel Hollis is a bestselling author, TV personality, in-demand speaker, and founder and CEO of Chic Media, the foremost authority on premium digital content for women. Named one of Inc. Magazine's "Top 30 Entrepreneurs Under 30," Rachel uses her infectious energy to empower women to take control of their lives and pursue their passions without fear. Motivational, inspirational, and always approachable, Rachel's tell-it-like-it-is attitude is a refreshing approach that allows her to authentically connect with millions of women around the world," according to Amazon.
The Recovering: Intoxication and Its Aftermath by Leslie Jamison (Little, Brown). Publisher's Weekly writes: "In this PW-starred memoir, Jamison explores her addiction alongside the stories of great writers and artists who also suffered; her heartfelt insights… underscore her reputation as a writer of fearsome talent."
The Big Ones: How Natural Disasters Have Shaped Us (and What We Can Do About Them)by Lucy Jones (Doubleday). "Seismologist Jones looks at some of history's most influential natural disasters, assesses their impact on our culture, and proposes new ways of thinking about the ones to come," writes Publisher's Weekly
No One Tells You This by Glynnis MacNichol (Simon & Schuster)."On its surface, Glynnis MacNicol's memoir seems simple, even mundane: a straight, single woman turns 40 and faces the challenge of defining herself and her life in the absence of marriage and children. As a successful journalist living in New York, MacNicol is aware of the privilege that has allowed her to find fulfillment in work and friendship rather than conventional domesticity," according to The Lily in the Washington Post.
Brave by Rose McGowan (HarperOne). According to Publishers Weekly, "Actress McGowan recounts her career and also her work as an activist determined to expose the truth about Hollywood." The New York Times writes:" "One of the greatest tricks that the patriarchy plays on women is to deliberately destabilize them, then use their instability as a reason to disbelieve them. Much of BRAVE reads like the diary of a woman driven half-mad by abusive men who assume no one will listen to her. In this case, the truth was finally — and, for McGowan, triumphantly — exposed…"
In Defense of Troublemakers: The Power of Dissent in Life and Business by Charlan Nemeth (Basic Books.) According to Bustle: "In this enlightening and empowering read, psychologist Charlan Nemeth makes a case for dissent in business, in culture, and in everyday life. When everyone agrees on one truth, Nemeth argues, the majority opinion is typically at risk of being bias, unoriginal, or false. When that truth is challenged, however, we are forced to question the status quo and consider more information, habits that can help us make better decisions."
Leading Women: 20 Influential Women Share Their Secrets to Leadership, Business, and Life by Nancy D. O'Reilly (Adams Media). This collection of advice from Take The Lead's board chair, O'Reilly, founder of Connect4Good, is timeless. "Stop waiting around for the career — and life — that you deserve and start taking the reins! Leading Women shows you how to claim power and respect, conquer your internal barriers, and change the world by helping other women do the same. Featuring stories from twenty nationally acclaimed female leaders, this empowering guide offers real-life advice for breaking free of the predetermined roles in the business world and life," according to Amazon.
Old in Art School: A Memoir of Starting Over by Nell Painter (Counterpoint). "After a distinguished career as a historian and Princeton professor, Nell Painter had earned the right to a restful retirement. Instead, at 64, she started over, chronicling that adventure in Old in Art School, an inspiring, irreverent and fascinating look at her journey to become a real artist while earning degrees from Rutgers University and the prestigious Rhode Island School of Design," according to The Lily of the Washington Post.
The Art of Gathering: How We Meet and Why It Matters by Priya Parker (River Head). According to Bustle, "Whether you're at a work meeting, an industry conference, or an intimate dinner party, how you gather and what you do when you're together truly matter. The only problem is, most modern meetings are unproductive and unfulfilling, or so Priya Parker argues in her remarkable new book about how we spend our time together, at work, at home, and beyond. If you want to get more out of every event, whether it's with your boss and co-workers or friends and family, The Art of Gathering can help."
Radical Candor: Be a Kick-Ass Boss Without Losing Your Humanity by Kim Scott (St.Martin's Press). According to Business Journals, "This book by Kim Scott, a one-time startup founder and CEO who has been a CEO coach at tech companies including Dropbox and Twitter, sounds like just the right read if you're in need of some leadership guidance. Sadie Trombetta, writing for Bustle, puts it on her list of 5 business books written by women for summer reading. 'An accessible guide to better business, and better bossing around, this thoughtful book is a great go-to for anyone daunted by management and looking for a new approach,' Trombetta writes."
Feel Free: Essays by Zadie Smith (Penguin Press) "Reminding readers that Smith is a gifted essayist as well as a novelist, this compilation surveys recent pivotal events in culture and politics, and in Smith's own life," Publisher's Weekly writes.
The Woman's Hour: The Great Fight to Win the Vote by Elaine Weiss (Viking). "Weiss's investigation of the final push to ratify the 19th Amendment in Tennessee draws parallels between the political landscape of the 1920s and today," Publisher's Weekly writes.
90s Bitch: Media, Culture and the Failed Promise of Gender Equality by Allison Yarrow (Harper). "In her new book, author and journalist Allison Yarrow shows how the 'bitchification' of women continues and how being called the b-word still stings for most all of us. The 90s landscape of power — whether through television, popular culture, politics or media — was shifting to include more women. But women were diminished through sexualization, demonization and cruel dismissals meant to reduce and undermine them to powerlessness," according to Take The Lead.
Fifty Million Rising: The New Generation of Working Women Transforming the Muslim World by Saadia Zahidi (Nation Books). "Saadia Zahidi, winner of the first FT/McKinsey Bracken Bower Prize, traveled around the world, from Indonesia to her native Pakistan, examining how Muslim women are challenging taboos and smashing stereotypes as they acquire greater independence and agency at work and in education. In many of her examples, technology liberates them to achieve greater autonomy, despite old-fashioned restrictions," according to Financial Times.
This post is originally published by Michele Weldon on Take The Lead.