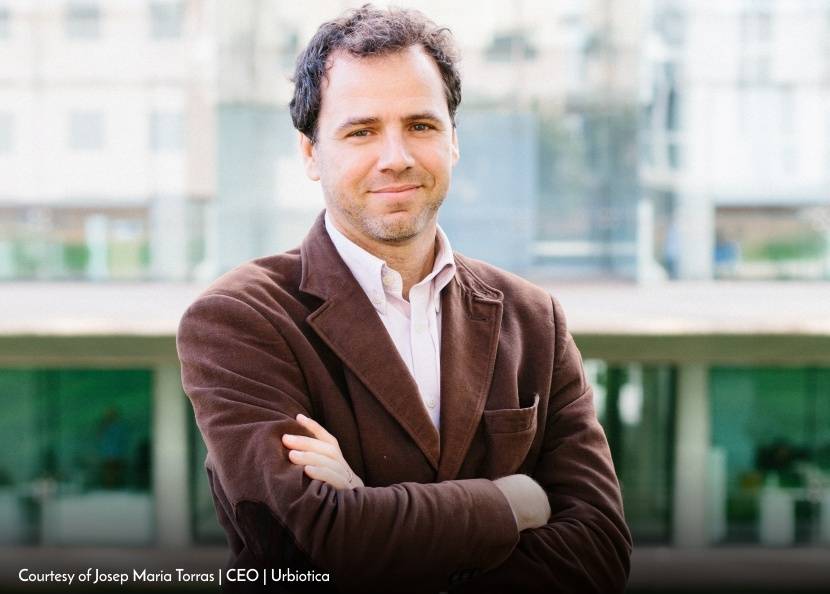 Urbiotica: Delivering Quality & Echoing Smartness
With a vision that involves helping cities to become more manageable, efficient and sustainable, Urbiotica improves the quality of life of people and offers solutions for smart cities. In an exclusive interview with Beyond Exclamation, Josep Maria Torras, the CEO of Urbiotica, shares the journey, the inception story and the vision of the company.
What prompted the thought of designing and developing the latest generation of wireless sensor systems?
The convergence of an increasing need of moving to a more efficient way of managing different services in the cities and the irruption of new technologies like IoT wireless communication protocols or data processing and analytics technologies was the trigger for convincing us to undertake this exciting project. Despite this, it has been a long travel since we've understood how we have to use these new technologies for solving the real problems of our customers.
Tell us about the different smart services and solutions offered by Urbiotica? 
Main solutions in Urbiotica focus on smart mobility, and especially on Smart Parking solutions. These solutions are composed by wireless sensors networks, our SW cloud platform and a suite of SW applications and services. With our sensor based solutions and services, we contribute to a better real time information for the citizens to help them in their urban driving while also providing real time information and analytics to urban mobility managers in order to manage the daily operations better and help them in the mid/long term parking/mobility decisions in the city. Other solutions like urban noise monitoring or waste bins filling level control have also been implemented.
We believe there must have been a few obstacles along the road since the foundation? How has the company tackled the same?  
Certainly, it's a big challenge to create and develop a company like Urbiotica, starting from scratch and only with private funding. We are a company developing new services based on new technologies for a sector (public administration) that traditionally needs to take its time to adopt these new services, which sometimes means deep evolutions of their traditional internal processes. But we strongly believe that adopting these new products and services is not an option for them, it's a must that they'll have to implement to solve big challenges such as overpopulation, mobility issues or environmental aspects, among others. This strong vision of the Urbiotica team, including the employees and shareholders, is the most important point that allows us to overcome all the obstacles to build a solid company.
How does Urbiotica stand out from its crowd of competitors? If you are to describe one word that separates Urbiotica from the competitors, what word that would be?
JMT: Reliability and customer service. No doubt, I think these are the 2 key points that allow us to be at the top of the competition. Reliability of our products and solutions, demonstrated over these years, since our first deployments. We're highly recognized in the market for the good performance of our solutions, which is not easy considering we are talking about innovative products based on the latest technologies. We have solutions working today in very different and demanding environments such as Canada, Costa Rica or India, and with the same level of results. Customer Service is the other differential aspect. We take close and good care of our customers and local partners during the whole deployment and later operations of each project. We're really proud when customers like Amazon repeat our solutions for their different corporate facilities. This is thanks to our reliability and customer service.
Being the CEO of Urbiotica, what do you add to the company? Give a brief account of your industry experience and contributions.    
I have a large experience in the Telecom industry working at international companies like Ericsson in different managing positions, which gives me a good understanding of many aspects associated to technology, business or operations for large infrastructure deployments, as well as a good view of what a global market means, like the one we're involved in now. I also have experience working as the innovation director at a technological center, where I was involved in the deployment of new solutions and where I got in touch with the technological start-up world. I'm trying to bring together both experiences in URBIOTICA and keep the company in a leading position as a reference in the Smart Cities competition. Mainly what has been most important for our success is the fact that the Urbiotica approach is not an individual one, but a collective project carried out by a fantastic group of employees and shareholders with huge technical and business talent.
How has the IoT landscape changed over the years? What are the future trends of the industry?      
The IoT includes a very wide range of business opportunities, with a common technological base, but at the end with very different solutions. Solutions for industry 4.0 or for cities for example, may have very different requirements despite wireless communications or big data systems being involved in all of them. In the last years there has been a clear increase of maturity of the technologies, which are much more prepared for being implementing in commercial products and with a clearer knowledge of which technologies are needed for each application. The value chain of different types of companies in our smart city market is clearer every day, despite that there's still some ways to go: there are big technological companies like Cisco, Huawei or big telecom operators with a very important roll pushing this new emerging market, but it's still soon to have a clear idea of their future position in the market related to the vertical solutions that companies like Urbiotica are developing. In my opinion in terms of technological trends related to products like ours, new technologies like NBIoT or LORA will have an important role in the future if we talk about wireless communication solutions. But our most important efforts are aiming at the software application layer implementation, as is, for example predictive information using the real time and historical information of our sensors systems: this is what will bring more value to our customers.
What can be expected from the company in the upcoming years? What is the vision of Urbiotica?          
JMT: Our vision and ambition is to become a technology reference for cities and industry, developing vertical IOT solutions based on sensing systems, device connection platforms and information management. With this we expect to bring value to our customers through improvement and innovation of their processes, products and services. We think that we are in a very good position to achieve this objective through our growth plan for the next 3 years. In terms of our solutions, we'll go on investing in them in order to add new services for our customers, especially investing in software applications. In terms of business, our growth strategy is based on one hand in consolidating a good network of local partners, and on the other in cooperating with some global companies (especially Spanish) that can help us open new markets. For years we have had a close cooperation with some local partners in countries like Germany, Belgium or Canada and also we're now implementing our first projects in countries like Argentina or India, where we expect to consolidate new partnerships soon.