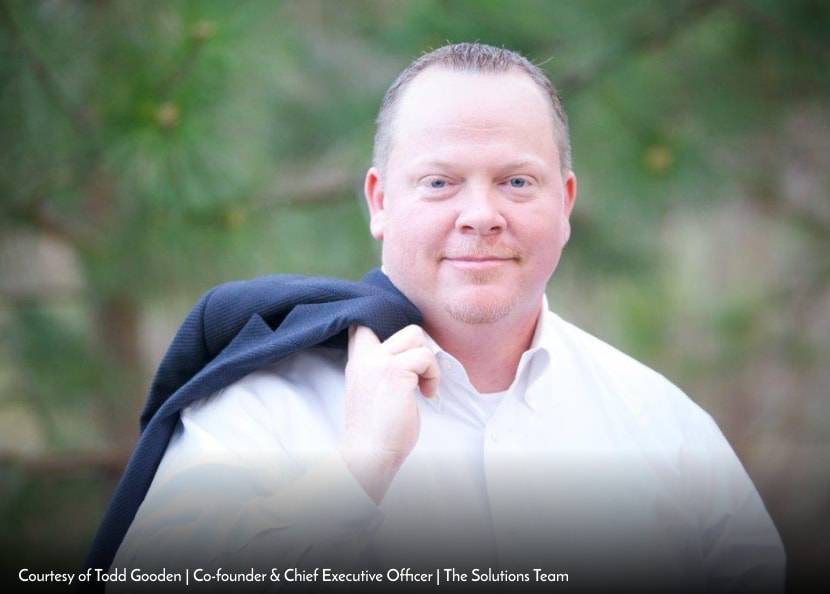 Todd Gooden: A Serial Entrepreneur on A Mission
Todd Gooden: A Serial Entrepreneur on A Mission
Entrepreneurs need a strong vision as there are a lot of risks. Sometimes you lose, but if you can imagine where things are going you can make fewer mistakes. Some of it is instinct, and that is hard to teach. Some of it is opportunity, and that is impossible to impart. Working hard, and working smart — like seeking wisdom and using 80/20 and other natural laws like that — that you can teach. And entrepreneurs do their best to live it so others can see it in them. Advising on the same line is Todd Gooden, the Co-founder and Chief Executive Officer of The Solutions Team.
The Beginning            
In 2007, while managing a routine Disaster Recovery implementation for a major corporation in Central Mississippi, Todd explored outsourcing several key components in an effort to minimize the company's infrastructure expenses. His inability to find a provider of the services he needed led to the founding of The Solutions Team. Talking about foundation of the company, Todd says, "There are tall fences in the business-to-business world. Not only do you have to have great products and services to be successful, you must also have relationships. Business owners and managers are overwhelmed with sales people calling on them and pitching. Often, one or two trusted advisors have to make a recommendation that a new company is worth considering before the gates to the tall fences are opened. In my first business, a systems integration company we were introduced to Higher Education clients by a trusted advisor. People who wouldn't take my call months earlier were glad to do business with us when we got a recommendation from someone they trusted."
The Journey
A year later, The Solutions Team started specializing in "Cloud" technology – designing Public, Private and Hybrid Cloud Solutions for emerging and mid-sized companies seeking to protect critical server data (financials, e-mail messages, databases, etc.), while diminishing operational costs in server backup and recovery. Fast forward to 2018, headquartered in Jackson, Mississippi, The Solutions Team is a leading cloud-services company – serving businesses nationwide (37 states). The Solutions Team has emerged as the go-to provider for companies looking to outsource their entire IT department or simply deploy key portions of their system to the 'cloud'. The company offers proven expertise on a variety of cloud-based managed services and solutions, including Cloud-Hosted Email. Managed Email On-Site, Virtual IT Support, Managed Networks, Cloud Data Backup/Disaster Recovery and Data Breach Response.
Todd believes cloud-based services have the advantage of going everywhere. Not every city in the country has an IT company that specializes in healthcare, or in backup technology that will protect their business if disaster strikes. "We provide a number of services that optimize local networks, including workstation support, backup, and antivirus, enterprise grade WiFi, firewall monitoring and network support and security. This combination of services is perfect for physicians, dentists, veterinarians and small business owners who just want their computers to work so they can focus on whatever it is that they do," Todd asserts.
Driving the Real Change
Till date, Todd has owned or been a part-owner in three companies. The first one started when he was only 22. There have been awards and recognition along the way, but the thing Todd is most proud of is knowing that today his team is indirectly involved in providing healthcare to 2,500,000 people a year. Touching that many lives is incredibly rewarding according to him. Under his leadership, since forming in 2007, the company has already amassed a sizeable portfolio of emerging to mid-sized business clientele from across the United States. His responsibilities include developing and implementing the firm's strategic vision, while working closely with business partners and resellers to ensure customer needs are thoroughly met.
Todd brings more than 22 years of professional engineering and technology consulting experience to the firm. In 1995, he founded Consultrix Technologies, a full service technology services firm in Jackson, Mississippi. As the President and Chief Executive Officer, he served as the driving force behind the company's vision and growth, ultimately reaching annual revenue heights of $9 Million before its sale in December 2006. For five straight years, from 2002 – 2006, the company was named to the KPMG, LLC, and Mississippi Business Journal's list of Mississippi's "40 Fastest Growing Businesses." Only companies increasing their annual revenue over the previous year are eligible for consideration. At the age of 24, Todd received the Mississippi Business Journal's "Top 40 under 40" distinction – awarded annually to rising business leaders throughout the state. At that time, he was the youngest person to ever receive the award.
Success in itself is a Journey
Todd says that it's hard to balance life. So, when he is working, he works hard, often traveling 100+ days per year. But when he is with family, they are his focus. Todd also believes he hasn't achieved everything he wanted and hopes that he never achieves all of his dreams. Because, life isn't life without the uncertainty along the way and the challenges life bring with it. Therefore, every day, he looks ahead at what he needs to do to keep growing. Success is a journey, and he hopes it never ends.
Going ahead, Todd has a goal of helping 25,000,000 individuals by 2025. That's a strong goal, 10x from where The Solutions Team is right now. But he believes, the team can do it and that's what his goal is.