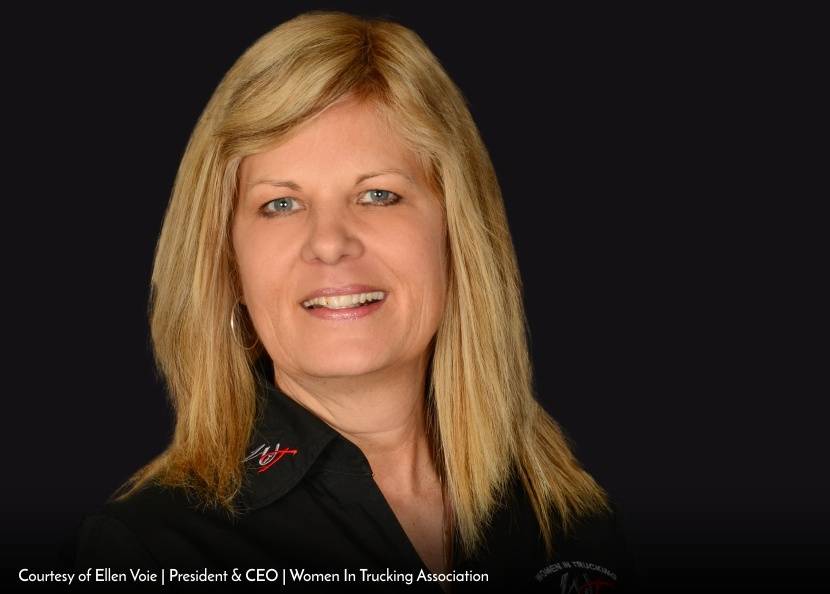 For long, truck drivers carried a stereotypical reputation of being gruff and tough with a burly machismo, one which we don't necessarily associate women with. The industry comprised of an inherent stigma against women truck drivers, which eradicated any and every chance of the feminine gender to step foot into the trucking world.
Bursting into the scene with a determined mission of encouraging women into the trucking business, Ellen Voie brought-forward a change that was beyond one's comprehension. She founded Women In Trucking Association back in 2007 to spiral a change within the industry, and the 'Shepreneur' hasn't looked back ever since.
The Start of Something Big
Before forming Women In Trucking, Ellen worked for a large carrier in the Mid-West, where she was given the responsibility to better understand how to attract and retain non-traditional groups, including women.
"At the time, I was working towards my private pilot's license and belonged to an organization called the Women in Aviation, International, and it occurred to me that there should be a group for women in the trucking industry as well," Ellen recalls.
This formed the basis behind the inception of Women In Trucking.
Finding Success in Challenges
The hardest task for Ellen in terms of empowering women to thrive beyond conventional boundaries was to make them believe of their potential capability. She mentions, "Women often look at an 18-wheeler and it never occurs to them that they could drive it, own it, fix it or design it. In fact, it's hard to get them to even understand the connection between the truck on the road next to them and the gallon of milk they buy at the grocery store, or the gallon of gas they put in their cars."
Women In Trucking identifies this challenge and strives to instill a personal connection with the industry and helps women find a career in transportation. The best part in this journey is watching women rise up in the ranks and advance their career, enabling them to find success in these challenges and opportunities.
Stubborn with Goals and Flexible with Methods
For Ellen, her goal has always been to challenge herself. She mentions her motto that "life begins at the edge of your comfort zone." She would tell anyone, willing to create a positive change in the world, to go for it. No matter the challenges, setbacks or the crisis, in the end, the rewards will be worth the effort.
Ellen firmly believes that there is a lot left for her to achieve. "There are many women (and men) who have not heard about our organization and could benefit from our resources. We have a long way to go before we hit a saturation point in North America and beyond."
Not Just Achievements
Speaking about the growth of the company, the rise of Women In Trucking has been nothing less than incredible, to say the least. This rise can be vividly seen through its long list of achievements.
In only its first year of operation, the company had attracted over 500 corporate and individual members. At present, WIT has grown on to include nearly 4,000 members across the globe, and Ellen has had the distinct opportunity to address groups in Canada, Mexico, Sweden, Vietnam, France, Australia and New Zealand.
It was back in 2009, when WIT held the inaugural 'Salute to Women Behind the Wheel,' honoring some of the leading female professional drivers. In 2011, the company launched its magazine titled, Redefining the Road, one which was sent to all of its members. The following year saw WIT start its 'Women in Transportation' event at the Cleveland Indians game. The list of achievements in the subsequent years included an invitation to the White House for the 50th anniversary celebration of the Equal Pay Act, creation of a Girl Scout Transportation Patch for young girls to learn about the supply chain industry, as well as the launch of WIT's weekly e-newsletter.
In 2015, the 'Distinguished Women in Logistics' award was created to honor the legacy of a female leader in the area of logistics and the company also held its first 'Accelerate! Conference and Expo.' 2016 saw the company add an association management firm to its team to help manage its surging growth. This past year, WIT created a truck driver doll to promote the role to young children. This prompted the start of the popular social media campaign titled #WheresClare.
Spearheaded by Ellen, WIT has grown and achieved a position in the industry that is hard to overtake or replicate.
The Close Bond with Literature
Ellen wrote her first book titled "Marriage in the Long Run," which was a compilation of the articles she wrote for numerous publications over a number of years. She had a column by that name, as well as articles which she wrote for numerous publications over a number of years. "I had a column by that name, as well as articles in other magazines, Ask Ellen and Family Matters." These were the result of her extensive research back in 2002 for her Master's Thesis called The Complex Identities of Women Married to Professional Drivers. While attending truck driving school at Tri-C in Cleveland in 2008, Ellen wrote another book titled "Crushing Cones." Ellen has always had a passion for the personal side of the trucking industry and the people who support the driver while they are away from home. Crushing Cones was in a way a guide on what to expect while attending the truck driving school, but it also includes a touch of her own experiences during her training. "Now, all my writing is for Women In Trucking and I have a monthly blog on our website, but I do want to write a book or two when I retire!"
Driving Past the Misconceptions
With the rising advancements in technology, the market will attract more women into the trucking field. This is because technology eradicates driving errors to an extent and makes it safer. The growth in technology will also help WIT to attract millennials who are more comfortable with using technology.
Ellen mentions how one of the primal misconceptions amongst people is that Women In Trucking is just about drivers, rather it is about all the women in the industry. Another misconception is that WIT only accepts women as members. This is far from the truth as nearly 19 percent of the members in WIT are men. She rightfully points out "We aren't FOR women as much as we are ABOUT women!"