Sonja Haas: Leading Business Transformation While Ensuring That All Employees Feel Valued and Included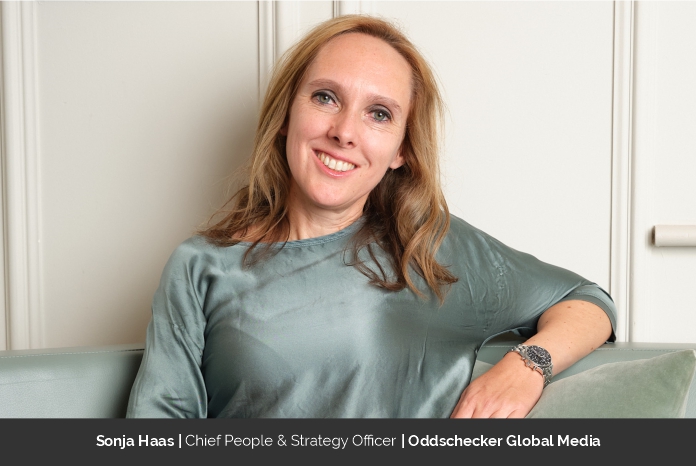 The business landscape is constantly evolving, and organizations need to adapt to stay competitive. The role of Chief People and Strategy Officer (CPSO) is not widely found (yet). The combination of People and Strategy requires people that can be operational and strategic at the same time, focusing on the operational day-to-day, whilst also keeping an eye on the future needs of the business. Developing strategies that align with the company's short, medium and long-term goals, values, and culture, while also meeting the changing needs of customers, employees, and other stakeholders, are key to this role.
As the Chief People and Strategy Officer at Oddschecker Global Media, Sonja Haas spearheads the business transformation in collaboration with the CEO and Executive Team. In her capacity as the head of the global people team, she also supervises other shared services functions, ensuring alignment between people and strategy while prioritizing the implementation of the global people strategy. This comprehensive approach comprises diverse initiatives focused on talent acquisition, career development, recognition, wellbeing, and communication, all geared towards achieving the company's objectives.
Oddschecker Global Media
Oddschecker Global Media (OGM) is a company that offers odds comparison, tips, and sports betting-related information to consumers through its two brands and several media partnerships. OGM utilizes cutting-edge technology and vast data insights to provide global operators and advertisers access to a loyal customer base. Their team is united by their passion for sports and their mission to be the trusted link between customers and their favorite iGaming experiences.
OGM owns and operates a diverse portfolio of publishing sites, covering all major online gaming verticals. From oddschecker and WhoScored to CasinoSmash and Vime, their websites are at the forefront of technical innovation to provide a superior customer experience.
OGM values its people, and its products are powered by over 300 highly-skilled and dedicated individuals located in multiple locations worldwide. They regularly offer new job opportunities to further expand their team.
Oddschecker Global Media strives to stay abreast of competitors by providing high-quality in everything they do. Its mission is to "be part of something bigger", whilst keeping things simple and smart. Sonja says, "As we're currently undergoing a business transformation, this is one of the most important aims for every team. It will be reflected in our organizational design, our values and behaviors, and be exemplified in our services."
HR's role in business
Sonja's interest in understanding human behavior and diverse cultural backgrounds led her to pursue a career in the HR industry. She recognized that a company's success is not solely dependent on having great products, but also on having the right people in place. Since people are central to every aspect of a business, it was a logical decision for Sonja to join the HR industry.
Throughout Sonja's career, she observed that HR was mainly focused on day-to-day operations and rarely involved in business strategy negotiations. HR was often viewed as a back-office function that only costs money and provides little value to the company. Sonja believed that this perception was not aligned with the essential role that a people function should play in every organization.
However, Sonja was fortunate to work alongside a chairman who shared her views and provided her with opportunities to become a trusted thought partner on people and strategy. She was able to redefine the HR function and work towards changing the perception of how HR and shared services are perceived.
Sonja's current role allows her to continue that journey of shaping and elevating the HR and shared services functions under a CEO who supports the combination of people and strategy.
Early Preparation to Face Difficult Challenges
At the beginning of Sonja's career, she faced a challenging situation when a young colleague suffered a stroke, and the company needed a replacement within a day. Sonja stepped up, even though she had little experience, and took on the responsibility of working remotely from the team in a standalone capacity. She dealt with difficult topics ranging from alcoholism to suicide, all while being hours away from friends and family. This experience taught her to grow up quickly in the HR industry and rely on her instincts. It also gave her the confidence to take on difficult challenges in the future.
As a result of her dedication and hard work, Sonja received recognition as a leader from her team members and executives. Gaining the trust of executives who would normally not trust easily, combined with notes of gratitude from former employees or team members who she helped to develop in their careers, motivated Sonja to continue her journey. These experiences reinforced Sonja's belief in the importance of taking on difficult challenges and being a leader who leads with empathy, trust, and dedication.
Believing in Leading by Example
To create a culture of integrity and innovation, it is crucial to have an executive team that not only embraces but also lives and breathes these values. This team sets the tone for the entire organization, and their behaviors have a significant impact on the culture. As such, everything starts at the top. Sonja is convinced that successful leaders must lead by example, demonstrating the values they want to see in their teams. This includes displaying warm hearts, cool heads, and working hands. Leaders who exhibit these qualities can serve as enablers for a culture of integrity and innovation.
"We know what we are but know not what we might be" (Hamlet).
Tech Advancements in HR Industry
Modern technology has transformed HR in numerous ways, including the introduction of user-friendly HR information systems, goal tracking tools, and automated feedback loops. Sonja is excited that OGM is currently in the process of implementing agile working across all areas of the company, including HR, and utilizing technology to track progress.
The COVID-19 pandemic has accelerated the adoption of technology in HR, as it forced HR professionals to use data properly to forecast costs and productivity. Sonja believes that technology can help HR automate routine tasks and enable the HR function to focus on strategic activities that create more value for the organization.
Fulfilling Every Role Responsibly
Sonja associates herself with the word "happiness," and she typically maintains a positive outlook, finding pleasure in the little things in life that others may not even notice, such as the first snowflakes of winter, a stranger's smile, a beautiful flower on the side of the road, or an engaging conversation.
Sonja successfully balances her personal and professional life by prioritizing her two children and family. As a passionate mother, she relishes every moment with her children, and they provide her with the energy she requires to fulfill her professional responsibilities and the never-ending task list of a busy mother and business leader. Throughout her career, Sonja has ensured that she always had a meaningful role that allowed her to learn and grow.
Vision to Establish Business that Provides Value
Oddschecker Global Media's future is full of promise, as the company is undergoing a business transformation to become the best in its field while expanding its knowledge, size, and global collaboration. With the company's Executive Team, Sonja is bringing in a wealth of knowledge and creativity and shares the same values and vision for the business, which will help create a strong culture.
As a HR leader, Sonja's personal goals are to cultivate a culture of learning, cultural exchange, enjoyment, and shared success. She desires to establish a sustainable business that provides value to future generations.
Seeing Success in Everyone's Growth
To keep her team motivated, Sonja assigns them tasks that allow them to grow and take responsibility, whilst also ensuring they understand how they fit into "the bigger picture". Sonja values trust above everything else. As a leader, she strives to provide for and earn the trust of her team members.
For Sonja, success is about achieving goals as a team. As a committed team player, she finds the most fulfillment in helping others succeed alongside her. Her definition of success is being able to accomplish something that may have seemed unattainable, while also motivating others to do the same.
"Dare to take on challenges that you're initially afraid of. Dare to ask for help and surround yourself with mentors. Dare to be yourself."