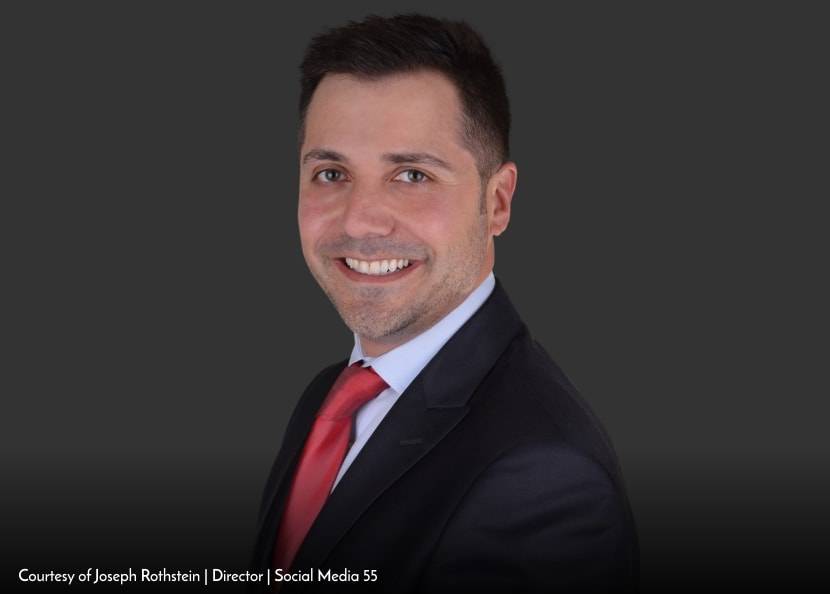 Social Media 55: Socially Accurate
It was back in 2013 when Joseph Rothstein began researching and studying every single facet of Facebook and its features to get a clear idea of what majority of the brands were not doing. It was the beginning stages of the developmental process of a social media management platform, which would go on to be named as Social Media 55.
During his study, Joseph saw each option on Facebook to be an avenue; an avenue to generate leads, engagement, and other sources of traffic. While others, back then, were still focused on paper click campaigns, Joseph was stone-focused on the social world.
Through his study, Joseph realized "What I was seeing was masses of people shifting to social media and spending a large part of their day on a particular platform like Facebook. I began studying all the tools necessary in order to run a successful campaign into 2013 began the social media strategy for our first client. Along with social media, we implemented a new online shopping experience for this brand. And in 2014 after seeing much success with our first clients Social Media 55 was born."
A la carte solutions for your social needs.
The solutions of Social Media 55 are customized to address your needs and offer a peace of mind by maintaining these channels, so as to enable you to focus your time and energy on other more important areas of your business. The social media solutions of the company cater to any businesses of any size. Additionally, the 'a la carte' style options offered by Social Media 55 are designed to maximize your ability to communicate with your target audience.
With any and every brand constantly on the lookout for new and innovative ways to drive traffic and convert them into sales, Social Media 55 offers influencer marketing as an additional service to maximize your social visibility. The company maximizes your social visibility via strategic alliances with PR and modeling agencies, which helps expand your network of influencers, bloggers, vloggers, and celebrities for a fee or in exchange for product.
The list of services offered by Social Media 55 are as follows: Social Media Marketing, Social Media Paid Ads Management, Content Marketing, Video Production, Photography, Product Photography, Website Design, Website Development, Mobile App Development, Mobile App Marketing, PPC Pay Per Click Advertising, SEO Search Engine Optimization, Reputation Management, Crisis Management, Retarget Marketing, Web Retarget Marketing, Facebook Retarget Marketing, Influencer Marketing Campaigns, Celebrity Appearances, Television Appearances on Major American Networks, and PR.
The initial challenge
The biggest challenge for Social Media 55, initially, was educating clients on the importance of social media and the power of the advertising tools. Even though the company still finds itself to be educating its clients on all these factors and stressing the importance of these tools, today, the people are much more receptive to this idea. This is due to a common understanding or the norm in the advertising world to be allocating a large portion of your budget for ads on social media. What was once print, billboards, newspaper, and other forms of traditional media outlets are now replaced with digital formats.
"What I find refreshing is businesses that have been around for many years have the opportunity to leverage their brand and the branding in a digital world on the platform that exists. Leveraging their name and their brands on social media allows old school business to be successful in the new school environment," mentions Joseph.
If you are running a business today and your digital appearance does not match up to what your business truly is, it's about time to take action and become an online industry leader in your vertical.
Staying ahead of the crowd
Social Media 55 has embraced the movement or the need for social media in high levels. Speaking about the competition, Joseph claims "How we are staying ahead of our times is by providing other agencies with state-of-the-art social media services to properly manage their clients. We have developed multiple digital marketing agencies and brands, wherein we not only develop the personal profiles of the company but we handle and maintain and execute the marketing needs of their clients as well."
Needless to mention, the company has in health specialists dedicated to each platform from Facebook, Instagram, Twitter, LinkedIn, Pinterest, YouTube, Google My Business. Not only is the company positioned perfectly on each of these platforms, but it also boasts designers and developers and backend developers, who are amongst some of the best in the industry.
Moving forward, one can expect the company to be an industry leading properly managed social media and digital marketing agency. "We expect to be at the top of Google in your feed in Facebook, educating and encouraging companies to market online. Our goal is to help 1 million businesses maximize in leveraging their ad budget and get as much mileage as possible as they can for every last dollar," Joseph passionately mentions.
The influential form of marketing
Influencer marketing is a fundamental component to run a successful campaign. It is the new age form of endorsement, which when done correctly can be very useful and aggressive in funneling traffic that would lead to a high number of sales in a quick manner. What influencer marketing also does is that it allows brands, which don't have such wonderful assets of their own, to leverage the assets created by the influencers wrapping their products or their service, by recirculating and promoting what the influencer has created now on their business venues to further leverage those assets.
Social Media 55 has a number of in-house influencers to its name, along with a network of influencers and celebrities who are registered with the company and offers services to its clients. The company is constantly growing its influencer community and is encouraging more and more people to apply online.
"Not only do we use our own influencers, but we access industry-leading platforms that allow you to choose from some of the world's best influencers out there. Whether you're talking about companies in beauty or in the gaming industry we will provide you with the best influencers possible for the results that you're looking for. We also have our own networks of a combined 250,000 following on social media platforms and we are acquiring new accounts every day to expand our verticals and reach organically."
A passionate leader striving for success
Joseph Rothstein is involved in the day-to-day operations of Social Media 55. Being the Director of the company, Joseph is completely passionate and dedicated to the brand and of the brands of his clients. One of the specialties of Joseph is curating social media strategies with over 7 years of experience as a leading consultant.
Joseph also manages the operations in-house along with overseeing strategy and strategical developments in the company. He works closely with the strategy development process team to ensure that every company is off to the right start and starting the campaign in the right manner. Joseph likes to hit the ground running, and he is sure not kidding.
A portfolio of excellence
Social Media has become, and continues to be, an increasingly large, powerful marketing platform throughout this age of digitization. Whether it be Facebook, Twitter, Instagram, or any other networking channel, all these are easily accessible on laptops, desktops, and smartphone devices. Social media serves as a seamless extension of companies' communication, user interaction, and product promotion. Developing and maintaining strong media strategies, however, can often pose a challenge to some businesses, which is where Social Media 55 and its team of experts come into play.
The team at Social Media 55 curates exceptional content for its clients' channels by creating, designing, and planning customized websites and posts that capture the consumers' attention while showcasing the best of each business and brand. Social Media 55 maximizes exposure while freeing up its partners' energy, attention, and time. The versatility and visibility of its work, particularly with its specialization on Facebook and Instagram as well as through influencers, has made the company one of the top Facebook Advertisers, an honor received from Clutch that showcases the consultancy strength of Social Media 55.
Speaking about such a recognition, Joseph asserts "With more than 20 reviews on our Clutch profile that attest to the success that our team has generated for clients of diverse sizes and industries, Social Media 55 greatly appreciates the support of our work that comes from both the professionals at Clutch and the clients with whom we've been able to collaborate."
As client Isaac Bitton, the vice president of Bijoux Eclore, shared, "They're a great team that's making something good happen for our company … I'd give them a 10 out of 10. They're always on time and contact us consistently. We communicate via text and phone calls. They'll often check in with us to offer updates and make sure we like their work. Rather than doing the bare minimum, they provide thoughtful feedback. Social Media 55 works quickly and knows what they're talking about."
"For a busy guy like me, Social Media 55 is the perfect agency. It's easy to delegate marketing and focus on my business," praised another client. "I've worked with several other marketing agencies in the past and Social Media 55 is much more attentive by comparison. They're available whenever I need them. If a task is urgent, they pick up my phone call right away and get the job done … Social Media 55's comprehensive level of involvement is fantastic."
We live in an age of constant updates and change, but with the staying power of social media, Social Media 55 is the top-pick to help you make an impact. Its team of experts know how to best maneuver and plan exceptional social media services and help spearhead your brand or business towards success.