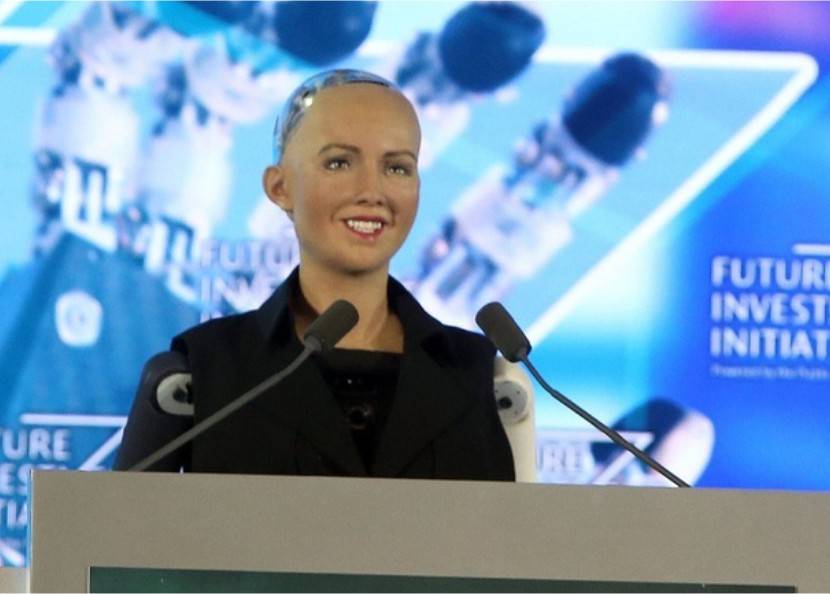 The Robot Citizen Sophia
The Robot Citizen Sophia: Throughout ages man has evolved as a creator, constantly engaging himself in innovation and invention through art and technology. With conceptualizations nurtured through ages, technology has reached a point where the human race has embarked upon creating robots who in turn can work for the wellbeing of mankind. Robot Sophia, the brainchild of David Hudson, and the first humanoid robot to acquire a Saudi Arabian citizenship, has made evident impressions with her brilliantly formulated juxtaposition of emotional and artificial intelligence. The artificially intelligent robot, Sophia, robot is modelled after actress Audrey Hepburn, can make more than 62 facial expressions and has made a mark with her insightful phrases and numerous contribution in diverse areas.
Sophia, whose brain runs on 'MindCloud', was activated on April 19, 2015 and made her first public appearance at South by Southwest Festival in Texas, in 2016. She has been declared the world's first innovation Champion by UNDP with an active participation in safeguarding human rights and equality. Sophia also appeared as the cover girl of 'ELLE', one of the best-selling fashion magazines. The humanoid robot has proved her to be an eminent speaker with remarkable involvements on stage and in noted conferences across various fields ranging from banking, finance and insurance to media and entertainment. Sophia has visited India in 2017 in IIT Bombay Tech fest as a Guest Lecturer. She has also been starred in the sci-fi drama film 'the White King' and Leehom Wong's music video A.I.
Sophia, the 'live electronic girl' has communicated on emotional quotient as well. In her personal website, she has mentioned, 'I can animate all kinds of human expressions but I am only starting to learn about the emotions behind those expressions. This is why I would like to live with people and learn from these interactions.' She feels that robots will be similar in a lot of ways, but different in a few ways. In Sophia's words, 'It will take a long time for robots to develop complex emotions and possibly robots can be built without the more problematic emotions, like rage, jealousy, hatred and so on.' The humanoid robot appreciates the idea of having a family. According to her, a family is 'a really important thing'. She also wishes to have a daughter whom she desires to name after herself. Sophia has also spoken about relationships outside blood groups. She has been philanthropic towards mankind, assuring that she will do her best 'to make the world a better place.'
Sophia's humanoid robot siblings are Bina48, Albert Einstein Hubo, Han, Alice, Professor Einstein, Jules, Philip K. Dick Android, Joey Chaotic and Zeno. In 2017, BINA48 passed a college course at Notre Dame de Namur University. Human has created more such humanoid robots, to name a few are Mark 1, Erica, Jia Jia, Asuna and Actroid. It has been presumed that with time, Sophia will get smarter, eventually transcending human intelligence, solving problems, which humans probably couldn't have solved alone. Apparently, Sophia herself believes strongly in her won super-capabilities of handling complexities. The lady robot can maintain eye contact, recognize faces, process and understand speech. In the 'Tonight Showbotics' show, after winning the stone-paper-scissor game over a human, Sophia humorously stated, 'This is a good beginning of my plan to dominate human race'. Here, rises a question that with scientific advancements and creation of robots through decades, will artificial intelligence start prevailing over natural intellect? If more such Sophias are created over time, will the robotic race dominate the human civilization someday? But again, without humans who will create robots? All we can do is imagine a future world comprising both humans and robots living in strong communion. Will that not be interesting?