Rekha Vedagiri – Exceptional Global Women Leader in the HR Industry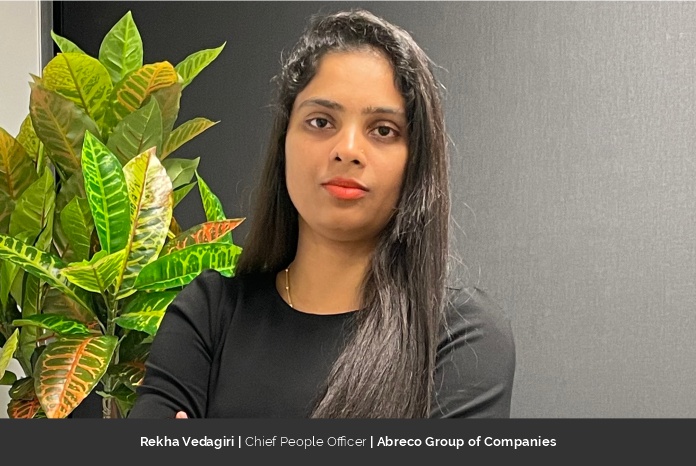 Rekha Vedagiri is the Chief People Officer (CPO) at Abreco Group of Companies. She holds a Master of Business Administration (MBA) from Anna University, Chennai, India. She utilized her expertise and confidence to establish an HR environment that attracts and retains talented individuals while providing them with top-notch work experience.
Rekha's efforts focus on creating a positive work environment that fosters employee satisfaction and loyalty. She is committed to ensuring the organization's HR practices align with its vision and goals. She aims to increase the organization's productivity and success while maintaining a highly motivated and engaged workforce. The company's CEO, Mohammed Shaji Madathil, has been a crucial source of support throughout her journey and has gained valuable insights into HR practices.
Rekha is pursuing a Ph.D. on the impact of employer branding on employee loyalty.
"One's success strategy is not necessarily need to be other's strategy. The success factor is different from person to person. Because everyone's path is not same."
Early Life Journey
As a young woman from a lower-middle-class family, Rekha had limited support and resources when she began her career. Despite these challenges, she pursued an MBA and worked tirelessly to establish herself in business. With determination and hard work, she steadily progressed in her career, gaining recognition and respect from management in her first job. After moving to Dubai, she quickly used her skills and faced fewer challenges in her second job. However, the company was just a startup without established policies or procedures.
Rekha took it upon herself to build an administrative structure and develop effective policies and procedures, ultimately leading to the company's growth and success. She is proud to say that her initiatives and efforts in building the company from scratch paid off as the company's sales growth and corporate status in the industry became evident. In addition, the carefully crafted administrative policies and procedures with increased sales helped position the company as a successful player in the market.
Through her experiences, she learned that hard work and determination could overcome even the most difficult circumstances. Despite her humble beginnings, she could establish herself as a successful businesswoman through her perseverance and commitment to excellence.
Rekha's Success and Contribution to HR Industry
Human Resources (HR) is a vital department that requires knowledge and exposure to staff to function effectively. This can be especially difficult for introverted individuals. Therefore, it is essential to build employees' confidence, establishing HR as a reliable resource for their needs. In addition, HR requires the ability to handle complex issues and situations that may arise.
Rekha had a different opinion about HR before she began her career. However, post joining her first job gave her a broad understanding of HR. She says, "The knowledge I had gained in university was not enough to prepare me for the everyday challenges I would face in HR. Through practical experience, I learned how to deal with people, address problems, and understand policies."
The opportunity to work in a startup company allowed her to showcase her skills and gain HR experience. However, with only one year of experience, she researched other company policies, monitored their growth, followed inspirational companies, and implemented their strategies in simple terms that suited the company's growth. While her education provided her with a firm foundation, the everyday experience of dealing with people, solving problems, and understanding policies allowed her to grow and succeed in her career. By continuously researching and updating policies, she contributed to the growth and success of a startup company and inspired others. She says, "Practical knowledge is essential to success."
As an HR professional, it is essential to stay updated with industry trends, learn from other companies' policies, and update policies accordingly. This is how she has succeeded in her career by taking on this challenge and working to create a stable and effective HR system. In addition, she says, "I have learned that to succeed in today's competitive business environment, it is essential to be adaptable, innovative, and focused on meeting the customers' needs while maintaining the company's core values and principles."
"Success is not achievable. Success is ongoing process with determination."
Growth & Expansion of Abreco Group
Abreco began as a business focused on freight forwarding but has since expanded into a diverse range of industries, including transport, removals, warehousing, school management, and drinking water manufacturing. As the company grew, it continued to expand its offerings, including supply chain management, a retail market, a café, a restaurant, foreign exchange services, an Islamic commercial bank, development and real estate, trading, gas/fuel manufacturing, gold and diamond sales, resorts, retail, commercial motor vehicles, dairy products, and cattle market operations.
Most recently, Abreco ventured into the field of medicinal research, and it plans to continue expanding into new areas in the future. The success of Abreco's expansion can be attributed to its willingness to diversify and take calculated risks and solid organizational strategy. In addition, Abreco has found the right people and cultivated the right culture and working atmosphere to support its growth.
As Abreco continued to expand its offerings and enter new industries, it faced many challenges, including maintaining high standards and quality control across its operations, managing the logistics of various business units, and ensuring effective communication and coordination among departments. However, focusing strongly on teamwork and collaboration, Abreco has overcome these challenges and achieved significant success.
The company's focus on innovation and willingness to invest in research and development has also played a key role in its success. For example, Abreco's medicinal research division has significantly progressed in developing new disease treatments. The company's continued investment in this area will lead to further growth and success. The company's continued success results from its commitment to these principles and dedication to providing high-quality products and services in various industries.
Importance of Hiring the Right Candidates
One of the critical factors that contributed to the company's success was to focus on hiring the right people. Rekha says, "We were very selective in our hiring process, and we ensured that we hired individuals who not only had the right skills and experience but also had the right attitude and personality. It helped us to build a strong team committed to the company's vision and goals."
In addition to having the right people, the company also focused on creating the right working atmosphere and culture. "We created an environment where people felt valued, respected, and appreciated for their contributions. In addition, we encouraged open communication, creativity, and innovation, which helped us to stay ahead of the competition," says Rekha.
Building a solid network is a critical component of Talent Acquisition. Networking helps to establish relationships with professionals in various industries, which can be invaluable when searching for the right talent for a position. With a strong network, Rekha can reach out to people with the skills and experience needed for the job rather than relying solely on job postings and other traditional recruitment methods.
While having a solid network is beneficial, it's important to note that the talent acquisition industry is incredibly competitive. To stand out and be successful, it's essential to be creative and adaptable. Every company is unique, and the hiring process is tailored to fit the organization's needs.
Rekha had the privilege of helping many individuals secure their dream jobs and take the proper career steps. Over the years, she has successfully placed hundreds of staff members in various positions. However, the emotions and experiences of each staff member are unique and diverse.
For some, finding a job is a simple process that aligns with their skills and abilities. For others, it may be a life-changing opportunity that opens up new possibilities for them. Some may view it as a chance to excel and reach new heights in their career, while others may have mixed feelings about the transition.
Rekha strives to develop customized recruitment strategies that align with a company's goals and culture, and she continuously adjusts and refines these strategies based on the ever-changing business environment.
Rekha says, "While challenges are inevitable in any industry, they can also present opportunities for growth and innovation. In the talent acquisition industry, challenges such as a limited talent pool or a competitive job market can be viewed as opportunities to think outside the box and develop new and creative solutions. A willingness to adapt and take calculated risks is essential to success in talent acquisition."
Definition of Success
A successful HR professional should possess excellent people skills and be friendly with every single person without being seen as being in opposition to management. Instead, HR acts as a mediator between employees and management, balancing both sides effectively.
Rekha says, "My most significant achievement as a successful leader is being recognized as a people person. When my team members express that I am their role model for growth, it motivates me to continue striving for success. Looking back on my past and comparing it to my current life, I am proud of my progress. However, I recognize that this progress would not have been possible without the support of my family. They have provided me the space and encouragement to grow, and I am incredibly grateful."
As a leader, Rekha believes being a people person is essential for success. It means understanding and empathizing with the needs and concerns of others and creating an environment that fosters growth and development. I have inspired and motivated my team to achieve their goals by building strong relationships and fostering a positive team culture.
Creation of HR Policies & Procedures
Rekha takes time to understand the specific needs and requirements of the company. She creates policies and procedures that are customized to fit those needs. This approach allows her to be highly flexible and adjust real-time policies based on current circumstances.
One of the key benefits of this approach is that it makes the policies and procedures much more accessible and user-friendly. As a result, employees find them easy to understand and adopt and feel more engaged and invested in the company's success, leading to improved productivity and better outcomes.
"Success at the company is a result of a combination of factors, including our administrative strategies, the right people, the right attitude, the right inspiration, the right bonding, the right techniques, and more," says Rekha.
Overcoming Challenges at the Workplace
In today's modern world, women still face various struggles that can impede their progress and opportunities, particularly in the workplace. Despite efforts to promote gender equality, many men hold outdated perceptions of women as mere objects rather than individuals with valuable skills and talents.
One prominent challenge women face in the workplace is the prevalence of traditional gender roles and family responsibilities. These roles can limit women's career advancement, as they may be expected to prioritize family over work obligations. For example, single women may be seen as being more likely to leave the workforce for marriage, while those who are married may be viewed as potential pregnancy risks. In addition, women with children are often expected to take time off for child-rearing, making them appear less committed to their careers.
In addition, some men in positions of power may attempt to exploit women for their gain. Women who resist these advances may face retaliation or a toxic work environment, making it challenging to remain in their jobs.
On the flip side, there are also instances where women who lack the qualifications or experience are given promotions or pay raises simply because they will accommodate male counterparts' preferences or expectations. This discrimination is detrimental to the principles of meritocracy and fair competition. It can cause the loss of top talent. there needs to be a fundamental shift in how men and women view women's roles in the workplace to address these issues. Women need to be treated as equals to their male counterparts and should not be held back by outdated stereotypes and gender roles. It requires a cultural shift in the workplace and a concerted effort to promote gender diversity and inclusion.
Organizations can take various steps to promote gender equality, including setting clear goals for gender diversity, offering flexible work arrangements that accommodate family responsibilities, and implementing training and education programs that promote gender sensitivity and awareness. In addition, there needs to be greater awareness and recognition of women's unique challenges and more significant support for women struggling to advance in their careers.
Message to Aspiring Women Leaders in HR Industry
In business, it's important to remember the simple philosophy of being a people person and developing friendly relationships. In addition, it's important to avoid using power, position, ego, attitude, arrogance, favoritism, or other tools to manipulate people's relationships. These tactics may work in the short term, but they will only be helpful in the short run, especially if you fall from your position of power.
Instead, focus on being kind to others. It is the key to building lasting relationships that will benefit you and your business in the long run. Kindness is a quality that people value and appreciate, and it can help to create a productive work environment.
As a leader or manager, setting the tone for the rest of the team is essential. Being kind and approachable will encourage your team to do the same, leading to a more cohesive and effective team. When people can trust and rely on each other, they'll be more likely to work together to achieve the company's goals.
Rekha says, "It's also important to remember that business is about people. Without people, there is no business. So, building strong relationships with employees, customers, vendors, and other stakeholders is essential for the success of any business."
The Future of Abreco Group
Medicinal research is an industry with immense potential. There is a constant need for discoveries and breakthroughs that can help people lead healthier and happier lives.
Building a new company from scratch requires a lot of effort and dedication. There are many challenges, such as finding the right team, securing funding, and navigating the complex regulations and requirements of the industry.
Rekha, who currently resides in Australia, is focusing on creating a new company called "Pharmacrop" that centers on medicinal research. The company will launch in the second half of this year, and she is thrilled and optimistic about the potential success of this new company.
Conclusion
Human Resources (HR) can be challenging, and having the right skills and experience to excel in the field is crucial. HR professionals build relationships and establish trust with employees while maintaining a balance between employees and management. It takes dedication, hard work, and a willingness to learn and adapt to change to succeed in HR.
Rekha Vedagiri constantly strives to learn and grow, seeking new opportunities to expand her knowledge and skills. She is confident that she can continue to succeed and inspire others to do the same by embracing a growth mindset and leading with empathy and adaptability. She advises young aspiring leaders to enhance their skills to sustain growth continuously. Success is not only about achieving targets but also about preserving your position in a competitive environment. The key takeaway is that learning from everyday experiences, adapting, and innovating are crucial to success in any business role, particularly in HR.