Per Rehné: Transforming the gut wellness domain with Clasado Biosciences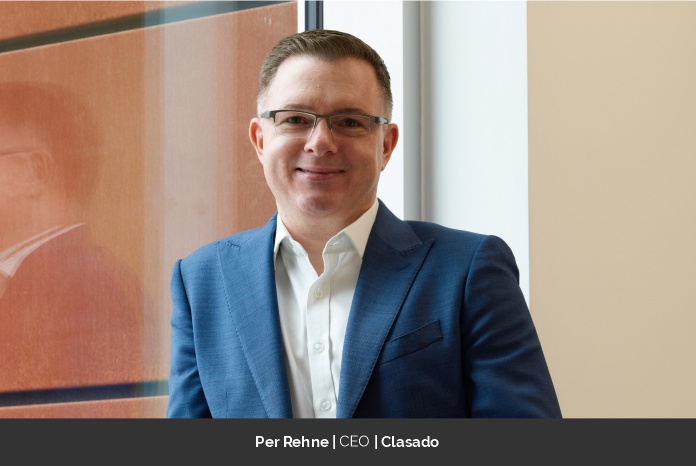 Having 20 years of sales and management experience in the food, pharmaceutical, and biotechnology sector, Per Rehné, CEO of Clasado Biosciences, aims to build a transparent and honest culture in the work environment to make a real difference for the people, company, product, and the public. Inspired by Danish working principles, Per strives to take the company's team to the next level.
Joining forces with Clasado Biosciences
Climbing his way up through different roles in the food and biotechnology sector, Per widened his reach in the industry by gaining valuable insights, adding different skills to his skill set, and expanding his commercial experience. Per naturally resonated with the modern bioscience industry, being familiar with the science and trends involved. The key decision for him was asking, 'What is he going to learn from this industry and how can he make a difference while continuously learning and developing as an individual?'
He adds, "It's a little left-field but moving from a food background as a baker and food technologist in my early days of work, I think about 'The Hero's Journey,' coined by mythology and literature professor Joseph Campbell. I knew something was out there. I didn't know what it was at the time, but I have kept following the calling as to where I felt I could learn and make a difference."
He joined forces with Clasado Biosciences in 2019 and aims to support the continued growth of the business with his skills and experience.
Evolving into a seasoned leader
Per believes that challenges are a key part of growing and that while leading a team or organization, a leader must understand that everyone brings a unique perspective.
He states, "We also need to ask whether challenges make us stronger or wiser, as this isn't always the same thing. One might say that challenges can make us stronger in that we understand more about how to deal with problems or hardship, or wiser in that we learn how to avoid issues from the start."
The biggest roadblock for Per was shifting his mindset from operational to strategic thinking and focusing on how to generate results through others, rather than through his own actions. This comes naturally to some people but was more difficult for him. He adds, "To make the leap, I found people that challenge me on my worldview, including a two-year mentorship. This helped me become a better leader, with a greater understanding of human psychology."
Changing lives with Clasado Biosciences
Clasado Biosciences is a business with a very clear and distinct role in the health and wellbeing market. The in-house team is the developer and manufacturer of Bimuno®, a multi-award-winning prebiotic galactooligosaccharide (GOS) ingredient for the health and wellbeing sector.
Per adds, "As gut health climbs the consumer agenda around the globe, Bimuno is a way for the supplement, functional food, and beverage developers to tap into this growing demand. Of course, trust is essential in today's fast-paced nutrition market. Providing real commercial weight for brands, Bimuno is the most studied prebiotic of its kind, supported by over 100 scientific publications, including more than 20 clinical trials, which we're very proud of and makes our product stand out from the crowd."
Their contribution to the field of biotechnology is developing a core scientific understanding of the human microbiome and the impact of diet and nutrition on health and immunity. They are looking ahead to a future where they can mitigate or prevent illness through targeted nutrition, which is extremely important work on a wide scale.
Maintaining the market position
Per and his team are striving hard to keep up their A-game in the market by consistently looking ahead to where the world is heading from a commercial and consumer perspective. Keeping an out-of-the-box approach towards Research & Development (R&D), adapting to upcoming consumer trends, as well as collaborating with other key institutions, helps them in stay on top of all competitors in the prebiotics market.
Understanding the long-term vision is vital to understand what their current position is and how they can aim for development in 3 to 5 years. Sharing the company's vision, he says, "Our vision is to be a global leader in microbiome science and develop solutions that have a real, lasting impact on the world around us. This includes developing the science to ensure constant, innovative solutions and partnerships through nutrition and supplementary interventions."
For all employees, there were four pillars established with complete team consensus, including being passionate, collaborative, guided by integrity, and giving back.
Fostering a growth-oriented environment
As the CEO of Clasado Biosciences, Per is mainly responsible for developing an environment where people can grow and flourish, so that all members of his team are both empowered and accountable. He focuses on growing the company via its people, ambitiously and strategically.
From R&D to Marketing, E-Commerce, charitable activity and beyond, Per is a vital part of every company operation. It is because he feels that a "leader" needs to be comfortable with constant change to be working effectively at an executive level. Since they are operating in the eye of the storm, they need to exhibit this quality, otherwise they cannot challenge the business for improvement or success.
Stating his best recognition, Per says, "I don't think of this in terms of money, awards or accolades. It's in the effect we have on others. People working with me previously in teams have come back years later and thanked me for having had a positive impact on their success. Wherever they end up, I'm satisfied knowing I helped to make a difference and supported people to grow."
He opines the fact that open appreciation and rewards are vital for employees that imparts a boost to the employee's morale and create a huge impact on the culture of the business.
Clear work-life boundaries
Per has always emphasized the importance of being adaptable and flexible on both personal and professional fronts for attaining that perfect balance. While not working, he enjoys cycling and keeping active. Creating this space for every responsibility is more crucial with four boys and a busy family life.
He shares, "With Clasado, I make it clear to the team that there's no expectation for the team to work more than they've signed up for – that's just not how we operate. For example, we ask that if people choose to work outside office hours, email delivery should be delayed until regular hours begin. It's about reducing pressure and increasing transparency, and we send that message loud and clear."
Impacting human health
Clasado has big aims not just to be a scientific leader in prebiotics, but also to create a significant difference in human health as the global commercial leader in its category. Per adds, "We have plans to continue developing prebiotics, new structures, and more targeted solutions to affect the human gut microbiome for specific health benefits. We're working with some of the biggest brands to make this happen, including the food, healthcare, and medical nutrition sectors."
Not only this, but he also has some personal goals to develop as a remarkable business leader who wants to grow by overcoming different challenges. Besides that, he also aims to share his profound knowledge both internally and externally to move the whole category and business forward.
For more information please visit: www.clasado.com