Marie Louise Sunde: Empowering Women with Equality Check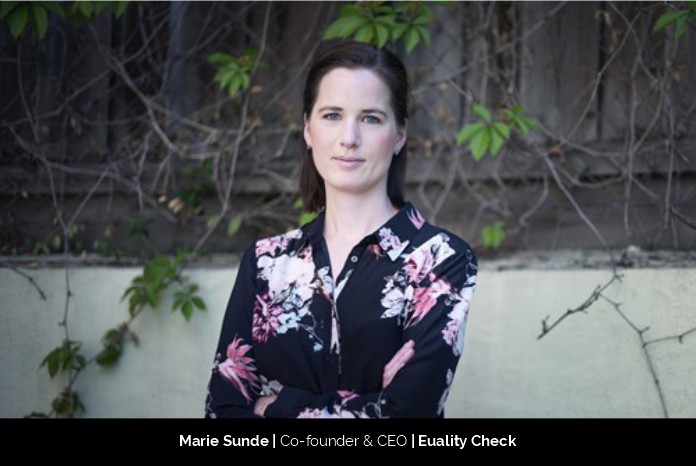 Long gone are the days when men used to do all the work and women were only seen as weak entities suited best for household works. Today the modern women are breaking new limits in every industry of the corporate market.
However, there are still some elements that are not getting the respect that women deserve. To break the traditional chains of this world, Marie Louise Sunde, the Co-founder and CEO of Equality Check is promoting gender equality.
She adds, "I have never had a strong focus on being an entrepreneur, but more on solving problems that need solving." With a kind heart and spirit to empower women, she is steering her business to the way to redefine equality at workplaces.
She believes that all the employees should get equal opportunity to work in a good environment and should not be discriminated against on the basis of age, gender, nationality, sexuality, functional ability, etc.
Foundation of Equality Check
Marie started her professional career as a surgeon as she was quite passionate about the domain. At the same time, she has always been inspired by human rights and diversity since her young age.
She adds, "I come from four generations of women's rights champions. I have been involved in diversity work on an international level on the side of my surgical career for many years. As a result, I was invited to the UN HQ in 2014 for their #HeForShe launch, where Emma Watson gave a very famous speech that has gone down in history books as the beginning of the fourth feminist wave. She finished with, "If not now – when? if not me – who?"."
After this, she was inspired to start an awareness campaign on unconscious bias in Norway, together with a group of passionate youth. The campaign was a great success which fired a kindling in her heart and mind to start Equality Check.
She adds, "We saw the increasing impact of employees as stakeholders to drive and catalyze change. So eventually, I quit my job in the hospital to found Equality Check with my co-founder."
Tackling setbacks with courage
Being the first-movers in an emerging market that has become one of the significant global trends has its own challenges. She adds, "Being first-to-market is a huge opportunity and scaling potential, but it also means that initially, we have to mature the market."
She believes that their close relationships with clients have favored their side a lot and have tipped the scales towards them. She adds, "Our team has improved with great and super talented team members, and we have collectively increased the in-house competence massively."
Redefining equality at workplaces with Equality Check
Equality Check is a platform where employees can rate equality and inclusion at their workplace. The platform covers the full diversity spectrum. Based on the data collected, they use machine learning to give insight, trajectory, and evidence-based solutions to companies who want to improve.
In redefining equality at workplaces, diversity and inclusion have been on the agenda for the past few years. She adds, "We saw 2020 as a tipping point for stakeholders, who are increasingly demanding results, and the most important stakeholders are the employees. In five years, millennials will make up more than 75% of the workforce. Millennials care more about equal opportunity, purpose, work/life balance and diversity, and they are more likely to quit if their expectations are not met."
To mark their unique presence in the market, she states that her company provides a completely new solution by providing a unique data set from both employees and companies. The data from employees allows them to cover the broader diversity spectrum.
In the early stages, the company did a bit of everything, from strategy, domain expertise, finance, fundraising, marketing, research, etc. She adds, "We have a super-strong team with different domain expertise, all sharing the passion for equal opportunities and diversity. We have a strong focus on culture, flexibility, and autonomy for all team members. The past year has obviously been very different, but we keep the team spirit up with digital quizzes and outdoor activities whenever we can."
She believes that by encompassing machine learning with the ongoing business models, her team can diagnose key areas for improvement and suggest targeted, evidence-based solutions to improve. The combination of data, technology, and domain expertise is necessary to create real and lasting change.
She adds, "We think the major reasons for the poor results are lack of data and correct diagnoses. From medicine, we know that if you make the wrong diagnosis, the treatment will not work. Furthermore, a lack of an evidence-based approach when it comes to solutions. Up until now, the approach to D&I has been very much myth-based. We have initiated a large research project to validate solutions so that we can increase the evidence level in the suggestions we offer companies and as a result ensure a higher success rate in succeeding with D&I."
Life as the CEO of Equality Check
As the co-founder and CEO of the company, she has to work very hard to pave the business to the top. With the strong back hold of her senior surgical resident experience, she maintains a flexible schedule to achieve a balance at the professional and personal front.
She believes in the old adage, "Success comes to those who will and dare." She motivates the whole team to learn new things and keep a steady inflow of new ideas so that they do not miss any upcoming opportunities.
Future roadmap for Equality Check
Marie adds, "My overall vision is to create a workplace with equal opportunities for all employees, regardless of their background. And we will do that through data, technology, and an evidence-based approach." She further states that the company is looking to scale globally by improving its team and product.
She firmly believes that by harnessing the power of the latest technologies, they can push against the existing limits and land in a world with tons of new opportunities