Julie Russell: Helping Customers by Being on the Cutting Edge of Technology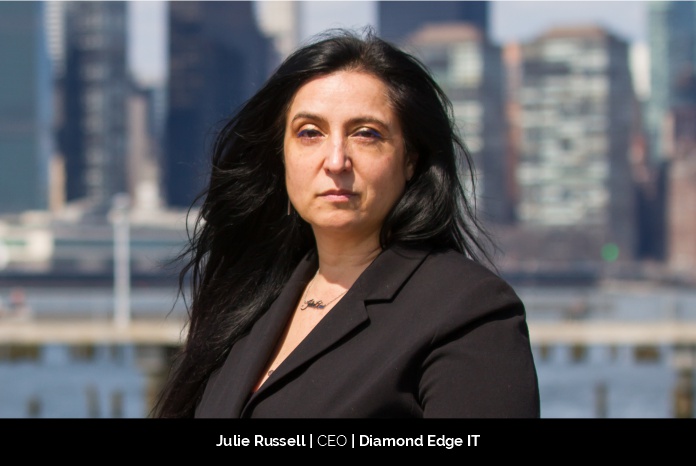 She did not start in the tech industry and had a variety of experiences along her journey, but Julie Russell knows she is exactly where she is meant to be. As CEO and Senior Integration Architect of Diamond Edge IT, Julie genuinely enjoys what she gets to do everyday and is thankful for the path that led her to where she is now.
Certified in Public Relations and Photography, Julie started her career as a Photography Teacher teaching Year 11 and 12 at a Technical College. From here, Julie decided to go back to school as a mature age student at 25, where she completed her course in Computer Science. Although you would barely guess it now, Julie did not have a technical background in computing or programming, her passion was in the arts and in law enforcement. Julie set her sights on working for the Federal Police in the Computer Crime Unit but ended up in the private sector and somehow never looked back.
The beginning of something great
Although Julie's past consists of a variety of experiences, she has always had an entrepreneurial spirit and the desire to build her own company. When Julie moved to the United States from Australia, she felt like it was the right time to fulfill that dream. She got involved with MuleSoft, an Integration Platform, and she quickly realized that she found a technology that played to her strengths and she enjoyed. She had found her niche. It was her success with the MuleSoft Platform and the strong relationships she built along the way that led to the decision to start Diamond Edge IT.
The company started with a strong focus on offering consulting services as Integration Specialists. Eventually Diamond Edge IT started working directly with MuleSoft Professional Services, which gave them the ability to work across a broad spectrum of customers and industries. It was through this exposure that the company started to identify technical challenges and saw it as an opportunity to turn them into solutions. Some of the ways Diamond Edge IT facilitated that was by starting a blog, on both their website and more recently Julie has started to publish to DZone. The company also released open-source solutions published on their GitHub.
Diamond Edge IT is now in the process of releasing their Rapid Development Platform, Nine Gold®, slated to launch this year. This is a patented product that focuses on a new way to deliver rapid development, aimed specifically at Integration Platforms, with the first generator output built for MuleSoft. This product is expected to enable companies to deliver 80% faster, while closing the gaps on some of the technical challenge's companies traditionally face in today's development.
Having a strong foundation and growing a strong teamJulie defines success as having a team that are like family. Everybody in the team is there because they love what they do, they have a passion for technology, and they believe in the company and what we are trying to achieve.
Julie's team are not just like family, they support each other, providing a foundation for learning through cross-training and on the job education. "We are two sides of the same coin" Julie states, "We do things completely differently, but we always come to the same conclusion". It is this type of teamwork that makes Diamond Edge IT a strong team of specialists in their field. Julie wants to protect the culture they have worked so hard to build, by keeping Diamond Edge IT small and boutique.
While focusing on staying boutique, they strive to be the company customers go to when looking for expertise. Additionally, the soon-to-be-released Nine Gold® Platform will set them apart from similar companies by providing as Julie describes it a "revolutionary" change from traditional methods of rapid development.
"Diamond Edge IT is not just here to consult, we are here to make permanent solutions to every day integration challenges", she states.
Julie stresses how important it is that she and her team remain current and understand the latest trends and what is happening in the market. The company name is derived from striving to always be on the cutting edge of technology. Julie encourages her team to always learn, grow, and develop the skills needed. She believes that pushing them and allowing them to grow also keeps them interested and motivated in their work. It is also important that the team is personally happy and that everybody is having a good time and enjoying themselves while working.
The life of the CEO
Julie is heavily involved in the company and works full time with customers as a Senior Integration Architect. Julie travels on-site to work with customers and participate in their teams. Additionally, she runs the product team and manages the operations of the company after hours. For a long time, Julie did everything herself, but eventually expanded her team to include a bookkeeper. She refers to her as her guardian angel.
Julie describes herself as disciplined and hard-working. She is also determined and knows what she wants and goes after it. These qualities help keep her motivated each day. To keep her employees motivated, she finds it extremely important that all members work as a unified team and that Diamond Edge IT can provide an environment that allows everyone to thrive and grow.
As Julie reflects on key moments that have stood out in her career, one that comes to mind is when she was invited to speak at the MuleSoft Connect Conference in San Jose. "I have to admit, I was a nervous wreck, and have no experience in public speaking, so it really pushed me outside my comfort zone, but it was amazing." The conference gave Julie an opportunity to share valuable information and lessons learned to a large crowd, attracting approximately 4000 attendees in total. "It was a privilege to be up there", said Julie, "the conference had some of the biggest names in the industry".
Julie admits that she does not have a lot of free time outside of work responsibilities but hiring people to take over specific tasks has helped. She loves traveling so when possible, she will often get on a plane and take her work to a tropical location.. Additionally, when she is not traveling for work and has time between jobs, she uses that time to travel for herself. Overall, Julie explains that she is comfortable with how she balances her personal life and work life.
With every challenge, there is an opportunity
Julie explains how she has faced many challenges along the way but truly believes that if you look at challenges the right way, they present opportunities. In Consulting you get to work with a large variety of customers and each and every customer presents their own set of unique challenges. You can never know everything. As a team and individually, we have learned to grow in our strengths and our weaknesses. Julie doesn't remember the last time she did a job that fell completely into her strengths. Rising to challenges is how you ensure you have done the right preparation and learning, she claims.
Challenges are what prompted Diamond Edge IT to start their own product stack. When we come across those challenges that affect a cross section of the industry, we look at them as an opportunity to build solutions as an offering. We are always looking for way to streamline solutions.
Julie explains how challenges are inevitable and it is all about how you choose to handle the challenges that come your way because with every challenge there is an opportunity to experience growth.
Looking forward to the future
Looking ahead, Julie is excited about the release of the Nine Gold® Platform and envisions expanding their products on that platform. Initially, the platform will have two product sets: tooling that will be offered for free and the REST Generator. Although the company started as a services company, the products are exciting to Julie, so she hopes to expand and continue to grow that division of the company. However, Julie does not plan on moving away from the services, as that is how they stay in tune with the customers and understand the customers' wants and needs. Julie believes the company is on the right track, so only hopes to expand what the company is currently doing. To expand, she explains how they can grow without exponentially growing the team, so she hopes to stay relatively small. Julie prefers to remain a boutique company and desires to have customers think of them when they need top experts in the field. They pride themselves on being specialists and believe remaining a boutique firm will allow them to keep their values and expertise.
Advice for aspiring businesswomen
Julie has done a phenomenal job starting and growing a company while managing a terrific team. She is a huge advocate for women in technology and desires to help other women in the industry, as she has personally experienced how challenging it can be as a woman in this male-dominated industry. Julie explains how there will be times when you do not get the job because you are a woman and there are times when you get the job because you are a woman. She encourages aspiring businesswomen to keep working hard and continue to put themselves out there because although there will be challenges, people will recognize the hard work and it will pay off. Although the journey may not be easy, it will be worth it..