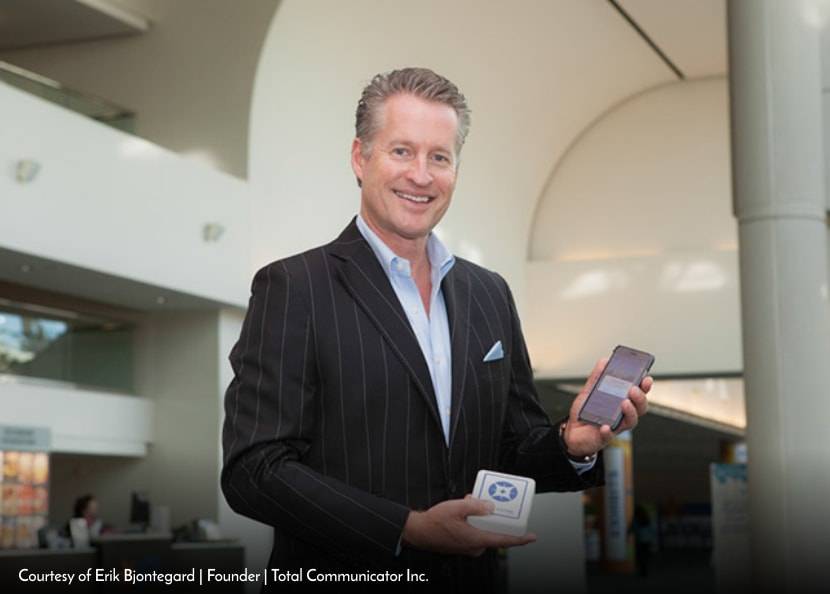 In conversation with Erik Bjontegard
Designed to deliver compelling relevant content within a unique localized experience to the user, while capturing appurtenant user-behavior data for platform stakeholders, former Qualcomm executive and NASA rocket scientist, Erik Bjontegard founded Total Communicator Inc., along with a team of industry experts. Its technology providers and partners range from ATOS Global, Qualcomm and Samsung to CGI, Panasonic and CISCO. In an exclusive interview with Beyond Exclamation, Erik Bjontegard shares his journey towards being a successful entrepreneur and beyond!
What was your thought when you decided pack your suitcase and leave for the US? What inspired you to take this leap?
Growing up in Norway, I had always been intrigued by USA, how innovative and industrious Americans are and seen that it really is the place where you can make dreams come through. I studied mechanical engineering in England because I one day hoped to work on my favorite plane, the F-14 Tomcat – or perhaps someday work on the Space Shuttle. However, I started working on another cool aspect, subsea engineering and submarines for the oil industry in Norway, my dad was head of a large oil company that deployed amazing engineering wonders – oil platforms in the harsh North Sea. After I got stuck in a 2 man submarine in the waters off Bergen, I started to think more about USA and researched where to go. Then, Top Gun came out, Tom Cruise was flying F-14s in San Diego and the girls where pretty, the beaches gorgeous – and I had a "need for speed" – so I decided to go to San Diego and try my luck. I arrived with 2 suitcases, didn't know anyone, and booked a motel on Mission Beach San Diego. Shortly thereafter, I was working at a large aerospace company testing and certifying critical aircraft parts for commercial aircrafts from A320s to the new MD-11 and A340s – and my favorite F-14s and the SPACE SHUTTLE! Dreams do come through!
You have had a successful career at prestigious companies. What seeded the vision to venture on your own?
The desire to make a difference and get things done, the manic urge and "need" – can often been stifled in large corporations – this is natural in any large enterprise. I had a vision that was hard to put numbers on – it was new and untested. So – we had to do elements of it and break it down. The solution and concept I sold to one to the large corporations I worked for, has launched many ideas and concepts internally, which is a great satisfaction, even though it's not recognized or widely known. After a while, and understanding when and how to get buy-in, I recognized I could get more done for the company if I were on the outside – so I told them what I wanted to build, and got their endorsement and well wishes – they even offered to introduce me to their partners, and urged me to use all their technologies as I was building my new solution.
What was your life like before Total Communicator Inc? What changes the company has brought in your personal life?
I am what some people think of as a "work alcoholic." Simply putting, I work nonstop. The difference now, is that while I was working for someone else, it was indeed "work". Now that I "work" for myself to build a company around my invention and the technology I have had my team build, I am not "working" – this is my life. The ultimate "job" is the one you never retire from, the one where you do something that you dreamt about, and the way you want to live your life. Yes, it is stress full, and it is a burden on my family those times when I needed to scramble to pay rent, was out of gas on a business trip or when locked out of a hotel because all the cards where maxed out and I needed to find a way to clean up before going to make the presentation to the billion dollar company in a room with 20 executives, but that is what builds "true grit". It's still a roller coaster, but fully committed to make my goal a reality; I will leave this place better than when I arrived by intelligent use of technology – and I want everyone that is in contact with me to have benefitted. And, with that goal, success will come.
What have been the best parts and toughest parts of your journey? Brief us about the marvelous journey. If possible, kindly help us with statistical insights as an overview of the organization's achievements.
Having the guts to do what your guts says – when it turns out your guts was right, which it always is! The satisfaction of knowing that doing the right thing is always right, even when hard. The hardest is to not be give up when people lie, take advantage or steal, borrow or otherwise claim as theirs what is yours, and otherwise keep the faith when things are bleak and appears to be over. The best is when it all works out in the end.
Have you achieved all that you had desired? Tell us about the moment when you realized that your hard work has finally paid-off.
I will never be finished, nor achieve all I desire – if I did, then I didn't aim high enough!  Growing and being focused on a goal – that is life – when anything stops, then it dies. The important aspect is to know that life is a journey and to make the journey fun, exciting and rewarding while living with a purpose – that should be the goal. I knew that I am succeeding when I heard my son say to his friends he looks up to me and they came to me for guidance and said they admired me – that is part of the most rewarding and highest success we can have. My end goal is the make the world a better place and never have a dull moment as I venture forward in my journey to make it so.
With digital advancements coming around, what are your future expectations from your organization? Also, what your individual plans going ahead?
We are a small company, global and mobile first. We leverage relationships and collaborations to create better outcomes. We include others in our quests rather than trying to compete and overcome. As we expand on our platform, my goal is to continue to use technology to create better outcomes. Our technology should help with this. Help humans, not replace. Make humans better, live longer, happier and healthier. Make the World a Better place – we will do this by providing enhanced and better distribution of knowledge, help humans make better decisions. I call this Augmented Intelligence. It's not artificial. It's not intended to replace, it is intended to help, support and enhance the human knowledge. We are thereby still in control. That is what we will do.
My own goal is to be able to focus on making my vision a reality. I am good at getting others to see the vision, to encourage and engage with others, I entertain and encourage others and have a give to motivate others to excel. That is what I will continue to do. And with technology that provides augmented intelligence, I will be able to reach more and more across the globe.  Securing data and enable actions on data that drives better outcomes will be the next frontier – and we are starting to create the networks to enable us all to benefit from our own data – that is the next level – everyone will be able to use their data for better outcomes – creating better outcomes for us all. Extremely exciting times!