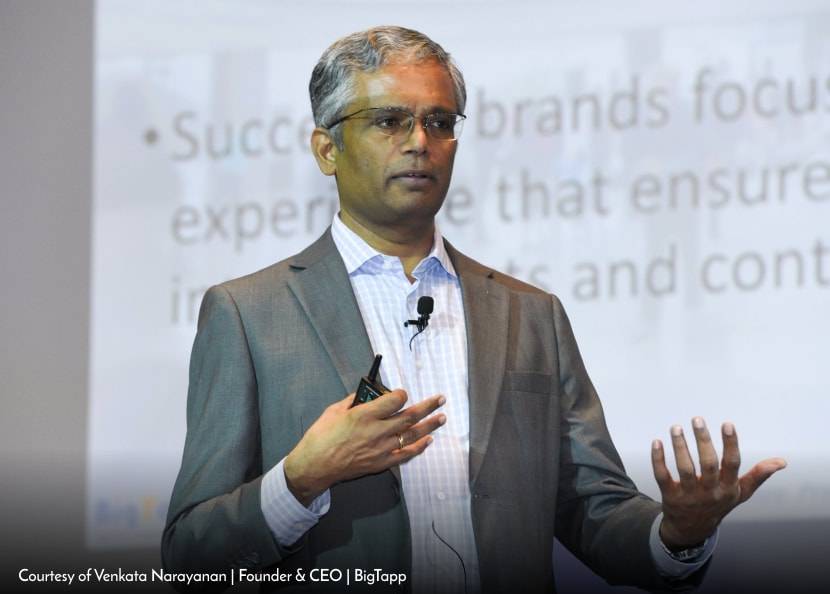 In Conversation with a Newsmaker
As the competition amongst businesses becomes more and more cut-throat across industries, the need for faster and effective decision-making capability is becoming increasingly imperative. Providing an opportunity on the same line, BigTapp provides customers with Big Data & Analytics solutions to help them make insightful decisions. In a conversation with the Venkata Narayanan, the Founder and CEO of BigTapp, we look at the journey and the vision of the company and its roadmap towards success.
Q: What seeded the vision to create a platform that helps enterprises to create a culture of "Data driven Decisions" and "Analytics driven Actions?"
In early 2010s, what we observed was the stark difference in the ability of organizations to leverage analytics as a key competitive differentiator. Two major inhibitors were the prohibitive cost of Big Data Analytics solutions and expensive resources who can make sense out of data. We wanted to bring the barrier the down by creating a platform that provided 'best-in-class' analytics for industries out of the box using Cloud as the delivery platform. This enabled, say, any retailer access to 'Walmart' standard analytics at affordable TCO. The platform was complemented by a team of consultants who were able to guide our customers to enable the cultural shift to using data for decision making and use analytics for business actions that enable business objectives to be met.
Q: Can you give us a little background on 'BigTapp' and where it stands today?
Over the past few years since inception, BigTapp has continuously re-invented itself by focusing ruthlessly on customer needs and staying true to our chosen areas of specialization.  Over the years, we have helped a number of customers in the region democratize Analytics and move to a culture of Data Driven Decisions.
As we went through this journey, we heard customers increasingly ask us about solutions in the area of discovering customer intent: what do our customers intend to do, what are their sentiments, their interests, their relationships, etc.: all of which are towards helping reach customers with the right messaging.
That led to the birth of our InfoActiv platform: An Artificial Intelligence (AI) platform to identify customer intent by processing transactions & interactions. We enumerate customer profiles by determining personal attributes, relationships, life events, sentiments and buzz.
This helps digital enterprises in sending effective messages at scale and customise customer experience.
Q: Brief us about the team and the building-blocks of BigTapp.
BigTapp is led by experienced leaders with over 3 decades each of experience in the industry.  Apart from me, the leadership group comprises of Co-Founder and COO Veeraraghavan, and CRO Sanjay Venkataraman.
Veera is an inventor and futurist and has been the driving force behind many of the market making technologies in the Information Management space and among his creations are the world's first on-demand Enterprise DW&BI Impact Analysis technology and Data Integration Code Health Improvement Engine. Has led multiple teams, and built billion dollar businesses in the past. Prior to BigTapp, Veera was with Cognizant as Managing Director and Global head of their Enterprise information Management (EIM) practice. Through his visionary leadership, Veera built and grew the EIM practice to a billion-dollar practice and achieved a phenomenal growth (CAGR of ~70%) in the past 13 years.
Sanjay is widely known for his dynamic personality, and as someone who has great enthusiasm and a go-getter attitude. An inspiring & visionary leader, he is excellent at building teams and relationships by leveraging diversity and cultivating synergies. His earlier roles include being President at Firstsource, Country Head of Dell in India, Marketing Manager at IBM and Senior Product Management role at Wipro.
BigTapp also has strong technical and management teams spread across Singapore and India.  We have a team of experienced Data Scientists, strong Project Managers, Big Data Consultants, and multiple technical teams in the area of big Data.  The research and development center is in Chennai, India, and comprises associates who work on creating and enhancing our InfoActiv platform.
Q: What are your breakaway services in the big data bracket?
Our AI based intent discovery engine is a game changer in many industries where it is used to predict the intent of a person or organization – for e.g. which channel the customer will use in a bank.
While Data Engineering (e.g. Data Lake) is a common requirement as a hygiene factor, our breakaway services are in the areas of Big Data Analytics consulting where we craft business use cases and deliver them using our platform and/or data scientists.
Q: Tell us about the moment when the team realized that their hard work has finally paid-off.
This occurred last year when we were selected as the 2017 TiE50 Award winner for the prestigious TiE50 Awards Program in TiE Silicon Valley's annual tech entrepreneurship conference, TiEcon. TiE50 Awards Program recognizes the world's most innovative tech startups and winning this against more than 1300 tech startups from all over the world is the validation of our hard work getting paid-off.
Q: What's the current scenario, breakthroughs and disruptions, in the industry? What benefits does 'BigTapp'provide over its competitors?
Analytics industry is getting disrupted with the wide deployment of Artificial Intelligence in many domains. In terms of delivery models, micro services from cloud vendors like Amazon is reducing the cost of analytics solutions leading to more use cases clearing the RoI hurdle. However, the recent challenges around Facebook & Cambridge Analytica as well as high profile data breeches in Facebook coupled with GDPR compliance are forcing organizations to rethink their analytics strategy. We believe that higher focus will go towards harnessing the insights from the data within the organization (both transactions and interactions) than rushing to procure external data sources, especially social media data. With many enterprises becoming digital enterprises, they are discovering the untapped potential within their internal data pools.
BigTapp is creating a coalition of trusted data owners who provide access to curated data that can add value to the internal data of organizations, thereby increasing the quality of insights that can be derived.
Q: What can be expected from the company in upcoming years?
With continuing investments on our platform, we look forward to helping an increasing number of clients handle their customer messaging using data driven insights. We also have a strong practice that helps clients solve specific business problems e.g. Optimizing Car Park Occupancy for a real-estate major, Re-engineering Menus for a large restaurant chain, discovering Customer Sentiment for a number of clients, etc.
We also intend expanding into other geographies. While we have a number of clients in the South East Asian region, we intend expanding our footprint into India and the United States shortly.
Management – Venkata Narayanan, Founder and CEO, BigTapp
For more information, visit bigtappanalytics.com