In Conversation with a Newsmaker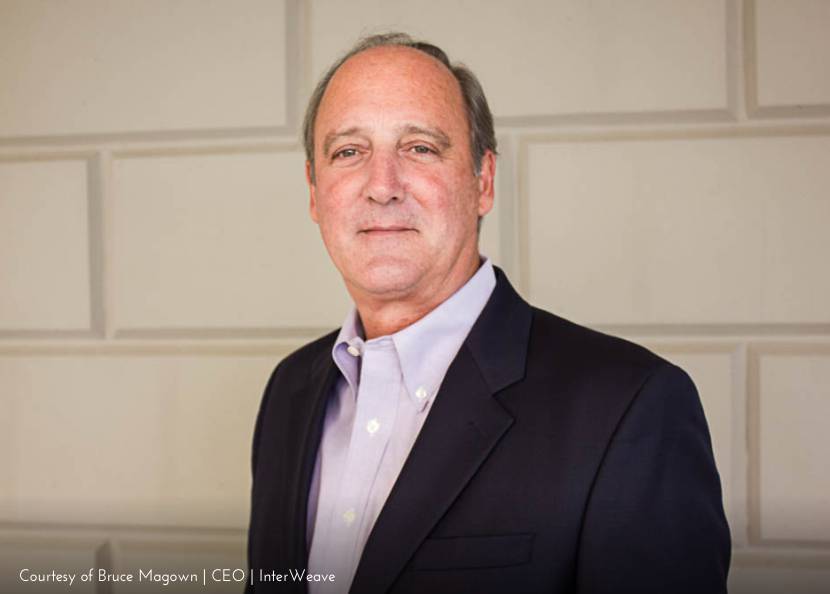 Artificial intelligence, immersive experiences, digital twins, event-thinking and continuous adaptive security create a foundation for the next generation of digital business models and ecosystems. The intelligent digital mesh is entwining of people, devices, content and services. It's enabled by digital models, business platforms and a rich, intelligent set of services to support digital business.
Recognizing what would future hold for digital mesh, Bruce Magown, laid the foundation stone of Integration Technologies that today provides InterWeave Smart Solutions®. Led by the visionary Magown, InterWeave is a Software Product Suite that offers a rapidly deployable and infinitely scalable Software as a Service (SaaS) Integration Platform and Integration Server for integration of business-to-business, business-to-consumer connectivity, business processes optimization and application integration.
As CEO, President, Board Member and Investor in Integration Technologies, Inc., and the creator of InterWeave Smart Solutions, Magown brings customer focused Solutions in response to customers' needs in to the digital age. Magown has also served as the Chief Executive Officer, President, Board Member and Investor in SecurDigital, Inc., the company that developed SecurVoice©; the voice, data and video encryption solution designed to pass FIPS 140-2 certification. In 2000, Magown served as the Chief Operating Officer, Chief Financial Officer, head of the Audit Committee, Investor and Board member of the Uncommon Media Group, LLC. He also served as President and Chief Operations Officer of Knoa Corp., a privately held company focusing on interactive and media rich solutions. Magown particularly enjoyed his tenure at Netscape, where he served as the Vice President of Netscape representing Canada, United States East Coast, and Latin America. Prior to this, Magown was an AVP of Lehman Brothers and also served as the Chief Executive Officer of Information Engineering, Inc., an e-business solution provider. In an exclusive interview with Beyond Exclamation, Magown shares his journey from the beginning as well as insights into InterWeave.
What was your goal while growing up? Did you always wanted to be where you are right now?
Magown: Great Question. The answer in life is you need to enjoy the journey. If you do this, you will reach your desired destination with fulfilment. My father passed when I was eleven, so my brother and I were pretty much on our own. The good news is we didn't know what we couldn't do, so we just went ahead and did it. We were active in boating, fishing, water skiing, skiing, band, orchestra – on and on. My goal was to live life by a moral compass, and this is what I have done. Went I went to collage the first time, I was young and not focused. It's when I got my first job at General Dynamics and was introduced to technology – I was hooked. I worked for two years and then went to Roger Williams University for a BS in Computer Science. From then on, technology was my passion. And yes, having owned and run InterWeave since 2002, I am where I want to be.
What are some of the most important achievements, highlights, biggest challenges or roadblocks of your journey as a leader? If possible, kindly help us with statistical insights as an overview of your individual achievements.
Magown: I feel the biggest challenge or roadblock is getting out of your own way. You're not here to own the narrative, you're here to present intelligent, well thought out options, engage in meaningful dialogue in a customer centric way and provide a Solution. Being the smartest person in the room doesn't mean anything if you can't communicate. Saying this now is quite easy, but getting there is the journey. In my thirties, I took a Neuro Linguistic Program (NLP) Session and it was an eye opener for me. It allowed me to reframe myself, listen, and then engage. The second lesson is if you're going to fall, fall forward. The third is you're going to get knocked down – it's getting back up that is the mark of the man.
Have you achieved all that you had desired? Tell us about the moment when you realized that your hard work has finally paid-off. What keeps you driven and determined towards work?
Magown: If you do what you like, then it's not work. A good example is our new website which entailed repositioning and rebranding the company. It took four tries and seven day work weeks, but the result is worth it. Drive is in your DNA. It's what you're made of.
What seeded the vision of Interweave? Brief us about the services that Interweave provides and tell us why customers choose you?
Magown: After Lehman Brothers and Netscape, I spent considerable time in the Venture world. After working, or trying to, with many people, I thought I could do it better myself. With the relaunch and rebrand just brought to market, we are getting a good response. InterWeave is the SmartIntegration Platform which provides intelligent Cloud Integration for SaaS Companies. We focus on three tenants; Financial Services Solutions, Payment Processors and Multi-Cloud integrations in a simple, configurable way. SaaS, SMB and Enterprise Customers manage their customer interactions with system specific business processes and work flow to provide an extraordinary customer experience.
Amidst all your responsibilities and roles at Interweave, how do you manage to balance between professional and personal life?
Magown: With help. I am blessed that I have a great team that is centric to supporting InterWeave. It is these people, on a daily basis, that provide the support that our customers have come to expect. For me, the balance between professional and personal life is always a challenge. Family is what keeps it all together. You can go outside of yourself and focus on others.
What are your individual plans going ahead? What does the future hold for you and Interweave?
Magown: We are all focused on the launch, repositioning and rebranding of the company with an eye on a twelve to twenty-four month build out. There are many exciting developments that will allow the firm even greater opportunities to grow and build upon its current success. Our vision is to focus on the customer's needs and consistently provide innovative solutions to them.