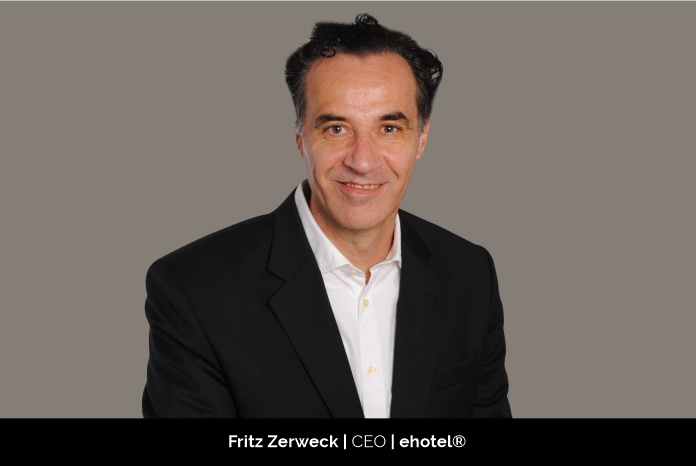 Fritz Zerweck: Leveraging Technology to Transform the Hotel Industry
Travelling is always a delightful experience, be it for work or pleasure and one of the most vital factors that can make your travel a memorable one is the hotel stay. We often spend hours on research and browse through several hotel websites, before planning a business trip to ensure that each box is checked, which can be very taxing and time-consuming, especially during a business travel. A one-stop shop that meets every accommodation need can work as a perfect solution to ease out this tiresome process. With this vision in mind, ehotel® was founded to cater to every requirement in terms of comfort, service, scenic view, food, and value for money.
ehotel® is a hotel solution provider that primarily targets corporate customers by offering an end to end solution from planning to hotel booking until central payment and billing. Originally founded in 1998, ehotel® rose to fame within two years and became one of the first online booking portals for hotel rooms and thus one of the pioneers in the industry. With a glorious history of 20 years, ehotel® is still expanding extensively under the profound leadership of Fritz Zerweck who joined the company as the managing partner in 2006. Zerweck, who is now the CEO of the company, shares the success journey of ehotel® and a few inspiring insights from his experience.
The Beginning of Success
The company was founded in 1998 as bedhunter GmbH, however in 2000, after merging with the ehotel® service, an independent company was established called ehotel AG, which is headquartered in Prenzlauer Berg in Berlin, today. Catering to the market need in the founding days, ehotel® specialized in cheap hotels for business travelers. They used mobile WAP technology (Wireless Application Protocol) that made it possible to book business travel hotels around the world on mobile phones.
Since then, the company kept improving its services and created new techniques to meet the growing demand of its customers. After Zerweck took over the management, in 2006/2007, ehotel® set today's standard in the industry with the integrated payment and billing solutions in the individual and event area, which were expanded in 2015 with the "central billing" services independent of credit card companies. As a result of their future and creative thinking capabilities, ehotel® has established itself as one of the best hotel solution providers.
ehotel® has grown quite naturally because it was never focused on fast money or achieving simple success. They wanted to develop their idea of an independent platform to simplify the search for affordable hotel rooms and related booking procedures for business travelers in the best possible way. "We were able to do this, and success came gradually by itself. For 19 years we put the business traveler at the center of everything we do and have been rewarded several times for the service we offer.", Zerweck, shares.
The Story of a Passionate CEO
Zerweck started his career in a completely different field, which was the secondary construction industry. His parents ran a successful secondary construction industry and it seemed like an obvious fact that Zerweck, would take over the business one day. However, Zerweck was looking for something more than just an easy business, which led him to move away from home and study economics. As time and fate played its course, Zerweck ended up on the board of directors at ehotel®. Since then, he has been able to combine his passion for travel with a talent for financial management and an interest in modern technology. "Maybe my advantage is that I don't have a classic hotel management background but can see the business from the outside – as the manager of a booking platform and a business traveler.", Zerweck, says.
As the CEO of ehotel®, Zerweck is happy to take responsibility for the company's system of cooperation. Under Zerweck leadership, ehotel® works together as a team, they develop ideas together and celebrate its success together. "So, with us, no one ever has to ask themselves how to optimize results alone or which screws should be tightened. We all think together. I never feel lonely at the top and I would never exploit my position just to have the last word.", he adds.
Zerweck cares about his employees and ensures their satisfaction too. He believes that a company is only as good as its employees. "Because we work together as a team, nobody is irreplaceable – in the best sense. Here at ehotel® we take our time: for our customers, for our partners, for us and our further development.". The employees at ehotel® are comfortable. The management takes great efforts in creating excellent working conditions for its employees. This includes, not only providing modern workspaces with top equipment, but also a pleasant atmosphere, good communication structures, fair payment, further training opportunities, flexible working hours, and keeping their eyes and ears open. These factors play an important role in keeping the employees at ehotel®, motivated. What unites the team is the idea, that they like to have satisfied customers.
Choosing the hotel industry is one of the best decisions that Zerweck made as a career-oriented individual. It is not a pressurizing field, unlike the finance field. The hotel industry is customer-centric, which is very relaxing. On a day off, Zerweck can stay home and unwind, while the business continues to function. In other words, working together with his team, is far less pressurizing unlike the finance industry, where you are a lone warrior.
The Unique Services of ehotel®
One of their strongest unique features is the competitive and relevant content they offer which is owed to their powerful meta-search technology and the integration of the corporate hotel program. ehotel® delivers the largest hotel content and the best available rates not only on its platform or via mobile apps, but also via global online booking tool like Cytric, Onesto, etc. To serve their corporate customers throughout the entire hotel booking process, ehotel® helps them with their central billing solution automating the processing of hotel booking and invoicing.
In addition to their hotel booking and optional billing service, ehotel® provides its customers with advanced analytics and rate-auditing tools to help them make data-driven decision. The analytics system helps the customers in analyzing their travel streams and saving potentials, while the rate-auditing tool is the go-to platform to customize their hotel program and automatically audits and continuously checks the actual rate in the booking system against their negotiated rate along all dimensions (availability, price, cancellation policy and breakfast).
Leading the Company to a Brighter Future
While business travelers are under increasing pressure to travel more cheaply, but also to adhere to their companies' sustainable philosophies, ehotel® is paving the way for the future with individual solutions and optimized processes. They regularly develop their technologies, never losing sight of their cooperation with the hotels and personal customer care. ehotel® is not concerned with pure optimization, but with the needs and constraints of business travelers, which is still the case.
The tourism industry is currently facing a huge overhaul, which makes it even more important for ehotel® to develop modern technologies and direct themselves at future-oriented companies. Their vision is to map the entire complex of hotels in the business travel segment, without any breaks in the system, because despite enormous customer satisfaction, they never take their success for granted. "We definitely see ourselves on the market in the future, which cannot be taken for granted with this crisis. By joining forces, we will grow from the current situation and emerge from it stronger by finding new ways to go forward.", Zerweck, asserts.
ehotel® has changed the dimension of the hotel industry with new and innovative services. To catch up with the swift pace of the growing industry, ehotel® focused on the pain areas, addressed them and solved them in a creative way. This out of the box thinking, made ehotel® a pioneer, leader, and a successful example of its field. With a team of skilled professionals and under the resourceful guidance of Fritz Zerweck, ehotel® has a defined roadmap for the future to change the obsolete practices of the hotel industry and shift focus on more technology-driven services.