Ed Adams: A Cybersecurity Expert Spearheading from the Front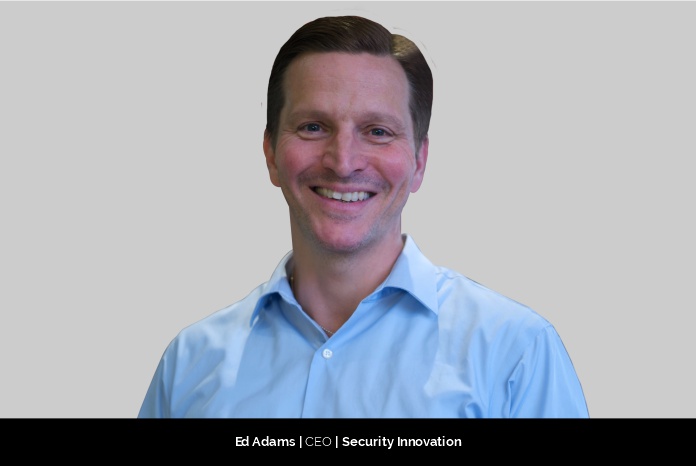 Langston Hughes, a famous poet and social activist famously said, "I have discovered in life that there are ways of getting almost anywhere you want to go, if you really want to go." A leader is one who knows the way, goes the way, and shows the way. Ed Adams, a very motivate professional is President and CEO of Security Innovation. But he had little aspirations as a child. His goal growing up was nothing more than to survive and be happy. It wasn't until he was in high school that he realized he was bright and motivated with an aptitude for computers. "That awakening itself spurred me to action. I took extra classes and graduated from high school a year early." By the time he was done with his freshman year of college, his high school friends were just heading off to university. From that point forward, his sole goal was to change the world, somehow, someway. "I'm not there yet, but I'm on the path." This is his story! 
"Do or do not. There is no try" – Yoda
Since high school, Ed was always into hacking, tinkering, breaking, and trying to figure out how stuff worked. That led him into engineering and software quality. "I also have a love of sharing what I've learned and that brought me to the speaking circuit at industry conferences, where I met the founder of Security Innovation, Dr. James A. Whittaker." They instantly hit it off and when James finally invited Ed to join what would later become the leading innovator in cybersecurity, he couldn't resist. Both James and Ed were linked by Sam Guckenheimer of Rational Software and later Microsoft. Recalling the instance, Ed says, "Sam is the one who told James he needed someone just like me; however, more important to me, Sam was my boss for a time. During that time, he saw promise in me, but also a placid contentedness. One day, he called me into his office and told me, 'Ed, you're doing OK, but you're coasting. You can and should be doing so much better. You have a lot more to offer.'" Ed respected Sam so much that this one comment fundamentally changed how he approached his work life. From that point forward, Ed dug deep every day and asked himself, "Can you look in the mirror this morning and honestly say you did the best you could yesterday?" He strongly believes, "Sam changed my career trajectory."
A strong passion for security that reflects in work
Before his work at Security Innovation, Ed held senior management positions at Rational Software, Lionbridge, Ipswitch, and MathSoft. He was also an engineer for the US Army and Foster-Miller earlier in his career. Ed is a Ponemon Institute Research Fellow, Privacy by Design Ambassador by the Information & Privacy Commissioner of Canada, Forbes Technology Council Member, and recipient of SC Magazine's Reboot Leadership Award for 2018 and 2019. He sits on the board of The International Consortium of Minority Cyber Professionals (ICMCP) and is a BoSTEM Advisory Committee member. Ed has presented to tens of thousands of security professionals at reputable industry events such as RSA Conference (the US and Asia), Ponemon Institute's RIM Renaissance, Connected Security Expo, Mozilla's Privacy Lab, Allstate CyberCon, Applied Materials Global Technology Conference, Insperity Security Conference, Levi Strauss Cybersecurity Conference, and others. He has contributed commentary for The Associated Press, CSO Magazine, Forbes.com, SC Magazine, Boston Globe, CIO Update, Wall Street Reporter, Cyber Defense Magazine, Investors Business Daily, and CFO Magazine. He also is the host of www.edtalks.io, a monthly panel that debates risk-based approaches to securing software and its ecosystem.
At the forefront of cybersecurity for over two decades
Security Innovation has been an innovator in cybersecurity since before it was even a company. It was formed in September 2002 as a university spin-off out of Florida Tech in Melbourne, Florida, USA. When it started, it was nothing more than a group of graduate and PhD students that knew how to hack software. "Remember, this is just one year after the 9/11 terrorist attack in the US, and there were very few cybersecurity companies. We helped the US Government and commercial software vendors like Microsoft, Symantec, and HP better understand software security and how hackers exploit it. We have authored or co-authored 18 books on the topic and have trained more than 3,000,000 people worldwide on how to build, operate, and defend software in a secure manner," Ed shares.
Since the inception, Security Innovation has been helping the most recognizable brands in the world protect their digital assets. Their software security solutions incorporate the industry's largest secure coding CBT library and nine various application cyber ranges, with which they've trained over three million users. Since foundation, companies have trusted on its assessment and training solutions to make the use of software safer in the most challenging environments – including satellites, cars, banks, medical devices, and e-commerce sites. The cybersecurity firm's robust security testing services spans all types of software: web, cloud, mobile, IoT, embedded, legacy, and more.
"The greatest glory in living lies not in never falling, but in rising every time we fall." – Nelson Mandela
Ed believes the one strategy that helped him build a leading cybersecurity firm is nothing but innovation and rightfully so. The folks at Security Innovation are never satisfied, never content. They innovate at every chance and never assume that what worked yesterday will work tomorrow. "We are also very financially responsible. We've always run the company as if it were our own money. That forces you into different decisions than if you had raised $40M USD with a charter to spend and grow. We've only raised $12M USD of new investment since Day 1; yet, we've already sold a division to Raytheon for $32M USD and another division to Qualcomm for $24M, and we still have a 120-person cybersecurity company that is growing and profitable. We're going to make great returns for our investors!" adds Ed. Security Innovation has some of the most satisfied clients Ed has ever met in his 25+ years in the high-tech business. The testimonials on SI's website and community site speak for themselves. "I can echo them here, but *wow* … our customers really love us and I don't blame them. It is a mutual respect that is earned."
The blessing in disguise of having to spend more time at home
The COVID pandemic has certainly changed Ed's work schedule. He says, "Well…nothing is normal in 2020. For the past 6 months, my wife and I care for and quarantine with her mom, who's in her 80's. I've lost 5 kg due to healthier eating and we don't eat out at restaurants anymore, but that's a blessing in disguise. All three of us are much healthier than before COVID changed our lives. Prior to COVID, my wife and I would be out of bed around 6:30am. We'd work for an hour or two with our morning coffee before heading to the gym to exercise (weights in the morning for us.) We'd get to the office by 9 or 10 after breakfast and a shower, work until 3 or 4 pm and then head out for an afternoon run. We typically eat and early dinner and work again from 6 to 8/9/10 depending on the day. We're both quite dedicated to the job… as such, we really appreciate the weekends and holidays with family and friends. We also "normally" travel 100+ days per year, spending nearly 1/3 of nights in hotel rooms. We have learned to appreciate our home and our own bed this year."
Ed also says that he has lost the work-life balance a bit these days because he cannot separate the two. His work impacts his personal life and vice versa. "I find that I need to force myself away from work in order to devote enough attention to the personal life. But, the more I align my personal objectives with my professional ones, the more satisfied I feel. My dedication to getting women and minorities better representation (and jobs and pay) in the cybersecurity field is satisfying on both the personal and professional levels. This is why I feel so fortunate to be a part of the International Consortium of Minority Cybersecurity Professionals (ICMCP). Such a great organization!"
"Tell me and I forget, teach me and I may remember, involve me and I learn." – Ben Franklin
When asked whether he has achieved all that he desired, Ed replies, "I am not sure I will ever feel satisfied that I've achieved what I desire. Changing the world is a tall task," says Ed humorously. What keeps Ed determined is the progress he sees, the people he affects, and the small (but meaningful) impacts he has made. He says, "I will never stop because I can see that what I do, what I say, how I act, and the programs I enable help others who were less fortunate than I. I am a white Christian man living in a country where that demographic has life a lot easier than any other demographic. If that isn't motivation enough to help enact a change, I don't know what is." Ed advises young entrepreneur to not cast their "solutions" net too wide. "Don't raise more money than you need to achieve your short-term goals. Don't sell yourself short."
Led by Ed, Security Innovation has been a staple of the cybersecurity industry for nearly 20 years. He believes SI will likely go out for more funding once the markets settle from the COVID-19 disruption. "This will allow our current investors to cash out and equip the company with tailwinds so we can continue to see the SI imprint on our customers well into the 2020s and 2030s".
Finally, when asked if he could go back in time to meet his younger self, what would he advise himself, Ed in his honest and inspiring words says, "Find Sam sooner. Or, look yourself in the mirror sooner and ask yourself, "Are you doing enough?"