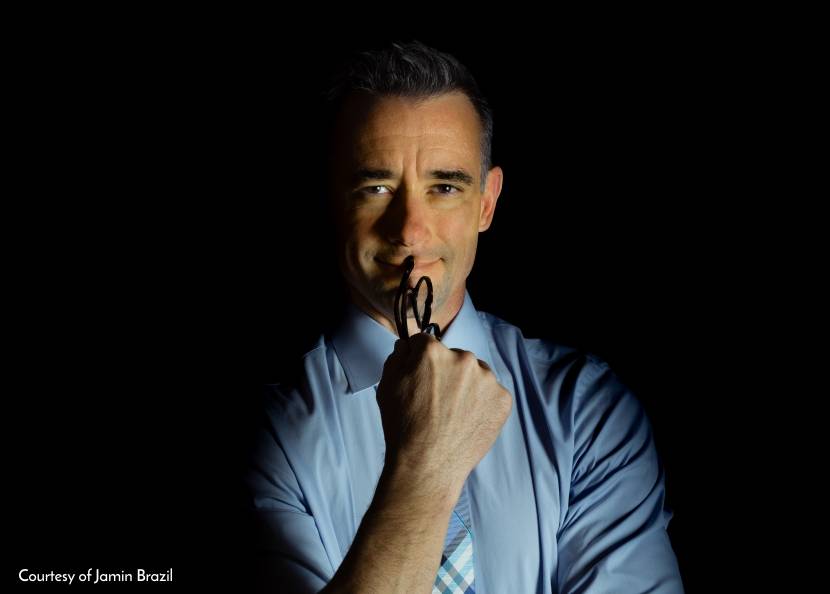 Don't fly your startup blind, a partnership will increase your field of vision
"The rule for decision making in life and business goes like this: The fewest blind spots wins." -Paul Singh
Neither staff, board members, nor consultants have sufficient incentive, expertise, or capability to walk alongside you and see the pitfalls lurking in your blind spots. Only a partner can consistently help gather and interpret the disparate data inputs from customers, markets, and employees to ensure your firm minimizes failures.
Upon starting Decipher, Jayme and I chose to bootstrap our company vs find outside funding. By the end of the year we were high-fiving each other and our 6 staff members as we reported over $1m in sales from marquee clients including Intuit and Disney. In our smugness, we hired a consultant to do a strategy retreat mid-January 2001 (9 months after launch). During the 2-hour drive to our retreat destination I fielded calls from all but 2 of our customers and we had just lost 93% of our business.
That Sunday we had one of the most difficult conversations a partnership will ever have,
"Should we shut down Decipher or continue?"
I felt we would be safer getting jobs, but Jayme pressed that this was the time to take advantage of the market shakeup. We left that conversation with the grim determination that we would do whatever we had to do to make Decipher thrive.
The first half of 2001 continued to be highly challenging. We ultimately laid off all but one staff member who was willing to take his pay in room and board. I'd do between 20 and 50 cold calls a day, and Jayme and I would make the drive from Fresno to the Silicon Valley once a week. This was our schedule…
4am, fuel: Coffee, donut and gas
4–8am, drive: We used this time to program surveys (the one not driving), discuss customer opportunities, and laugh
9am, sales meeting 1: Our narrative was basically, "Do you have any needs?" If yes, we would respond, "Great! We can do that!" We did just about everything over those recovering years from designing and building usability labs for our corporate customers to doing intercept surveys in malls. If it paid, we did it.
11am, sales meeting 2
2pm, sales meeting 3
4pm, sales meeting 4
7pm, sales meeting 5: This was usually more social and hopefully involved a drink.
10pm, fuel: Coffee, donut and gas
10–1am, drive: Thank you ACDC, kick ass speakers and air conditioning!
Oh yeah, and laughter! Especially laughter.
Because of Jayme's visibility to see what I could not, we kept our foot on the gas. Finally, in July things started to turn around and we started seeing double-digit month over month growth. For years to come, we religiously would make a trip to the bay area twice monthly. These trips always included 5 sales meetings. In hindsight, it would have been so easy to go Eeyore (Winnie the Pooh Character) but it simply didn't occur to us. We knew we had to succeed, so we did…and smiled the whole time.
These are the 4 things that, I believe, are the foundation of a successful partnership. These are NOT natural but can be intentionally cultivated.
Transparency: Measure everything. As a leader, the temptation is to measure success by being busy. Life simply doesn't work like that. You must be intentional. Declare what you will do, when it'll be done and how it will move the needle. Finally, keep people aware of your progress.
Self-awareness: Take a critical eye towards yourself, your performance, your ideas and your work. This will foster productive conversations, humility and combat single-mindedness (I'm right and you are dumb).
Vulnerable: Don't just be open to feedback, seek it! Once received, honestly review and apply what fits while discarding what doesn't.
Smile: This is likely the most important. 100% of the successful business leaders I've met will tell you it is about the journey not the destination. Sure, being a millionaire while improving lives is our goal…but in the end, have fun!
In next post I'll talk about how to make your partnership thrive.
Have a fun rest of your day! 🙂
About the Author
Jamin Brazil serves as Managing Partner of Vine Partners, responsible for all aspects of the organization. Jamin is a seasoned chief executive with a background in leading high growth organizations from inception to exit. Previously, Jamin was the CEO of FocusVision. His passion and energy to deliver fanatical global customer support is coupled by his desire to help leading brands find answers to important customer insight questions. He's served many of the world's top brands including Twitter, P&G, LinkedIn, Wells Fargo, AT&T and Eli Lilly. In 2000, Jamin founded Decipher, a survey platform used by all large research agencies and many of the fortune 100. Under his leadership, Decipher experienced year over year growth of high double digits. Additionally, Jamin drove the integration of several strategic acquisitions. His leadership balanced the need for infrastructure, automation and creative collaboration resulting in consistent top and bottom line growth. Prior to founding Decipher, Jamin worked at Macro Consulting in Palo Alto. A native of Fresno, California, Jamin holds a B.A. from Fresno Pacific University and an MBA from Fresno State.
The article is originally published on medium.com and is republished with author's permission.
https://medium.com/@jaminbrazil/dont-fly-your-startup-blind-a-partnership-will-increase-your-field-of-vision-41b2064b38c1