DeepCoding's Event: How AI is reshaping the Modern Enterprise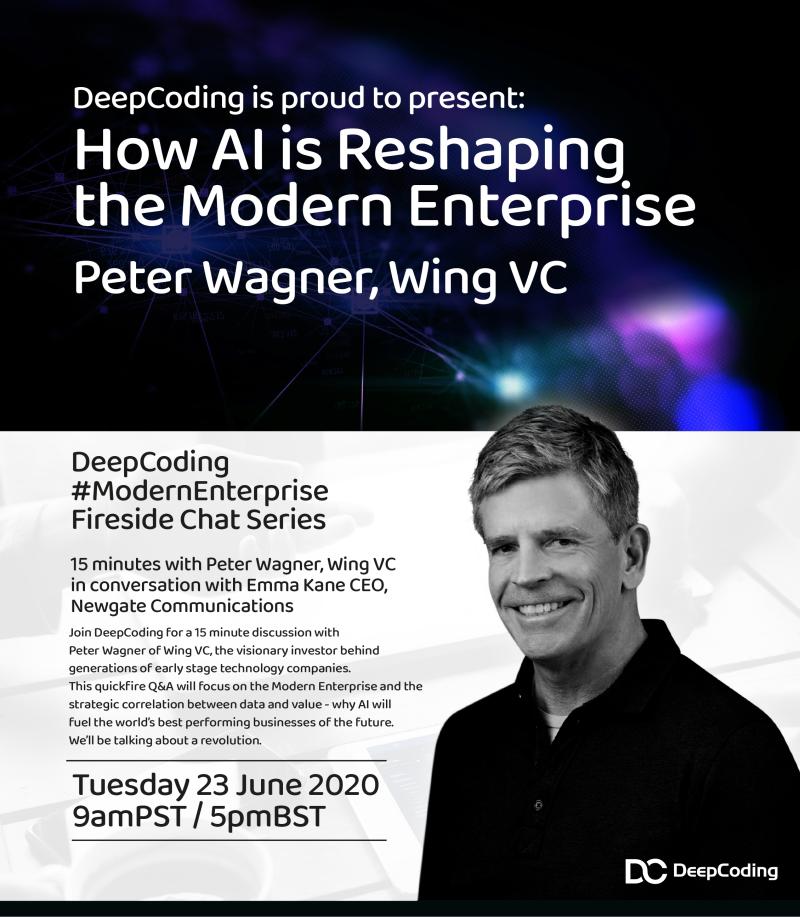 DeepCoding #ModernEnterprise Fireside Chat Series: 1:1 Peter Wagner & Emma Kane – How AI is reshaping the Modern Enterprise
About this Event
Join our 1st DeepCoding #Modern Enterprise session: A fireside chat with Peter Wagner & Emma Kane.
How AI is reshaping the Modern Enterprise
Peter Wagner is a Founding Partner of Wing. He has led investments in dozens of early stage companies, more than 25 of which have gone on to complete IPO's or successful acquisitions. These companies include Aporeto, BlueJeans Network, Cumulus Networks, Nimble Storage, Fusion-io, Redback Networks, Riverbed, Arrowpoint Communications, Infinera, Peribit, Topspin, Omneon, and Opower, to name a few. He currently works with a private company portfolio that includes Snowflake, Gong, Moogsoft, Ordr, Juvo, Tigera, Jellyfish, SetSail, among others.
Tuesday, June 23th, 2020, 9am PST / 5pm BST.
About DeepCoding
DeepCoding is a cutting-edge operational intelligence platform that monitors the entire IT delivery operations, anticipates risks and recommends solutions so that IT leaders can make better business decisions. IT Management can then automatically identify risks and opportunities in real time, know their predicted business impact, and get actionable mitigation recommendations. In short, we provide overworked IT leaders with a new power: the power to predict risks and prevent them. Our team has decades of experience in the IT sector between them. Having worked in large IT teams throughout the digital revolution, we watched IT become essential to the smooth running of any business. However, fragmented IT tools, rising workloads, complex tasks, and large distributed teams have led to performance management and predictability challenges for IT leaders. That's why we our team of IT enterprise delivery experts, data scientists and business pioneers created DeepCoding – an AI platform that understands the complexities and dependencies between delivery tasks, teams and projects. DeepCoding brings risks, opportunities, measured impacts and solutions to your immediate attention so you can make better business decisions.
Contact: info@deepcoding.ai
For more information, visit https://deepcoding.ai/