In Conversation with the Newsmaker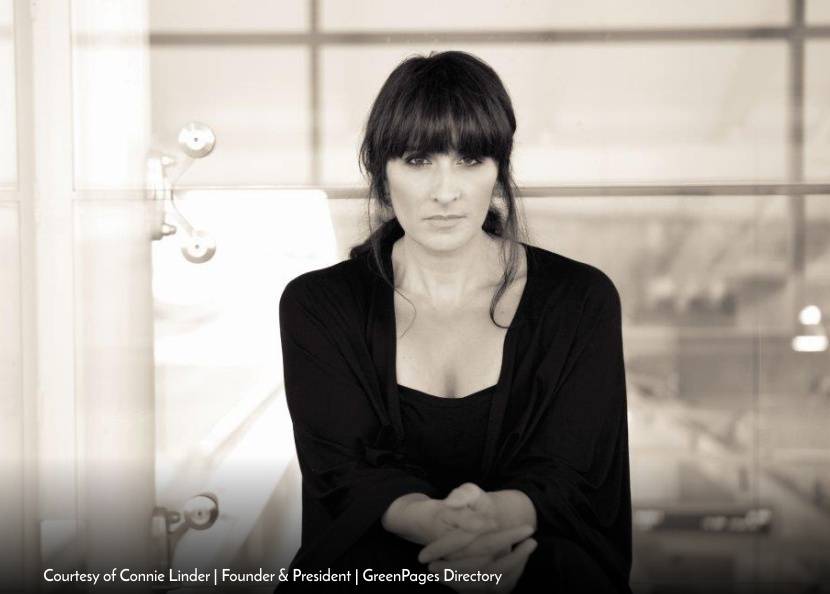 She is an entrepreneur and business strategist with a special interest in sustainability and innovative startups. Recognized as one of Canada's top leaders and sustainability professionals, she is a passionate speaker who inspires audiences with examples of how business and social responsibility can co-exist, as well as a mentor to aspiring entrepreneurs through the Women's Enterprise Centre, the University of British Columbia, the Minerva Foundation for BC Women, and the Women's Executive Network. She is Connie Linder, who founded GreenPages Directory (recently branded to "Intengine") to make tangible her commitment to increase public awareness of available innovative solutions and make sustainable products and services more widely accessible. Beyond Exclamation recently had the pleasure to be "In Conversation" with Connie, in which, she took us on her journey of breaking glass ceiling and beyond.
What seeded the vision to working with startups and established businesses to create, implement and communicate innovative policies and practices that support the ongoing transition to a sustainable economy?
Twenty years ago when I was a stock broker, the investment community as a whole was not yet very progressive and I found myself frustrated that my pay structure wasn't often aligned with what was best for my client and it bothered me that nobody seemed to be asking about the effects of what we invested in. So I went to the company side of the equation and found that I was able strategize what needed to be done next for companies often stuck when the vision is so far from the present. That led to my Insight Creative Communications strategy firm where I helped companies align their business objectives with healthier alternatives.
Through helping with strategy, I learned that most companies (actually all of the companies I worked with) didn't actually know their strategy so I found a niche to help create the strategy and communicate it. The next step was to implement. I am an organized person and have the ability to see a map in my mind of what to do next. This is critical because companies that are new or growing have SO many challenges with so much to do and management has to deal with so much uncertainty that they get "stuck" with what is the next step.
Then I made a conscious decision to only work on deals that had some sort of ethical or environmental benefit. The next step was to then work on my own deals as a founder where I could have more influence to ensure the integrity of the decisions would be maintained.
The sustainability piece is another place where management would get "stuck" in the old way of thinking that "you can't be good and make money". This is becoming an outdated way to think but twenty years ago it was the norm. In order to commit to a sustainable economy agenda however, management would have to have a longer-term vision.
What have been the best parts and toughest parts of your journey? Brief us about the marvelous journey. If possible, kindly help us with statistical insights as an overview of your company's achievements.
The toughest part of my journey was holding the dream for Intengine, when it was difficult to raise money. I worked on other contracts through ICC to pay the bills to keep Intengine going. The best part of the journey is definitely where I am at now with great financial partners, a new brand and a Team I believe in to turn Intengine into the world's premier resource for sustainable purchasing. We are able to educate people to make better choices.
What drove you to enter in this field? What was your life like before Insight Creative Communications and GreenPages Directory. And what changes the companies have brought in your life since the foundation?
I have always been someone that doesn't just accept the status quo. Rather, if there is a way to improve outcomes to make things more healthy, more fair, more efficient, more progressive then I would assert myself for these improvements and modifications. While growing up I was visionary but didn't initially see myself as an entrepreneur. I was a leader and a changemaker but I thought I would be making change within the political environment. As I grew up, I realized that the negative side of politics was one that I wasn't sure I would be able to stomach and once in my career as a stock broker, I realized that I was very energized by seeing new companies and innovation and started helping the companies I liked that came to me looking for investment by helping them communicate their "deal" and align with a more sustainable approach. Also, at 26 a friend and I started an armored car company that is now very successful so I guess I was an entrepreneur before I knew that I was an entrepreneur.
Although I am pleased with the results I was able to achieve through Insight Creative Communications ("ICC" for short) – for example I helped change tax policy in support of renewables, it is the GreenPages Directory (now called "Intengine") journey that I am most excited about. During my work in ICC, I was working with all these innovative companies and realized that the world didn't (for the most part) realize the progress that was happening and there was not one platform where you could find the most sustainable solution in business. When I incorporated GreenPages Directory, I was told all the time "what you are trying to do is too big – pick a sector". I knew my vision was BIG and I also believed it was doable and that I just needed the right financial partners who shared my LARGE vision. I have found these investors and continue to build a team that is now actively creating the WORLD'S BEST PLATFORM FOR SUSTAINABLE PURCHASING IN THE WORLD. We have the world's largest database of social and environmental certifications and our database is growing every day. We just plugged in our new platform at www.intengine.com and we have a partnership with PwC who will provide assurance and we are working on this program so we can offer to our members.
Brief us about the services that Insight Creative Communications provides and tell us why customers choose you?
My clients chose to work with my Company ICC because of my diverse background that lends itself to not only building the strategy, but then knowing how to produce the documentation required in all phases of the business development while private, public or during the transition. For example, I would often get hired to write the business plan but then I would see that management needed help defining the strategy so I would help them with this. My unique training as a stock broker with an MBA, several languages, international experience in addition to more right brain pursuits such as a counselling degree and spiritual development training, energy healing and reiki helps me as a more well-rounded and trained executive. Word of mouth is powerful and I seemed to always meet people who needed my skillset through the work I was doing and didn't advertise. Now I get asked regularly from inventors to help them with their company but I am very choosy since I am working on Intengine and one of my other companies called "Agora Energy Technologies" who are building the world's first redox flow battery that uses carbon dioxide as an input instead of Vanadium which can transform the field of stationary battery storage.
Have you achieved all that you had desired? Tell us about the moment when you realized that your hard work has finally paid-off.
I don't think I will ever think I am "done". I think I will just keep adding higher visions with bigger goals. I am very happy with how my life is right now and I continue to work on my big dream that Intengine will connect those seeking a healthier way to live with those who have the solutions so we can live in a happier, healthier more stable world.
What are your individual plans going ahead? Also tell us where do you see ICC in next couple of years?
My plans going forward are focused on being a good mother to my daughters who are 17, 23 and 26 and focusing on building Intengine into a global brand that helps transform the marketplace. I am also focused on my work as a co-founder of Agora Energy Technologies to bring this important technology to life. I don't advertise my ICC services however, I am always open to work with innovators who have a leading technology that can transform our world.
Finally, would you like to mention a word of advice for our readers?
Through my work as a mentor and leader in sustainability, I am often asked to speak at universities and for business audiences. Women often ask me if I've ever been treated differently as my male colleagues. There are few women founders in my field of environmental startups. It is a competitive industry and can be brutal! I can definitely remember many occasions where I was treated differently. Mostly I have been the only woman in the Board Room. However, my answer to this question is to respect yourself and try to bring your best self to your work and be really good at what you do. Don't allow yourself to get stuck feeling like you are a victim of your circumstance. Step up and write your own story. I believe that the universe supports those who align with positive goals that are good for humanity and have the faith that big, beautiful dreams can come true.