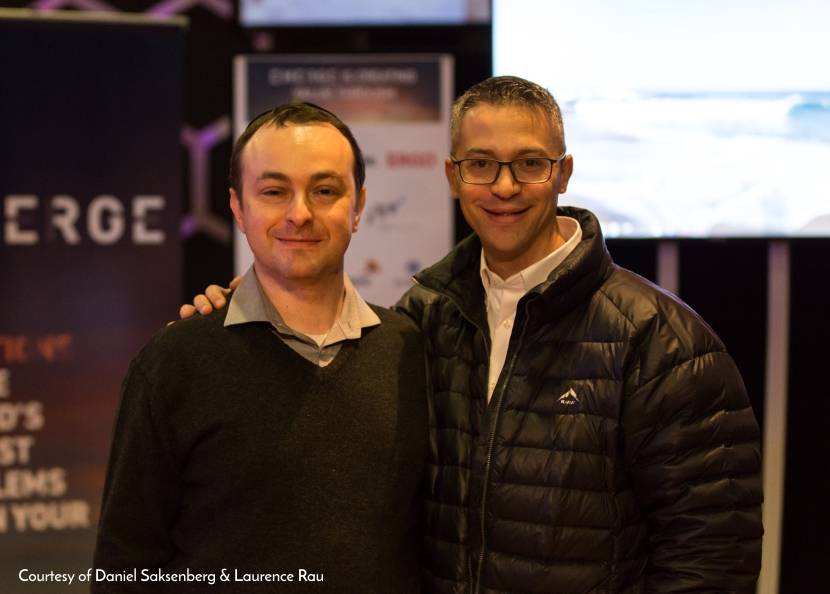 An emerging technology finding patterns in data and solving the problems
The future is uncertain and full of risk. Risk is in a way a chance that an adverse event will happen, but in another way risk is also an opportunity. That's where actuaries enter. Finding patterns in data to predict the future is part of the work that actuaries have always done. Today, the ability to use machine learning and artificial intelligence revolutionizes actuarial practice, as it allows risk to be assessed and managed at a much more granular level with higher levels of accuracy. This leads to improved decisions, better pricing and risk quantification, improvement of policyholder experience, and also facilitates the design of insurance products that were not previously possible.
Emerge is one such analytics firm that uses its proprietary machine-learning software to help organizations find the patterns in their data to solve the problems that they need to solve. Founded by the industry experts, Danny Saksenberg and Laurence Rau, Emerge has in no time emerged to be already working with some of the US's, Europe's and Africa's top corporates including banks, insurance companies, lenders, medical companies, educational institutions and more.
The technology can ingest any dataset to model any outcome in any industry.
Emerge uses machine learning, corporate data and end-to-end commercial and process expertise to find patterns in data that can create substantial pockets of value across the customer life cycle. For Banking and Financial Services this includes sales propensity, credit and underwriting risk assessment, fraud detection, collections process optimization, client service optimization and retention improvement. The analytics company does this by using its proprietary automated methodology to build accurate machine-learning models very quickly (in less than a day), that's right! Further, they work with partners to implement the models into their clients' operational processes thereby ensuring an increase in profitability. The company's solution is delivered through an API or batch process which they prefer to offer through the Microsoft Azure cloud environment, but they are also flexible in terms of using other technologies.
The beginning of implementing models into reality and beyond.
Emerge was actually conceived back in 2002 when Danny was working as an actuary at Deloitte in South Africa. However, he couldn't see himself doing valuations for the rest of his life. Therefore he decided to leave and started doing various analytics projects. The first project that came his way was a credit scorecard. Danny was not happy with the way credit was being done so he started researching and came across machine learning.
The next 10 years saw Danny researching the technology and experimenting with his own methods both for feature engineering and the actual machine-learning algorithms. Danny's methods started getting more and more accurate. He was building models across a range of industries including banking, healthcare and insurance. The challenge was that the models were not being implemented into operations and their true potential was not being reached.
During the same 10 years on the other side, Laurence was working in companies designing and implementing business processes. The bulk of this time was spent at Discovery which is the holding company for Vitality – the innovative insurance offering that is currently rolling out to new markets all across the world.
Finally the time came to make those methods reality. And with this aim, Danny approached Laurence to join him to ensure the models being built converted to operational value. In 2012 Emerge Analytics was started in South Africa with the vision to solve the world's biggest problems with data and machine learning.
While bootstrapping, the business was run part time until May 2015, when Laurence moved into the business full-time. In August 2016, a South African insurance client of Emerge's suggested that they apply for Startupbootcamp Insurtech in London. From 2500 startups scouted worldwide, Emerge was selected as one of 10 startups to join the program. Laurence went to London for the duration of the program, while Danny stayed in South to run the South African operations.
As part of the Startupbootcamp program Emerge opened a new business in the UK to service the insurance market there. Emerge has been working with multiple European insurers since the end of the program, proving the value of its offering. In addition, Emerge has also achieved numerous milestones such as:
December 2016 – Agreed a partnership with Deloitte Africa which has started to bear fruit and will next start expanding to other Deloitte territories.
March 2017 – Approved as a Microsoft co-sell ready Independent Software Vendor which means that Microsoft account executives can start selling Emerge's offering.
April 2017 – Agreed a partnership with PwC in the UK to offer their solution to their clients in the UK.
May 2017 – Opened a branch in the US with a new Managing Director being appointed.
Apart from continuing operations in US, UK, and South Africa, Emerge is currently also exploring new markets that include Singapore, China, Spain, Dubai, Israel and Rest of Africa.
Focusing more on providing value to customers rather than on the technology
Laurence while speaking with us mentions that the business world very often doesn't care about the technical solution to a problem but rather about the return on investment of the solution. Emerge focuses on providing value to their clients rather than on the technology that delivers the value. Thus, although the team loves the technology they build – they really get excited about the 'magic' of AI – they focus their customer engagements on the value that the technology can offer. How many extra sales were created, how much more fraud was detected, etc. By sticking to these benefits, Emerge helps make it easy for clients to stick with the company's overall solutions. This is an area Laurence believes the practice of AI has gone wrong in general – people are focusing on interesting problems at the expense of valuable problems. At Emerge, they make sure that their clients deal with problems that will make an appreciable improvement to their bottom lines.
Great things in business are always done by team and not an individual.
At Emerge, everyone is driven by one simple idea – "The solutions to the world's biggest problems lie in data." Laurence believes to solve these problems, they need to find the valuable patterns that the data offers them. By extension this also means that the solutions to a business's or an industry's challenges also lie in data.
The Emerge team is primarily made up of three key functions:
Regional leaders – A team of individuals in a particular geographical region building relationships with existing clients and partners.
R&D – A team working with data, and their proprietary machine-learning software to continuously improve the accuracy and automation of what they do.
Engineering – A team that designs the way the company's models work within operational processes and develops the software to make their use simple. This team then works with their clients to implement the models into reality.
Going forward, you will see Emerge growing its global reach both by setting up regional offices and through partnership, along with identifying and solving valuable problems in industries in which Emerge does not currently operate. This would of course be in addition to developing new solutions in the industries where Emerge already operates.
Contact Emerge: info@emergeml.com