ComplianceQuest: Digitally Transforming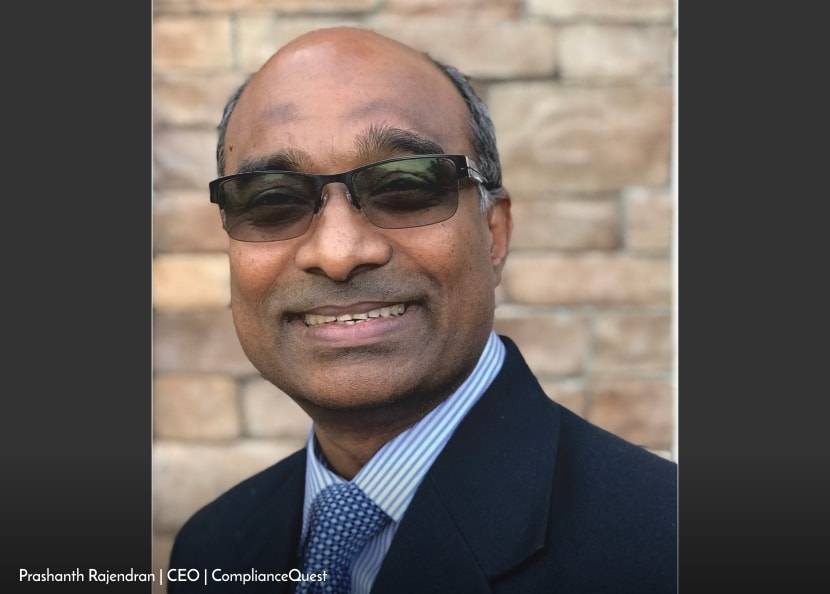 The recent years have seen rapid advancement in connectivity, mobility, analytics, scalability and big data – what we call the fourth Industrial revolution or Industry 4.0. This digital transformation in manufacturing has put increased focus for manufacturing and quality leaders for solutions like quality management at an enterprise-level to improve time to market and bottom line efficiency. To take advantage of the latest and future technology advancement such as Artificial Intelligence, Smart Connectivity, Social Media and Collaboration throughout the entire product value chain ComplianceQuest was formed with a goal to adopt modern cloud architecture platform such as Salesforce.
Building ComplianceQuest solutions on a modern cloud platform like Salesforce has distinct benefits. The Salesforce platform architecture supports simplicity in implementation, scalability and reliability in management, and rapidity in developing and integrating enterprise-scale applications. Leveraging the Salesforce platform makes the ComplianceQuest solution secure, as it is compliant with ISO 27001, SOC 1-3, HIPAA, HITRUST, and GDPR and other common data security protection laws.*
Delivering best-in-class out-of-the-box solutions
Today, ComplianceQuest provides a unified suite of applications in a single platform addressing quality management, manufacturing quality, supplier management, customer/field service quality and health & safety. Delivering best-in-class out-of-the-box solutions, ComplianceQuest fast-tracks an organization's efficiency, safety and overall performance by combining enterprise quality and compliance with modern collaboration, communication and social media across the product value chain. Suitable for emerging growth companies and scalable and flexible to meet the needs of medium and global enterprises, ComplianceQuest is easy to implement, validate and use.
Comprehensive breadth and depth of integrated solutions
ComplianceQuest supports 12 core best practices driven solutions/processes out-of-the-box, integrated and ready to go. Unlike recently introduced cloud solutions, ComplianceQuest not only has a comprehensive breadth and depth of integrated solutions today but it's also designed to scale to support the needs of small to global enterprises alike by redefining what a next generate EQMS platform and solution should be.  Because ComplianceQuest is natively built on Salesforce, it leverages all the 100% modern cloud infrastructure and all the platform benefits including security, availability, reliability, and performance at scale.
Keeping a pulse-point on the market
ComplianceQuest's innovation starts with the needs of customers that the company identifies during each of its implementations. This provides the primary priority and input to the company's product roadmap planning beyond the goals and strategies from its corporate vision and partner relationships. ComplianceQuest also keeps a pulse-point on the market, industry specific requirements and regulations along with the Salesforce ecosystem. With this unique approach, companies are able to adopt a highly scalable ComplianceQuest platform to accommodate their immediate needs and as the requirements grow, provide companies the ability to grow with the application suite and the platform.
ComplianceQuest can also integrate its solution suite with traditional enterprise software solutions including ERP, MES, CRM and HR systems expanding its performance strength of quality and compliance aspects across the entire supply chain. In addition, ComplianceQuest has abilities through Salesforce for communication and collaboration through Chatter, social media like and follow, Community Cloud to include exchange of data/documents from a company's external partners, support for mobility, artificial intelligence through Einstein Analytics and already comes with pre-validated solutions for Life Sciences customers.
The rich experience of leadership team is always an advantage
The ComplianceQuest leadership team is rooted in the Enterprise Quality Management System (EQMS) market with over 25 years' experience in quality, compliance, document management, issue tracking, eLearning and more. Having built quality and compliance solutions before, ComplianceQuest hit the ground running as it began marketing and selling its solution into the manufacturing and life sciences industry. ComplianceQuest was able to develop the fastest growing, 100% modern cloud-based Enterprise Quality Management System (EQMS) on the Salesforce® platform. Since its inception, ComplianceQuest has already quadrupled in size (as of 2018) with clients from all over the world. ComplianceQuest's impressive list of customers includes small, medium to large life sciences as well as a diversified list of manufacturing clients from aerospace & defense, automotive, consumer goods, and hi-tech companies.
The frontrunner building relationship and delivering on commitments
Prashanth Rajendran is the CEO of ComplianceQuest. Clients appreciate his flair for knowing and understanding customers' pain, his knack to communicate a solution, and the depth of his "real world" executive and industry experience. As CEO, Prashanth directly oversees ComplianceQuest's sales, marketing, partnerships, finance, IT, legal and overall company strategy and direction. He comes to the company with more than twenty-five years' experience in manufacturing, engineering and quality. Prashanth has repeatedly produced sustained revenue and EBITDA growth in dynamic and changing markets. He has extensive experience with process automation, which requires a deep understanding of critical business drivers in multiple industries. He's highly successful in building relationships, seizing control of critical problem areas, and delivering on customer commitments.
His background includes being President and CEO of Lattice Social, a cutting-edge software company for incorporating social media into business-to-business collaboration, more than twenty years as co-founder and COO of Pilgrim Software, a Quality Management System software company. He grew the organization from inception to goal of successfully selling the company. Prior to this, he held a variety of positions in Manufacturing Engineering. Prashanth currently serves on several Boards fostering entrepreneurship in the Tampa Bay area.
Why ComplianceQuest?
Fastest growing native Salesforce based EQMS solution
Worry-free infrastructure platform – available anywhere, anytime
Reliable, versatile and scalable for all size companies
Single platform built by quality and compliance experts
Flexible and tailorable to meet customer and industry requirements
Built-in best practices and seamless processes with Salesforce and AppExchange solutions
Rapid time to value by quickly getting up and running in weeks
Priced reasonably and delivering incredible value for money!
Vision that makes keep going
ComplianceQuest's journey is steadfast in its belief of Salesforce platform and ecosystem as a strong foundation for continuing to develop and deliver future innovative solutions and seeing rapid growth globally. Salesforce itself is also becoming a more standard platform within many companies and hence IT is looking at other Salesforce apps available to extend the value of their investment and reduce overall IT footprint. This modern cloud experience means a reduction in management of modular licenses and versions and simplifies IT issues surrounding software management. Using the cloud, customers will always have the most updated version of the software platform. In addition, since the business application platform is continuously innovated and managed by Salesforce, it allows ComplianceQuest to drive more innovation into its own solutions. Because of the ease of development, ComplianceQuest can quickly create fully working prototypes, new features or customer specific capabilities to address new market or customer requirements and turn them into final production solutions.
ComplianceQuest will continue its approach to develop solutions, incorporate the best practices from various industries, support ever changing customer business needs, enable visibility of key business indicators, and highly intuitive to enable easy adoption by various levels of customer stakeholders. With continued passion and dedication on this journey, ComplianceQuest will become a market and competitive disruption.