Architecting Sweet & Savory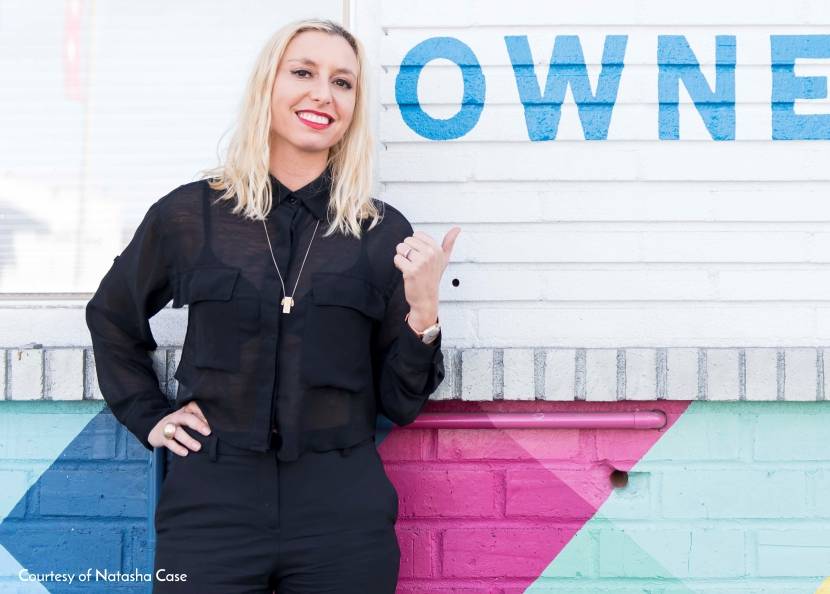 The cover spotlights Natasha Case, who vowed to bring architecturally inspired, gourmet ice-cream through her innovating company Coolhaus
In the newly advanced technological world, what do you think led to the transformative advances? In a world plagued with old problems, what was behind the bright spots—new thinking, new approaches and effective outcomes? The answer is simple: Fearless Innovation.
This is a story of two women and their brand that dreams beyond boundaries, forecasts extraordinary trends, and is above the niche when it comes to innovation. Reuniting creativity and manufacturing, packaging their creation deliciously into ice-creams and cookies, Natasha Case and Freya Estreller vowed to bring architecturally inspired, gourmet ice-cream to the people of US. With mutual backgrounds in the design and real estate fields, they began naming their ice cream sandwiches after architects and architectural movements that inspired them, and thus, Coolhaus was born. What started out as an experiment to combine food and architecture has become one of the leading innovative small dessert businesses, growing significantly to include 11 trucks in major U.S. cities (Los Angeles, New York, and Dallas), two brick-and-mortar shops in California, and even a namesake published book. Additionally, Coolhaus' pre-packaged ice cream sandwiches, hand-dipped bars, and hand-packed pints are now available in 6,000+ grocery stores nationally, including Whole Foods and Gelson's, and larger retailers like Meijer and Safeway, and now internationally in Asia and the Middle East.
The artist is a heightened manifestation of the craftsman
The inception of the idea dates back in 2008 when Natasha was studying Architecture at UC Berkeley. Being an enthusiast in exploring simple stuff with design and dignity, she found her passion in infusing food into architecture – Farchitecture (Food + Architecture). The concept originated with the broader notion that design could enhance one's eating experience, and, by the same token, that food could bring awareness to the design field, especially during the recession.
During her first job at Disney Imagineering, Natasha started her experiments with quirky flavors turning them into delicious ice-cream sandwiches. Her innovative delicacy immediately struck a chord with the ice-cream aficionados. She was on a mission to explore architecture using food as the medium in order to "bring architecture to the people" in the simplest form. Natasha named her coolest inventions after architectural legends, design movements, and rising stars to inspire people to talk about architecture, get them excited to learn more, and make architecture fun and sociable. People couldn't get enough of the flavors and puns associated with the ice-cream sammies named after famous architects. This gave her the real push to take the entrepreneurial plunge.
The romance of architecture in its creative potential—a marriage of art and pragmatism
In late 2008, Natasha was introduced to her business partner, and now wife, Freya Estreller, who worked in real estate. They both shared a common interest in food and aspired to strategize a business together. Their chemistry paced-off with flirtatious emails, shaping out through their first date when Natasha brought the ice cream and cookies that she made for Freya. The magic sparked almost instantaneously and the duo decided to deliver their newfound passion in architecturally inspired gourmet ice-creams to their hometown streets in Los Angeles.
The food truck craze has just begun with local delicacies available on the wheels, but craft ice-cream was yet to take-off. Cookies, ice cream, and their combinations presented endless possibilities to deconstruct flavor profiles, and using pun-y names like the "Frank Berry" (Snickerdoodle cookies + Strawberry ice cream) started making knowledge about design and architecture fun and accessible amongst consumers. Natasha and Freya decided they would be the first, putting $2,900 on a credit card for a beat-up postal van that had been renovated as an ice cream truck. They named the company Coolhaus, a triple entendre with the name of architect Rem Koolhaas, the Bauhaus movement and the idea that an ice cream sandwich is like a tiny, cold house.
The pair slayed their business by pushing through life's challenges, obstacles and setbacks. They developed an untapped strength and tenacity through the process, which led to higher levels of creativity and a conscious control over life in accordance with their vision.
You can walk through a wall when you don't know it's there
In spring 2009, Coolhaus had their first big launch to an audience of 100,000 people at the Coachella Valley Music and Arts Festival. Natasha and Freya had it all worked-out by collaborating with co-packers to make enough ice cream and cookies. Giant freezers kept the products cold and allowed them to "scoop to order" for customers.
The only problem was to reach the venue. Their old ice cream truck had no engine, so the duo bought a AAA premier membership, which comes with a free 200-mile tow. Such strategic out-of-the-box thinking and complementary business skill set were the real Get-Set-Go behind Coolhaus. Natasha and Freya sold their ice cream sandwiches at $3.50 a piece, including an edible wrapper. Coolhaus was already trending on Instagram and Twitter before the end of the festival.
A few weeks later, the couple already had a built-in audience and were up-with-their-fleet running across LA. At first, the duo focused on expanding Coolhaus' convoy of trucks, taking on New York in 2011. They also established a Coolhaus store in Culver City, California in the same year. Eventually they added a second store in Pasadena along with several more trucks across United States. These ladies have hit that sweet spot of ice creams that were clever, whimsical, and crave-inducing with vegan varieties, heartier gelato base, and splendid sorbets.
Now, a multi-million-dollar cult brand, Coolhaus boasts impressive flavors with the interesting names like Louis Ba-Kahn, Whiskey Lucky Charms, Aunt Gladys' Fruit Cake, Street Cart Churro, Mintimalism, Cara-Mia Lehrer, Campfire Smore's… and the list goes on. Coolhaus distributes in gourmet grocery stores nationwide, ranging from Whole Foods to Safeway to Publix markets with 30 SKU's including hand-crafted ice cream sandwiches, artisan pints and chocolate-dipped bars.
In May 2014, Natasha published her cookbook, Coolhaus Ice Cream Book: Custom-Built Sandwiches with Crazy-Good Combos of Cookies, Ice Creams, Gelatos, and Sorbet.
Encourage crazy ideas and respect all the flavors you have in your life
In observing their partners and in reflecting on their own work, the ladies discovered that breakthroughs happened most frequently when people were willing to be bold, to act with urgency, and embrace risks with the potential to produce exponential social returns. At Coolhaus, they love all types of food and strive to push the boundaries of traditional dessert by creating unique, sweet-meets-savory flavors you can't find anywhere else. When Natasha and Freya sit for a meal, it becomes obvious for them to think about ways to turn the flavors they encounter into a good sandwich combo. A true invention of ginger cookies and chocolate wasabi ice cream came from their sushi dinner of pickled ginger radish and wasabi. Their adventurous palates have led to the creation of pint flavors, like Milkshake & Fries, Balsamic Fig & Mascarpone and Street Cart Churro Dough, that consistently shake up the freezer aisle.
Coolhuas is extremely dedicated to innovation and committed to superlative quality. All Coolhaus ice cream is made at a 20% overrun making it one of the creamiest, most delicious ice creams on the market. Each treat is handcrafted with hormone free, real California milk, cage free eggs, fair-trade chocolate and the freshest, most unique ingredients available, meaning some flavors and ingredients are seasonal to promote peak flavor and responsible sourcing.
You must close your ears to critics and Keep Moving!
Natasha started the brand as one ice cream truck and is proud to have her product in over 6000 stores nationwide. She faced negative criticism for the crazy idea and challenges behind the scenes; being a founder never stops throwing you curveballs. She has been searching for a way to make architecture more accessible to the public and her success reflects in twitter posts from celebrity Coolhaus fans like John Legend and Kumail Nanjiani.
Every forward-thinking company needs a mission, vision and values to unify the workforce. Coolhaus is a proud women-owned brand and that can be a challenge with most of the industry being run by men. But by staying true to their vision, creating the best possible product and encouraging and promoting other women-owned the company thrives gloriously. Ever since its launch, Coolhaus has been bestowed upon with many awards and accolades. Natasha has been named a Forbes 30 under 30 Food & Beverage, LinkedIn 10 under 35 for Food & Leisure, Zagat 30 Under 30, as well as being featured in many national publications and radio like Cosmo, Dwell, and NPR, and TV shows including Food Network's Chopped, Barefoot Contessa, Unique Sweets, Good Morning America, King of Cones, Andy Cohen Live and many more.
It is an honorable achievement for Coolhaus as they are now available in grocery stores across the country. The company envisions creating innovative flavors with the highest quality ingredients. They are excited to be launching new holiday SKUs in November.