Angie Wesley: A Difference Maker & Award-Winning Leader in Talent Acquisition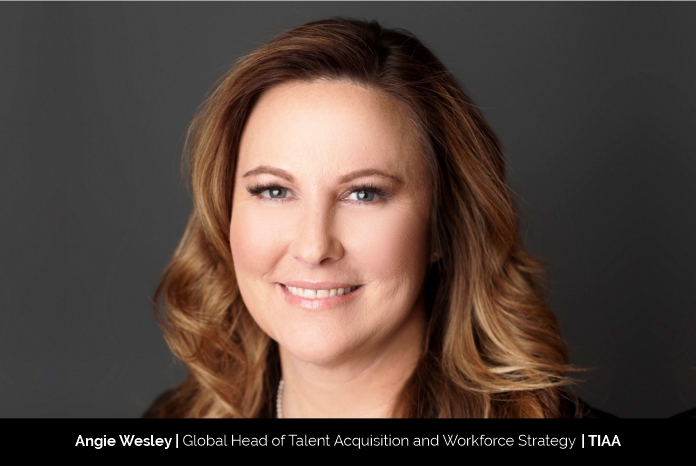 Angie Wesley, Global Talent Acquisition Head and Workforce Strategy, at Teachers Insurance and Annuity Association of America (TIAA), has been leading financial services talent acquisition for more than 20 years. She was named as a top talent acquisition professional at the 2021 OnCon Icon Awards by her industry peers. She also received the National Diversity Conference's Top 50 Most Powerful Women in Business for 2021 and 2022 – Power 50 Award and the Top 100 Women in Business Award from the National Women's Conference for 2022.
The rewards of stepping out of her comfort zone
Raised in a single-parent house as an only child, and only grandchild, who came from a farming community, Angie didn't know what existed outside of that town. "My independence came when I went to college, moved away from home, and realized everyone's life is different, and everyone has a story to tell," she says.
In college, Angie was a communications major with a focus on public relations and marketing. "I struggled with who I wanted to be – did I want to go back to my hometown and be like everyone else, or did I want to be someone different," she recalls.
She chose to step out of her comfort zone and went off on her own to live in the city. "It wasn't easy to make the leap, but I grew so much through the experience," she recalls.
Stepping out of her comfort zone helped Angie in her professional life, from having courageous and candid conversations to making tough decisions that impact the lives of associates and candidates.
"Each one of these, while difficult, has taught me to be an open communicator, an empathetic leader, and a trusted advisor," she observes.
Building a career in Talent Acquisition & Recruiting
Angie's first job out of college was as a sales leader, doing recruiting and sales for a recruiting agency, ensuring top-level sales and expansion of new territories. When she landed her first role, it seemed like a perfect fit to combine the skills and knowledge she had learned in college with her passion for helping people.
"I've loved it ever since," she says. "I've spent the majority of my career in Talent Acquisition. Starting out my career in Talent Acquisition after college and gaining experience in agency recruiting taught me how to be a recruiter, and provided me with leadership experience."
After a few years, Angie moved over to Corporate Recruiting and spent 15 years at Wells Fargo, in various leadership roles within Recruiting and HR, focusing on talent acquisition, diversity and inclusion, organization design, organization effectiveness, talent planning, and performance management.
She held various leadership positions and received awards and accolades, but states that she is most proud of having consistently high team engagement scores.
"Hearing from the team that they are happy, engaged, and proud of the work they do is rewarding as a leader. It's important to listen to the team and ensure we are providing them with the tools, resources, and opportunities to be successful," she says.
"What you do makes a difference, and you have to decide what kind of difference you want to make."
~ Jane Goodall
Becoming a Difference Maker at TIAA
Angie points out that Talent Acquisition is so much more than hiring. Being able to recognize the synergies, efficiencies, and connection points, has helped her create a truly end to end recruiting and reporting function at TIAA.
"For example, we expanded our early-in-career talent programs through a model that consolidated rotational programs, formerly distributed across various lines of business," she elaborates. "The program develops skills through rotational experiences, leadership training, and values-based learning."
TIAA's program now encompasses all early talent, including both their internship and rotational programs, into one, so they can focus on building the talent of the future. Their Talent Acquisition and Workforce Strategy Mission is, "Changing lives one hire at a time."
"Recognizing that we are impacting the lives of our candidates and associates keeps us motivated to provide the best candidate experience," says Angie.
She notes that she took a similar approach with bringing together the Talent Acquisition and Workforce Strategy teams.
"Workforce planning and analytics is integral to hiring, as you need to understand the state of your workforce, hiring plans, and metrics. Bringing the two teams together gives us the insight and ability to execute quickly and efficiently," she states.
In 2020, TIAA launched it's Be the Change platform to address injustice and inequities. Since then, the platform has expanded to make real change in local communities through dialogue, education, and engagement.
TIAA also launched a leadership coaching tool and a program to target the career development of underrepresented groups. In 2022, Forbes recognized TIAA as one of the 2022 Best Employers for Diversity.
"At TIAA, having the drive to be a Difference Maker, living the values of the company, and being adaptable to change, are core to being successful," says Angie. "Also, I believe in giving my leaders the autonomy to develop and make decisions. I'm here to guide and consult and, at the end of the day their experience, drive and ability to make decisions will help them become successful leaders."
"If you can't yet do great things, do small things in a great way."
~ Napoleon Hill
Keeping up with the rapid advancement of technology
At TIAA, Angie oversees all aspects of talent acquisition strategy and execution, partnering closely with business leaders across the firm to deliver human capital hiring plans, diversity and inclusion sourcing strategies, executive staffing, college relations and analytics.
She starts her day early responding to emails, reviewing her schedule and preparing for meetings. "I'll connect with leaders and colleagues throughout the day to discuss recruiting efforts, review requisition and hire reports and check in with my team," she notes.
Angie notes that the Talent Acquisition space is trying to keep up with the rapid advancement of technology.
"Candidates want to be able to apply to jobs quickly with ease, so you're starting to see apps that give candidates the ability to apply with one click, like through LinkedIn or other social media platforms," she notes.
Conversely, companies are looking for better, faster ways to assess candidates, whether through gamification or personality fit tests.
"I expect the use of technology in the TA space will continue to evolve and it will be important for companies to evolve with it while also finding the right balance for recruiters and candidates," she says. "Equally important though, is having the data and analytics to assess the effectiveness of the technology, so you can remain agile and competitive in the constantly changing recruiting environment."
"Success is not final; failure is not fatal: It is the courage to continue that counts."
~ Winston S. Churchill
Learning and growing as a leader
Describing herself as 'bold', Angie believes that success looks different to different people. "But what I've found is, if you have the drive, determination, and hard work to achieve your goals, you will find success," she affirms.
Angie admits that hearing a candidate's excitement about getting a new role, or hearing from her recruiters about the impact they are making, is what keeps her motivated and excited to come to work every day. She describes her life as organized chaos, with four kids who range in age from 19 to 5, and three dogs.
"I keep a detailed calendar that I follow for both my personal and professional life," she says. "So when I'm not working, I focus on my family, and I'm playing with trucks and trains, running kids to activities, and corralling dogs. I use the downtime, once the kids go to bed, to check in on work and respond to emails."
Going forward, Angie wants her attention as a Talent Acquisition leader to shift, to focus on strategy and operations. "I am going to be the Workforce Strategy and People Team Operations leader responsible for Workforce Strategy, Payroll, HR and Talent Acquisition operations, and overall management of Workday," she states.
Angie admits that she is excited to merge together a new team of associates, and also looks forward to continuing to partner closely with the talent acquisition team. Her personal goal is to learn and grow as a leader, and she affirms that she is grateful to have this new opportunity to do so.
Her message for aspiring business leaders is to not sweat the small stuff, and she recalls a favorite quote by Matshona Dhilwayo: A diamond is proof that you sometimes have to go through a great deal of pressure before you can shine.
"You will make mistakes, you will not always make the best decisions, and you will fail. But own your mistakes, learn from them, and each one will prepare you for what's to come," she advises.
"Take your victories, whatever they may be, cherish them, use them, but don't settle for them."
~ Mia Hamm