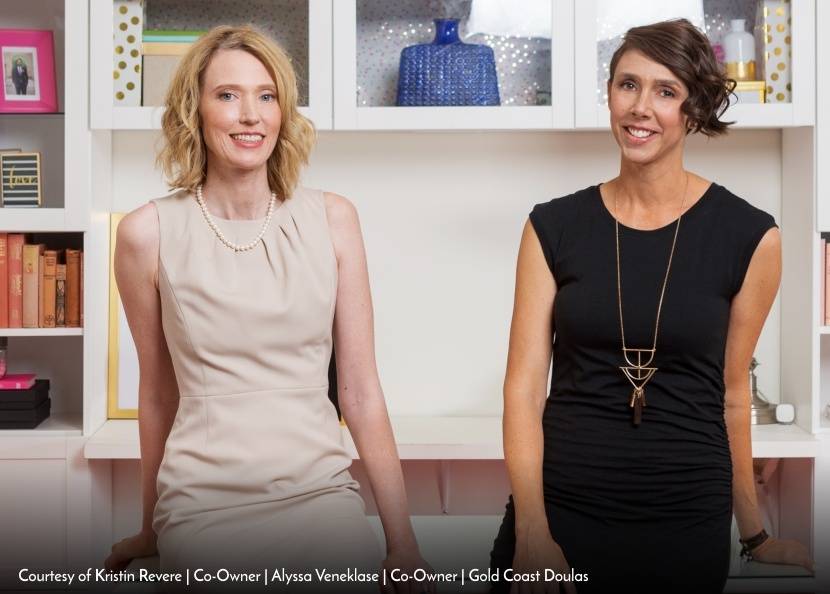 Serving Smiles: Doula – a simple sounding Greek word meaning a women's servant has become quite a rage in the recent past. But this is in no way a new idea.
For centuries we have seen women help and support other women during their labor period, helping them ride through their pain, providing them with sound knowledge and advice, and comforting them during their period of self-doubt.
The purpose of a doula is to provide physical, emotional, and informational support to the family through pregnancy, birth, and the postpartum time.
The Realization
After having their own children, Alyssa and Kristin realized how there were very few support systems for families in the community. Both of them realized that families needed more support than one could provide individually as a solo doula.
A former political fundraiser, Kristin has always been passionate about supporting women. Today, the recognized "Shepreneur" works to support women as they start or grow their families.
On the other hand, Alyssa worked in the marketing department of a large construction firm before shifting gears to become a doula. She took the brave decision to leap forward from a very male dominated industry to support women and their families during their postpartum time.
Together, their vision was to be able to offer families everything that they might need; from providing educational classes to appointing professional birth and postpartum doulas and also helping them through their first year after child birth or adoption.
Today, Gold Coast Doulas serve the Greater Grand Rapids and the West Michigan Lakeshore communities. Led by Kristin and Alyssa, the company has eighteen doulas and three related subcontractors on its team, which back in 2015 comprised of only four doulas.
The Journey
The toughest part of the company's journey was doing all the planning to build the first agency of this kind in the West Michigan and Grand Rapid area. Initially, the entrepreneurs struggled to bring their vision to life and convince their subcontracted doulas and clients to share the same vision as they had foreseen.
Once the company moved past these hurdles, it began supporting all families and all birthing and newborn care options. Today, the company prides itself on offering judgment-free support.
"The best parts are working with clients and helping them feel confident and secure in their abilities as parents. We have developed many positive relationships with hospitals and providers, this has helped with growth and establishing respect in our field," Kristin mentions.
The Rise
In 2017, Gold Coast Doulas has tracked over 350 volunteer hours in the community. The company has also been duly supporting non-profit and neighborhood groups, namely Spectrum Health Foundation, Ele's Place, MomsBloom, Metro Health Foundation, Local First, Eastown Business Association, and Running for Covers.
From having only four doulas back in 2015, the company has surged ahead to boast eighteen doulas to its name, with three additional subcontractors (an IBCLC, infant massage instructor, and placenta encapsulator).
Gold Coast Doulas is also proud to be an all-inclusive business. It strives to hire a diverse group of doulas and also offers team trainings in cultural competency, empathy, disabilities, and LGBTQ family support.
The Services
Gold Coast Doulas provides a vast range of services to families, including Birth Doulas, Postpartum and Infant Care Doulas, Bedrest Doulas, HypnoBirthing instructors, Placenta Encapsulation, Baby Wearing Consultations, Newborn Survival classes, Breastfeeding classes, Back to Work Pumping classes, Infant Massage instruction, Lactation Consultations with an IBCLC, a Multiples class, The Modern Grandparent class, Prenatal Stress class, and Gentle Sleep Training.
"Our customers choose us as we offer everything they need and have prioritized customer service and responsiveness. They know they can trust us," claims Kristin.
The Need
A doula is a guide or mentor who provides parents with the right set of information to help them make informed decisions about their labor and post-natal period. At Gold Coast, the role of each doula is to provide complete and undeterred focus on the pregnant person and the partner. The doula will stand beside them during the entire pregnancy journey to offer support using massage, relaxation, and visualization techniques. Having a doula by your side during the labor period gives you a much needed sense of support and builds a trustable bond owing to the common goal of having a healthy baby. Various studies have proved that having a doula strikingly reduces the use of medical interventions such as inductions, pain medications, and others. Driven by the vision of Alyssa and Kristin, Gold Coast Doulas strives to offer support to every family by offering judgment-free care, evidence-bases resources, emotional and physical support.
The Rewards
According to Kristin, Gold Coast still has a long way to go to educate its community on what a postpartum doula offers. "They know about birth doula support; postpartum doulas are largely unheard of."
It is also worth noting that Gold Coast Doulas were recognized by the Mayor of Grand Rapids in the State of the City for the good we do in the community. "That was a huge moment for our business," recalls Kristin.
Aside from that, Gold Coast Doulas has also been recognized for several other awards locally, and has branded itself in its community as experts. Alyssa mentions how good it feels to hear someone say, "Wow, we see Gold Coast everywhere! You are doing a great job!"
Amidst all these appreciations, Kristin, Alyssa and team believe that there is a long way to go before achieving all that they have desired. Alyssa asserts, "The business is just turning three years old in October, and we have a long way to go. But in less than three years, we have come so far. We have a lot to be proud of, but lots of work ahead of us still!"
The Roadmap
Talking about the future, the goal of Gold Coast in the near future is to become a B Corporation, as it continues to focus on giving back to its community and being stewards of the environment. The company would also like to offer more online courses to families to provide them with the necessary knowledge and information. They also want to put more focus on their podcast – Ask The Doulas, where they interview local experts in the community about everything related to pregnancy, birth, and parenting. You can subscribe on iTunes and SoundCloud.
As for Kristin, her individual goal is to get her birth book published and branch out beyond their community to make and even more of an impact. Alyssa's goal on the other hand is to really grow the postpartum end of the business as she believes education to be a key aspect in the community.
Names – Kristin Revere and Alyssa Veneklase, Co-Owners
Company – Gold Coast Doulas, LLC