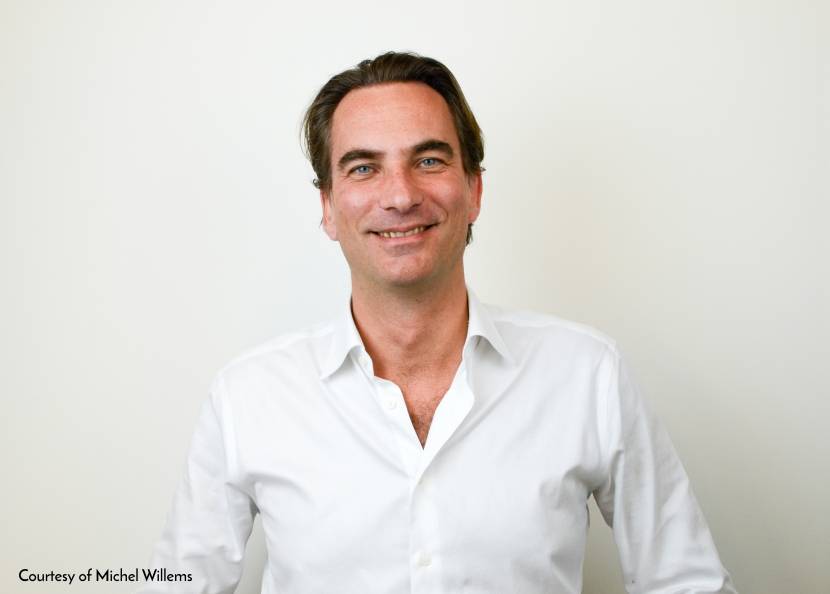 Rent a Bike – Anytime, Anywhere!
A real life illustration of how the power of our attitude towards life determines how much we succeed in our life
We have often heard the phrase: "It's all in the mind," but seldom do we try to understand its implication and importance. Everything that happens to us is directly or indirectly the resultant of our own thoughts, which if exhibited properly, can change everything in our lives. Our thoughts are magnetic and each of our thoughts are associated with frequency, and when they are sent out in the universe, they attract objects which are reflected back to us. Consequently, our thoughts become things. John N. Mitchell said it best when he said, "Our attitude toward life determines life's attitude towards us."
The journey of Michel Willems, Co-founder & CEO of an online booking platform BimBimBikes, is a real-life illustration of how the power of our attitude determines how much we succeed in life. Unlike most of us, Michel never considered having a proper job a viable option. Being an entrepreneur has been just a thing for Michel since his childhood. The 6-yr old entrepreneur in him wanted to own a farm, and the 8-yr-old one wanted to be a sailor sailing to his destinies. At 12, Michel learned that sailors are instructed where to sail to, so he decided to be an entrepreneur instead, who lives on his business terms. Here's the story of how and what he achieved.
A woman's wish is the man's command
Once upon a time, in a big city called San Francisco, Michel and his wife wanted to rent bikes. They looked online for renting points, but couldn't find a site which summed up all rentals available in the city. For much of us nowadays, travelling is synonymous to online booking. The couple could reserve romantic apartments and restaurants with ease, through various online platforms available with honest reviews on the service. But when they wanted a romantic ride across the golden gate bridge, they were doomed to find none.
"How is this possible?" the man thought, "I must make it a reality, that anyone can rent a bike anywhere, anytime!"  You guessed it right, that's how another venture for the destined entrepreneur started! Putting aside the little tale, BimBimBikes is the first online platform for bike rental companies, connecting customers and rental points all around the world. BimBimBikes now helps you to reserve rentalbikes online in 86 countries and over 1700 cities.
How a simple approach turned into a momentous business model?
One sure thing is to 'Never Stop Improving' in building your business acumen and professional career. BimBimBikes goes beyond simple customer satisfaction metrics to provide a unique experience through their online bike-rental platform.
BimBimBikes has, more or less, the same business model as companies like Booking.com, Hotels.com or Expedia. Apart from services and support, the BimBimBikes bike rental platform is the company's main product. Consumers reserve a bike through the website and pick it up at one of the bike rental partners. BimBimBikes is credited with 15% commission over the service. However, most bike rental shops don't pay anything unless they score a customer. However, some of them want some extra services. Bike rental companies pay just a tiny monthly fee to use that. BimBimBikes strives to constantly improve on their websites' user-experience and provides additional top-notch services:
The first additional service created was a bike rental reservation plugin for the website of their partners. By copying and pasting, the partners can instantly have their own online booking system for their own customers.
Other shops want to manage their reservations, walk-in customer orders and inventory a bit more efficient. BimBimBikes found out that some bike rental management systems are quite expensive. So, the company created a cloud solution and a scanning system with NFC tags for the bikes.
The good thing is that although bike rental has been carried-out for ages, it's still a bit of an underdeveloped niche. There are plenteous potentials for expansion and improvement. That's what led BimBimBikes to become a market leader within just 3 years. The competition with respect to online bike rental aggregators is low and the market is ripe!
The speed of success is the speed of ambitious, young and a creative team
A business is nothing without the people who work behind the scenes. It's the team who helps the entrepreneur realize his big-dreams into goals. BimBimBikes is blessed to have a team of independent thinkers, boasting people that are authentic, people that share the company's dream and agenda.
When Michel started BimBimBikes, he went door to door of bicycle rental shops to convince the owners to join his online booking platform. Once he had figured out the sales pitch, he handed the responsibility to an intern, who was tasked to partner with more bike rental shops across The Netherlands. Once that process was streamlined, Michel approached and recruited exchange students from university. He used their language skills to have them call bicycle rental shops in their home country and convince them to sign up to BimBimBikes, too.
Today, with presence in over 86 countries, BimBimBikes has an international team consisting of interns from all over the globe. These ambitious, young and creative leaders of operations are proudly called as country managers. The team is led by their competent Operational Manager from Greece, Ioanna Dulellari. BimBimBikes is fortunate to be backed-up by web-developers from their parent web-development agency, called H1. H1 is a well-established, Netherland-based, webdevelopment company started by Michel, soon after his graduation, along with his current business partner Harm Wolterink. Harm is a dear friend of Michel and the acting CFO of BimBimBikes.
The BimBim team demonstrates integrity, respect, and collaboration and their values are visible in every aspect of the company's processes. BimBimBikes provides an environment where performing positively is not only expected but encouraged, and through this the company makes sure that each of their employees are connected and share a common goal.
Your strength will come out of your vulnerabilities
If one looks at the BimBim business ecosystem as the leisure bike rental sector, it is not much difficult to comprehend. Tourists want to rent a bike, bike rental companies provide those bicycles and BimBimbikes acts as a multisided platform to help them find each other. On the contrary, if one perceives their market as 'Travel', it is a way more complicated business ecosystem. Travel, as a whole, involves airlines, hotel chains, OTA's (online travel agencies), GDS's, tour operators and much more. While, BimBimBikes is dominant in just a little niche.
Bicycle rental would be a perfect and easy cross sell product for travel companies. Michel asserts, "I would not be surprised if a large travel company would contact us to acquire us. With their volume and our extended network, it is not difficult to create extra value."
However, BimBimBikes boasts an enormous network. Although just three years old, the company surpasses their nearest competition in terms of bike rental points by large numbers. The company helps their rental partners with inventory management through their 'bike rental management system'. It helps in managing their reservations, walk in rentals, and rental contracts.
BimBimBikes also plans to expand their offering to bike sharing companies. Because every available bike in the world should be BimBimable!
Always try something beyond – Grow, Invent and Evolve!
Dreaming is good, but doing is necessary. Just do it. The first version of your product doesn't have to be perfect. You just have to start somewhere and test it. You have to find out if there is a real market of paying customers. Marketresearch just gives a tiny bit of information, the first paying customers way more!
The BimBim story is an inspiring endeavor with a resolute belief in the principle of continuous building, testing, analyzing and improving. Michel further adds an advice to budding entrepreneurs, "Never give up, but if it doesn't work, don't try to solve it the same way as you did before. Some people think perseverance is the same as stubbornness and unwillingness to change your plan. I think to really succeed you have to be honest to yourself and flexible. You should change your plan if it doesn't work as expected. It makes it better."
Worthy words from customers
'Bringing my own road bike to Europe is not only expensive, it's risky. You never now what they do my darling.' – Dave (Houston)
'I fell in love with the local bike rental guy ;-)' – Karin (Den Bosch, The Netherlands)
Testimonials from Bike rental partners
'We use the bike rental management system for a couple of months now. It's one of the best decisions I ever made.' – Bert Hoving, A bikes (Amsterdam)
"BimBimBikes sends so many customers, it really changed my life!" – Perry van Deursen, Bike Mobile.