Misha Kaura: Combating all odds to rise as a charismatic leader and inspiration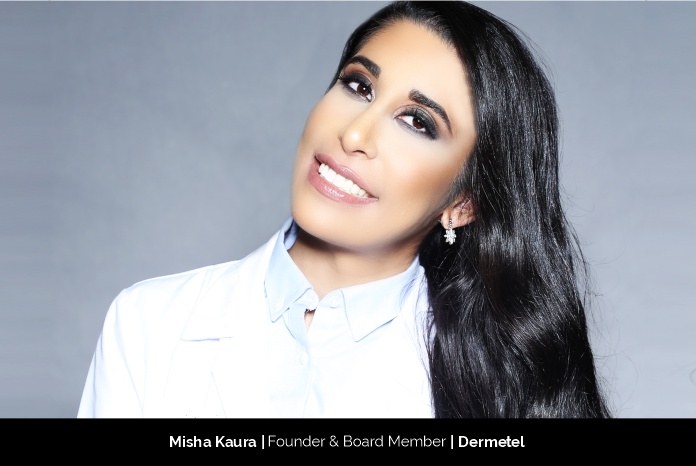 An award-winning designer, entrepreneur, and researcher, Misha Kaura, Founder and Board Member of Dermetel, is passionate about helping marginalized patients with rare dermatology conditions. Misha aims to give back to the world by helping level the healthcare playing field for everyone. Combatting a rare disease herself, she has experienced the injustice of health inequality and that is what inspires her to make a difference in people's lives.
She is a rare blend of an artist and explorer who merges different domains with her creative and innovative approach. Recognized in Forbes 30 Under 30 class of 2020, a Fellow of the Royal Society of the Arts, a World Economic Forum Global Shaper since 2016, and invited to give another TEDx talk, Misha is just getting started. Taking inspiration from human rights, science, and nature, she works hard and aims to take on the fight against so-called incurable rare diseases through an unique approach at the intersection of the nonprofit world at Dermetel and the for-profit world at Darling Therapeutics. Darling Therapeutics is a new pharmaceutical subsidiary of her holding company, Darlinghurst Enterprises, which is commercializing enzyme replacement therapy and gene therapy treatments for rare diseases trimethylaminuria and isovaleric acidemia.
In this exclusive interview, we will go through Misha's inspiring life journey which is a solid inspiration for rising female stars.
Living her dreams
Misha has always been passionate about fostering education reform given her experience dealing with an invisible disability throughout her adolescence and young adulthood. She adds, "I realized that what I care about is not so much education reform as much as it is pharmaceutical reform, making diagnostics faster and treatments for rare diseases accessible. When I was growing up, there were no supplements that you could order, no medical geneticist or endocrinologist on speed dial at the touch of a smartphone. Even though I'm from a medical family, it took a lot of strength and courage to help myself."
Carving out her own pathway came at a cost, but has been worthwhile. The strength she has gained from overcoming her early adversity has led to her confident pursuit of her dream. Misha is helping to make a difference in the pharmaceutical world and timetabling her work in the fashion world. She explains, "fashion is great but it can wait, getting treatments on the market first is so key."
Rise of an inspirational and self-reliant leader
Born to two altruistic parents, a physician and an accountant, Misha was raised to give back from an early age. She explains, "we used to give blankets to the homeless in homeless shelters every Diwali and I've always wanted to succeed in business to continue this tradition in my own future family. Battling my own rare disease sparked my desire to give back in a healthcare setting."
While growing up, Misha knew right away that she wanted to be involved in both the for-profit world and the nonprofit world and she has maintained this balance from the start of her career. From age 18, she has volunteered at Dermetel to build its capacities in tele-health, nutrition advice, support documentation, and a free digital camp for children with rare diseases called Camp Rare.
Highly creative from a young age, Misha appreciates the trust she's been given to do what needs to be done. She takes a highly artistic approach in her work at both Darling Therapeutics and Dermetel, reducing health disparities in style.
Changing paradigms with Dermetel
Founded in January 2011, Dermetel has evolved quite a bit over the years shifting from a skin cancer prevention focus from 2011 to 2016 and to a rare disease focus from 2017. Dermetel focuses on free nutrition and disease management information available for download and Camp Rare which is a free online camp and after-school program for children with rare diseases. Right now, Dermetel is a small nonprofit with a team of 10 volunteers and 11 Board members. Misha expresses, "I've been running it on the side for over a decade and I've learned a tremendous amount since then about how to select people for fit. Right now, our focus is on supporting the work being done in the for-profit Darling Therapeutics."
Tapping into Misha's life
While Misha has been recognized for her outstanding work around the world and has achieved a plethora of accolades, she believes that there is still so much more to achieve. Working as an entrepreneur comes with highs and lows. She further explains, "I spent years of my adolescence and young adulthood in top labs learning the skills needed to manage drug discovery scientists and to understand the regulatory requirements. I can't wait until treatments for both isovaleric acidemia and trimethylaminuria are on the market given the socially distressing nature of these conditions." While Misha enjoys creating couture and artwork, she is fully devoted to venture capital-supported Darling Therapeutics and nonprofit Dermetel for the foreseeable future. Her role has involved sharing her vision and mission and the vision with diverse groups of business professionals.
Misha's personal and professional lives have been straightforward because she has intentionally delayed starting a family of her own. Explaining this further, she says, "I'm fortunate to not have the burden of a personal life, so all of my energies are directed at my professional life now. I intend to focus on my personal life and to find a suitable partner once the Darling Therapeutics P1/P2 trials are registered on ClinicalTrials.gov, I've reached FIRE, and I've achieved certain professional milestones. That said, I recently had the opportunity to spend several weeks back home with my parents and I loved every second of it. Family and a strong marriage is so important. My parents enjoy a strong marriage based on mutual respect and that's what I hope for myself down the line after I'm established." She believes her family acts as her backbone and provides her with the best support system. Misha is blessed to be from a loyal, warm-hearted, and loving family.
She is a globetrotting digital nomad who maintains her home base in Mayfair, London. Misha will settle down in 2023, after she's more established.
"Values"- A book of life reflection
Misha recently authored a book called "Values," which is a reflective meditation on the top values she lives by in her life which. It is set to release in the near future in e-book and audiobook formats at dozens of retailers. Her values include courage, loyalty, dignity, integrity, fairness, justice, patience, industriousness, perseverance, sincerity, order, cleanliness, health, teetotaling, 100% abstinent virginity, quality, quiet luxury, and happy endings. She states, "unlike a traditional memoir, I use snippets from my life and my adversities, alongside published peer-reviewed research, to illustrate why I believe what I believe in terms of my values and my principles." This book explains how she shaped her outlook on life.
Groundwork for Tomorrow
Building off of work done at Dermetel, Misha is in the process of closing fundraising for Darling Therapeutics and already has a plan ahead for its growth. Misha adds, "I'm doing everything in my power to help the community of patients with trimethylaminuria and isovaleric acidemia. We're building out a strong pipeline with investigational new drug applications going out soon for both conditions, DARL-001 and DARL-002. I'd love to see trials going as fast as possible, both enzyme replacement therapy and gene therapy." She is taking an aggressive approach with the mouse model and toxicity studies done simultaneously, P1/P2 trials to start in 2022, and plans in place for accelerated orphan drug approval through new relationships with regulators.
Pearls of Wisdom
Misha feels if she could go back in time, she would tell her younger self that dealing with a massive health adversity isn't a life sentence. If she could speak to her younger self, she'd say "you'll evolve into a beautiful woman who will cure your condition not just for yourself but for so many others. Always remember that every closed door redirects to something better in the long run. Take your time to create the difference you want to see in the world."
Her advice for all budding entrepreneurs is to self-study by purchasing MBA-level textbooks on finance, accounting, marketing, and fundraising and learn about all the core topics from the core areas. "A solid foundation in business management is extremely important" as according to Misha, it is quite easy for anyone to start a company but making it successful involves a lot of things working together. Misha has decided to pursue her own top-tier MBA saying "it's faster to master the core and build a new network for myself in business school; I got in several years ago and now is the right time to go!" Being equipped with the core MBA foundation plays a critical role in achieving tremendous success over time.