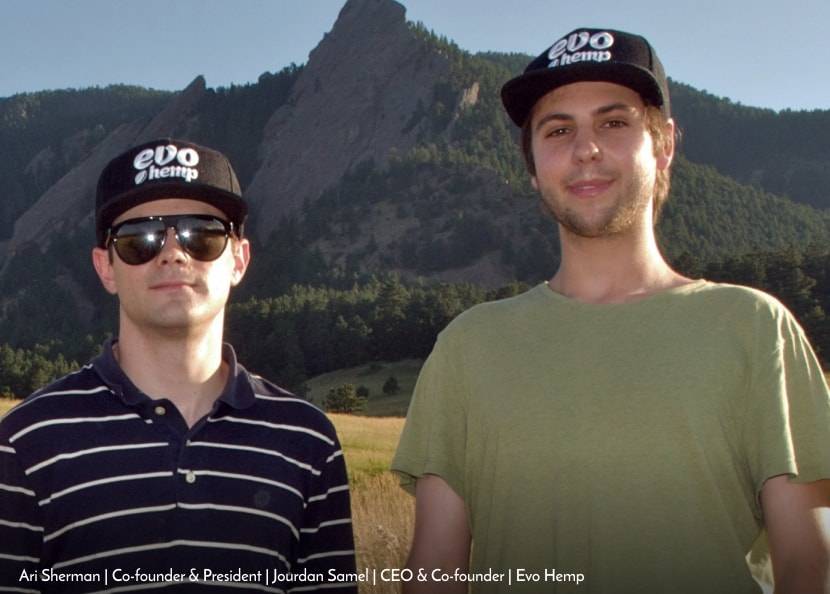 Evo Hemp: Find Your Fire
Featuring one of the first companies to sell US grown hemp products on a national scale
There will never arrive that perfect time for you to perform an action. There isn't a perfect time to release a product, write a book, change your habits or embrace a new one. Start where you stand and work hard to ascend up the ladder of success.
The above statement might seem to be a bit far-fetched to execute in our practical life, but, surprisingly, it holds a massive weight of truth. For Jourdan Samel and Ari Sherman it was never about the right time, rather it was always about executing their ideas and belief into reality.
They chose Hemp as their primal product offering, a plant species shadowed under the obscure corner of prohibition. Hemp (Cannabis sativa L.) is one of the oldest and versatile plants in the world. It boasts the potential to create over 50,000 different products and has numerous health benefits. Yet, owing to its close-quartered relationship with marijuana, another form of cannabis, hemp had gone down to be deemed as illegal.
Over the years, accessibility to information and booming rate of awareness has propelled the Hemp market into a billion dollar industry. Much of this shifting trend or rather demand can be owed to Jourdan and Ari, who co-founded Evo Hemp. Evo Hemp was one of the first companies to sell US grown hemp products on a national scale. Today, the company holds over 3,000 retail stores nationwide including Kroger, Whole Foods Market and Costco.
Great Things never came from Comfort Zone
Both Jourdan and Ari always had that entrepreneurial spirit. Ari was only 7, when he began his first venture. He had opened a concession stand outside his neighborhood pool and sold snacks. Experiences like this has helped both Jourdan and Ari to build something from the bottom and cultivating success therein.
Right out of college, Jourdan and Ari decided to learn about the economic and environmental benefits of industrial hemp farming. "My mother is a nurse and she suggested we look into hemp foods," recalls Ari.
It was only after conducting a thorough research that they found out about the umpteen number of nutritional benefits of hemp foods. They realized that hemp foods are the most nutritionally complete food source in the world.
This was that pivotal moment when they decided to step out of their comfort zone and formed Evo Hemp in 2012, spreading awareness about hemp products in the process.
The Changing face of the Industry
The history of hemp goes centuries back. It was almost 10,000 years ago when the first hemp fibre weaving had begun. In America, Hemp had a long-standing popularity amongst farmers, until a smear campaign associating it with Marijuana assured its demise. Movies like Reefer Madness and the World War II propaganda all but cemented the fall of hemp.
Years overshadowed by its sexier cousin, marijuana, the hemp industry now, because of companies like Evo Hemp, is starting to make a name for itself for all the right reason.
Over the years there has been a changing scenario in the Food and Beverages industry. This is due to disruptive companies like Amazon, which are transforming the brick and mortar retail experience with their acquisition of the Whole Foods Market. People are making purchasing decisions online owing to this shift. The hemp derived CBD market is slowly but steadily penetrating the F&B industry and we can expect to see many new and established brands stepping into the market to launch CBD products in the next few years.
As one of the flag bearers in the industry, Evo Hemp strives to maintain a standard of quality that echoes efficiency. The products of Evo Hemp are organically grown and the extracts are created using an organic certified subcritical CO2 system. The company supports poor rural communities, like its partnership with Alex White Plume and the Lakota Tribe.
A Look at the Journey – Past and Future
"The journey has been exciting and exhausting at the same time," rightly mentions Ari. Both Ari and Jourdan build and expanded its business from the grassroots with limited financial resources behind their back. It was at one of their friends catering kitchen where the two co-founders handmade the first lot of 75.000 hemp bards. At present, Evo Hemp has 4 different co-manufacturing facilities, two sales teams and two marketing teams to its name.
Even after the rising popularity of Hemp products, there still exists a false perception regarding the plant. For Evo Hemp, there biggest challenge has been related to marketing hemp products. Speaking about the challenge, Ari claims "Web serviced such as Facebook, Google, Bing and Yahoo restrict how hemp companies can advertise with most banning them all together."
In the near future, Evo Hemp will be seen bringing CBD supplements into the national big box retailers such as Costco, Kroger, Target and more. The company hopes to expand its reach of services to customers beyond US.
"We still have a long way to go but seeing celebrities randomly tag photos of our products on their social media channels is pretty rewarding," concludes an optimistic and excited Ari.